Bronze Guanyin Statue Introduction:
The gold bronze Guanyin statue sits high on a golden lotus flower. Guanyin or Kwan-Yin is the Asian translation for the Bodhisattva Avalokitesvara. This large bronze Buddha statue is golden in color and shines brightly against the blue sky. The statue is surrounded by a circle of small, beautifully designed Kuan Yin statues, which look spectacular.
The bronze Guanyin statue is dignified in appearance and elegant in shape. Her face is covered with a kind and gentle smile. Guanyin is holding a purifying vase in one hand and a willow branch in the other, which is the most common description of the Guanyin statue in books. As the god of compassion that saves suffering, Guanyin is popular with Buddhist cultures in many countries.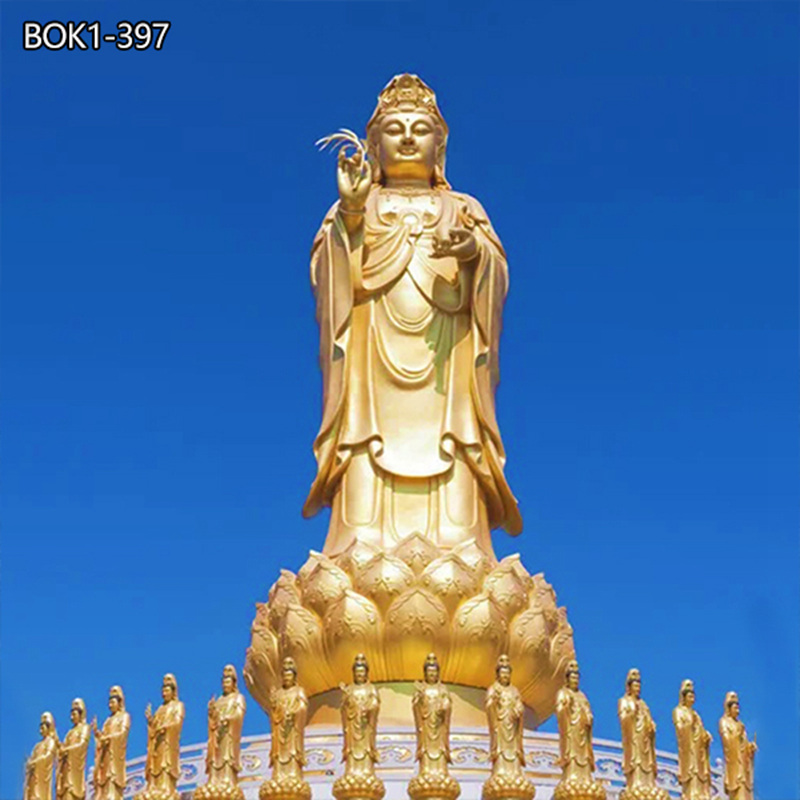 More golden bronze Buddha statue Display:
Gold Buddha statue
is the most common color for sculpture because it can emit a dazzling light like Buddha's light. In Buddhism, Buddha's light can cleanse all defilement and evil power. More often than not, a gold Buddha statue looks more compassionate, kind, and sacred.
YouFine has been specializing in casting bronze Buddha statues for 40 years, and some of our large gold Buddha statues are distributed in temples and outdoor venues around the world and are widely recognized and welcomed by people.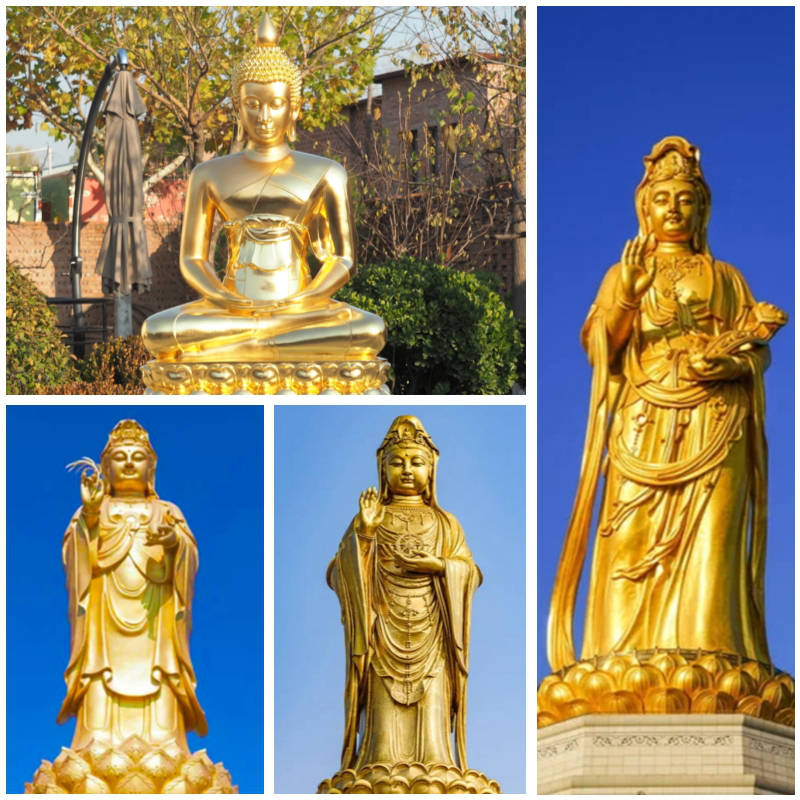 The Meaning Behind Religious Statues:
People from different cultures around the world believe in independent religious beliefs while maintaining friendly exchanges. As a central figure in Asian Buddhist culture, the Guanyin statue is widely worshiped and respected by Buddhist followers. Belief in Guanyin has also become an important part of Buddhism. Like the statues of saints in Western culture, Buddhist followers offer sincere prayers to the  Guanyin statues.
By praying to the Guanyin statue, people are able to receive help, get through suffering, and receive good luck. This is the great significance of the Kuan Yin statue.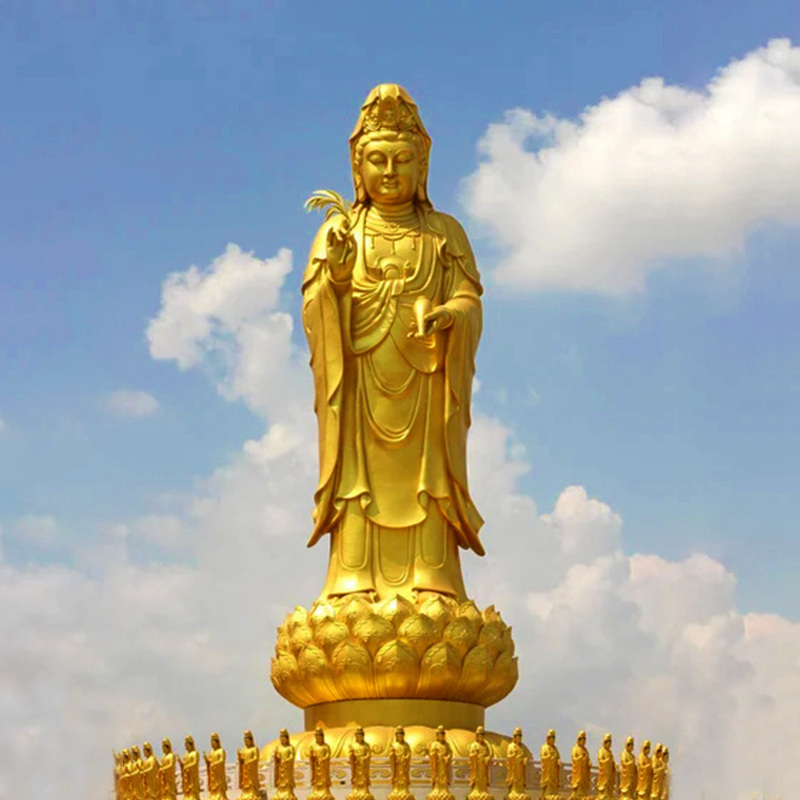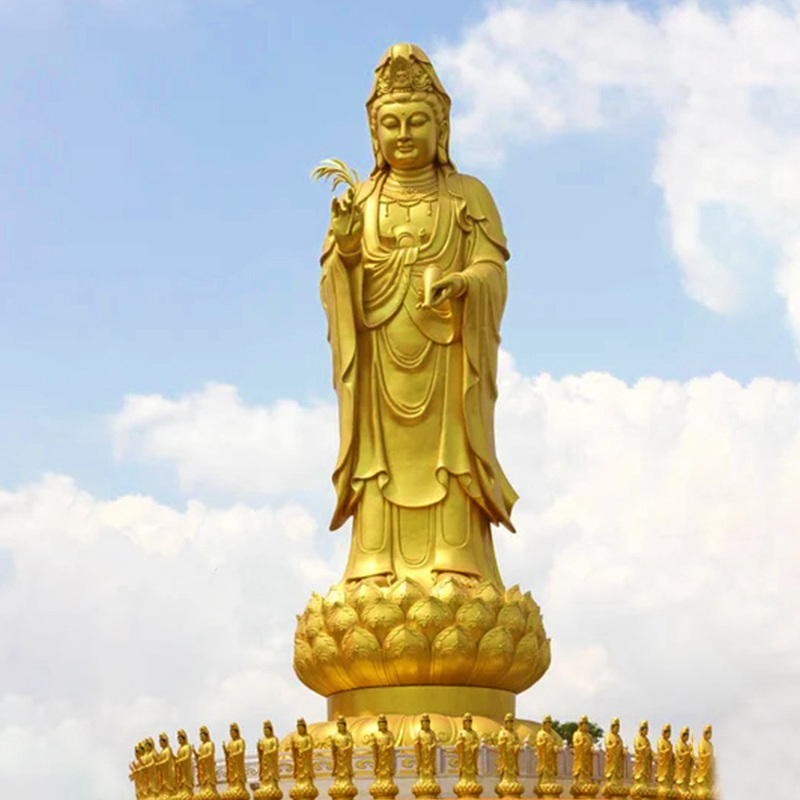 Golden Bronze Kuan Yin Statue Finishes:
YouFine specializes in casting all kinds of bronze religious sculptures, including large-size Guanyin statues as well as life-size bronze religious sculptures. We have cast and donated beautiful bronze Kuan Yin statues for many temples and Buddhist churches.
Usually, the bronze Buddha statue, especially the large bronze Buddha statue, has more of a golden finish. The experts at YouFine are very experienced with the golden patina effect.
It is worth mentioning that there are many different techniques to achieve the golden finish.
1. Spray gold paint. This method's advantage is ensuring uniform color, not easy to fade, and low price.
2. Apply gold foil. Many customers choose this method to achieve a very realistic effect, you will be shocked by the shiny appearance of the Buddha statue.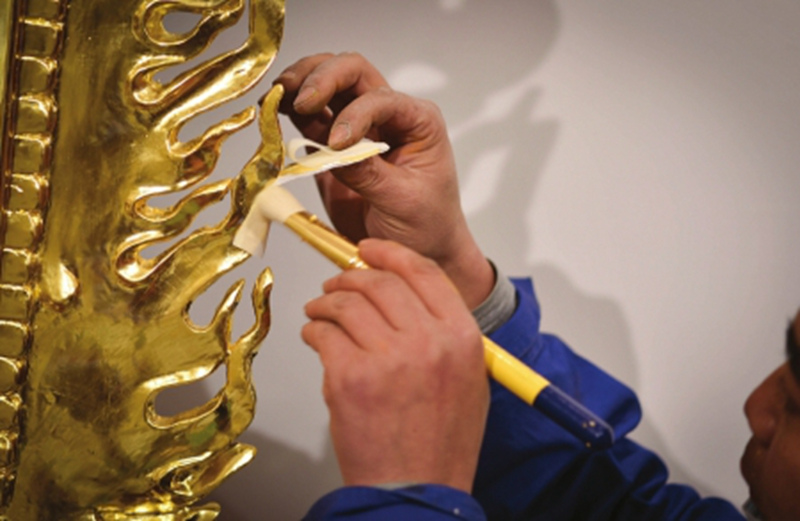 If you are interested in these bronze Buddha statues, contact YouFine for consultation. Our team is sure to be the most professional and guarantee you the best quality bronze Guanyin statues or other bronze Buddha statues.