Marble tiered fountains are a very popular type of fountain. These fountains have multiple layers of water that cascade down and create a calming sound. Although marble is an extremely durable material, prolonged water flow can wear down your fountain.
Therefore, in order to make the fountain last longer, we need to master some tips. Not much, just remember the next 6 tips. Because the marble tiered fountain is not particularly large, there are not many dazzling reliefs.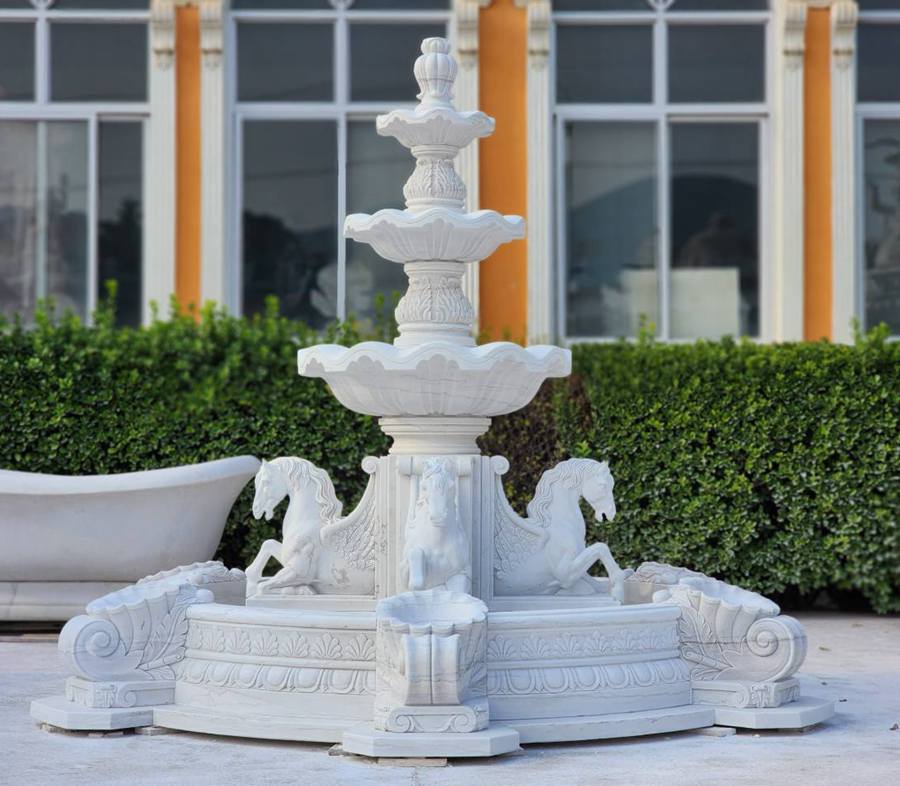 1.Pay Attention to the Placement Environment
The factor that most directly determines the service life of a marble tiered fountain is its installation environment. Why do I say this? You can think about it, how can a fountain installed on a soft ground or a sloping ground withstand the invasion of bad weather?
Yes, before installing a marble tiered fountain, we need to make adequate and professional preparations. A professional marble fountain supplier will definitely tell you detailed installation information. If not, you may need to consider whether your choice is right.
Before installation, we need to prepare cement infrastructure, bury water pipes, wires, and reserve space for a pump pit if necessary. It is very important that the cement infrastructure be kept level.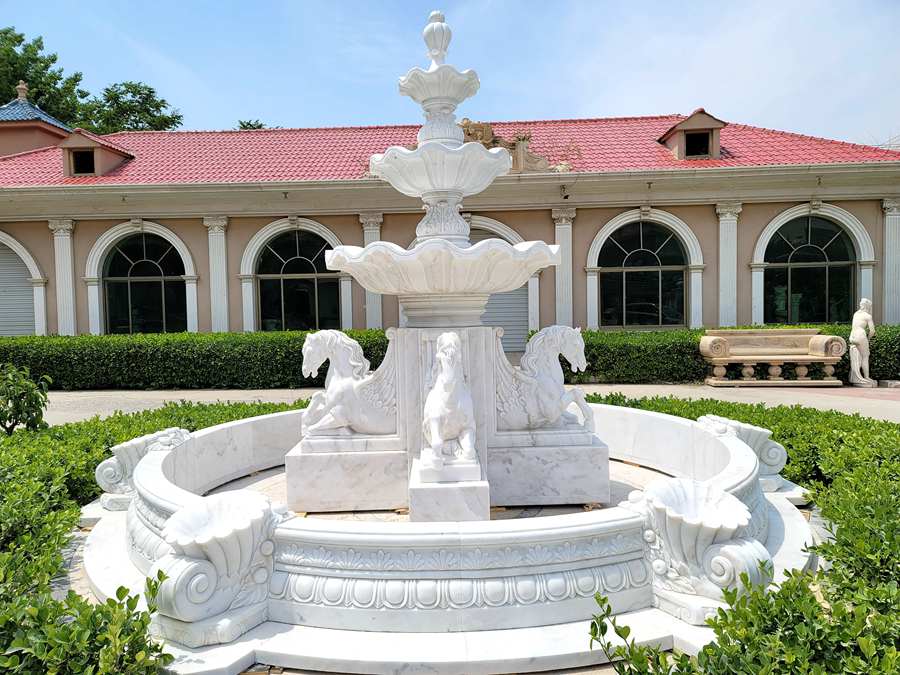 2.Remember to Clean up Every Week
After the installation is completed, subsequent cleaning and maintenance work is also very important.
Most people who choose to install marble tiered fountains in their homes attach great importance to the greening of the environment. Therefore, there may be a lot of green plants around the fountain, which can easily accumulate fallen leaves, which requires some effort to clean regularly.
That's right, you'll probably need to do a weekly cleaning of the inside of your marble fountain. That way algae, minerals, fallen leaves or anything else doesn't build up. Maintaining a clean environment inside the marble fountain will help protect the surface of the fountain from damage.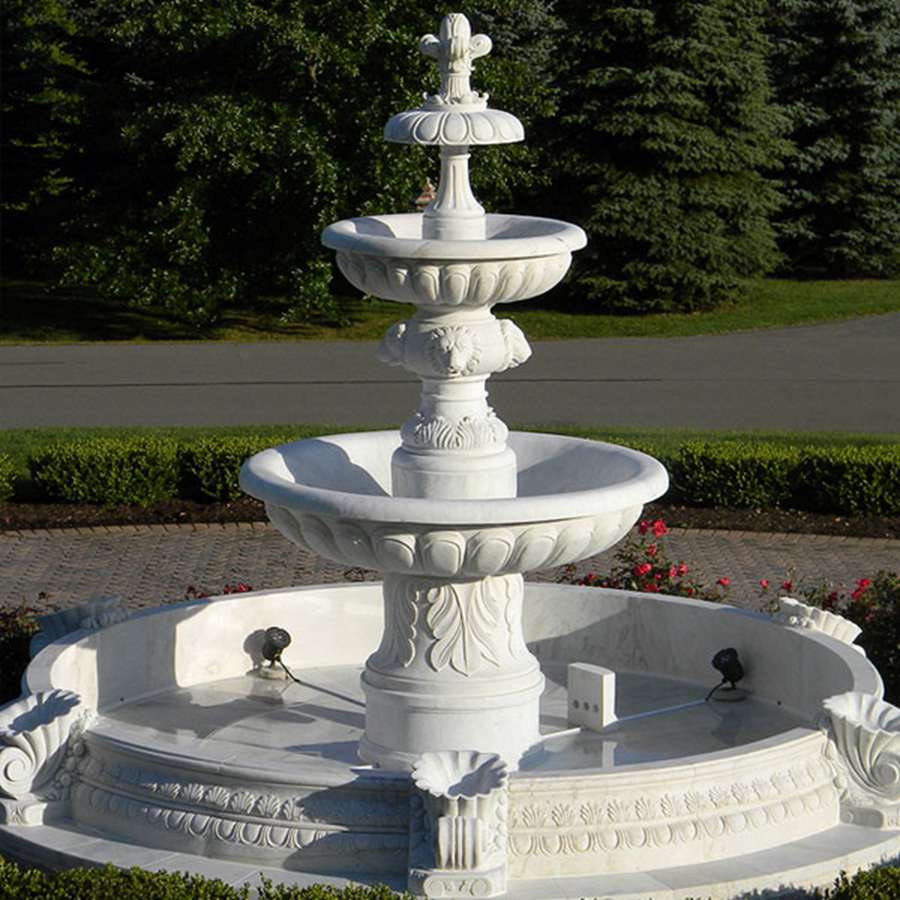 3.Change Water Every Month
A major water change once a month means draining all the water from the fountain and replacing it with fresh water. This will drain out the old water that has been circulating for too long, otherwise your fountain may smell bad if you don't change the water for a long time.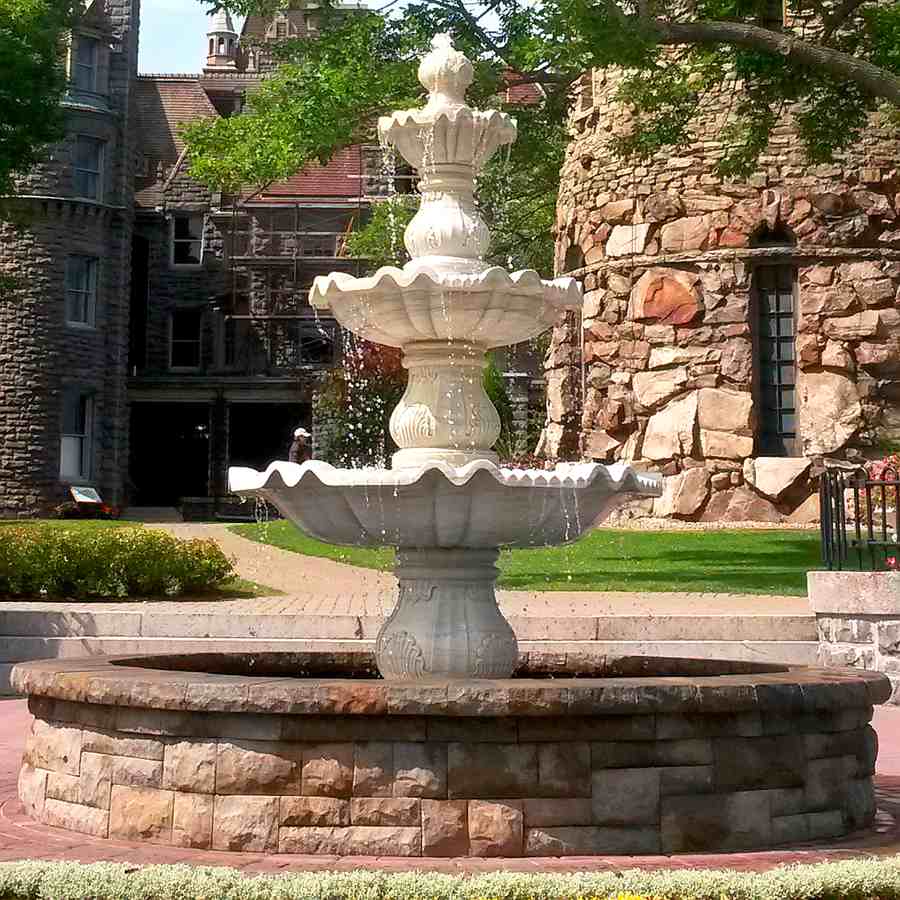 4.Let the Fountain Rest Regularly
The water sound of the marble fountain is its most attractive place. It is the flowing water that brings people visual and auditory enjoyment and improves people's happy life index.
However, long hours of uninterrupted work on anything can get tiring, including marble fountains, which, although run on electricity, can also accelerate the wear and tear of pumps.
Therefore, for convenience, I recommend you to set a timer, through which people can set the on-off time of the fountain to provide a proper rest time for the fountain.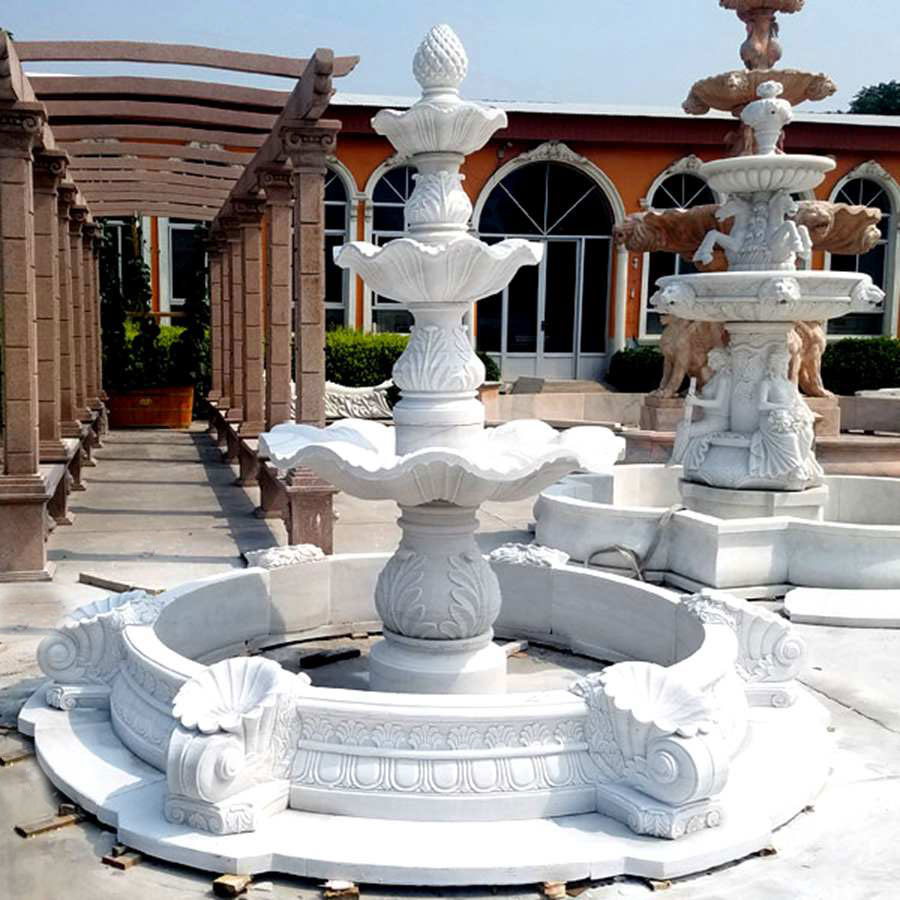 5.Protecting the Water Pump is Important
Remember, if your marble tiered fountain is functioning properly, your water pump can be considered the unsung hero. As an important part of the fountain, owners must treat them equally and often observe the operation of the water pump, whether the water flow is smooth, etc.
Regularly check the water pump for wear and tear. When there are problems with the operation of the fountain, it will be too late to find out that the water pump needs to be replaced.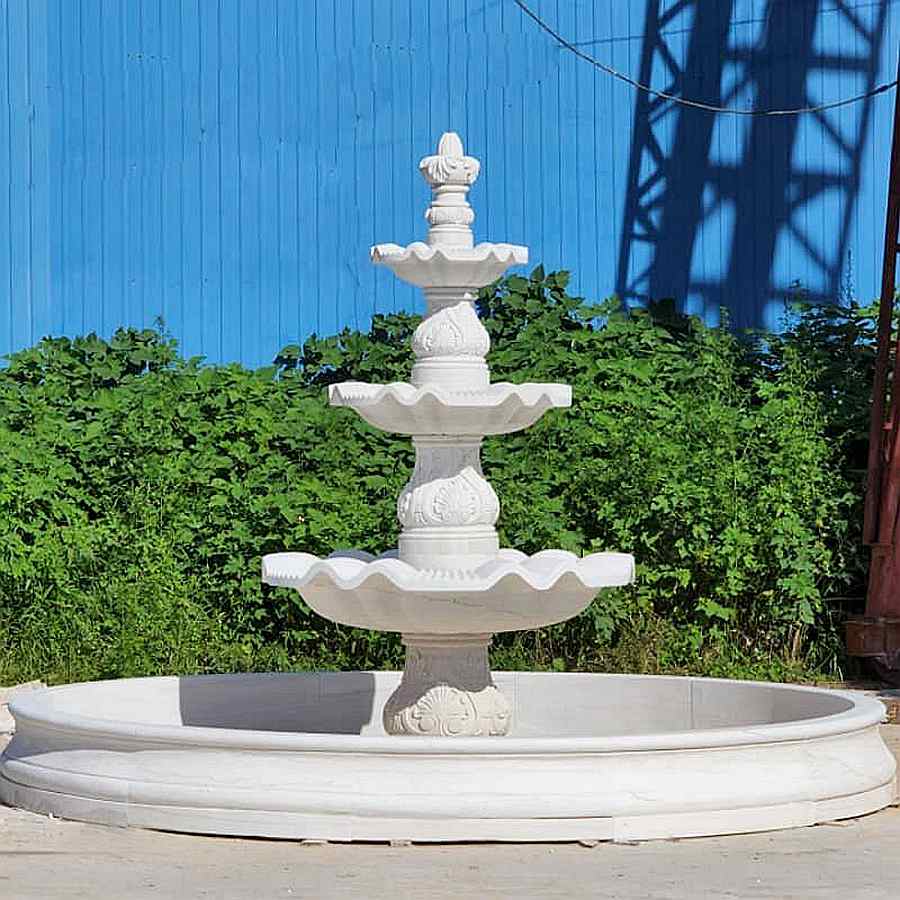 6.Fountains Also Need to be Protected from Cold
Even if you live in a warm area, there will be temperature differences between morning and evening, especially when winter arrives. Therefore, it is also important to do a good job of winterizing your marble tiered fountain.
When winter comes, it is no longer the best time to enjoy the beautiful sound of water flowing in the fountain. At this time, we can let the fountain hibernate and hide the water pump in a location that is not susceptible to freezing.
Of course, choosing the right marble material is the key to antifreeze. If you live in an extremely cold region, such as Russia, then I would recommend you to choose a frost-resistant material such as granite.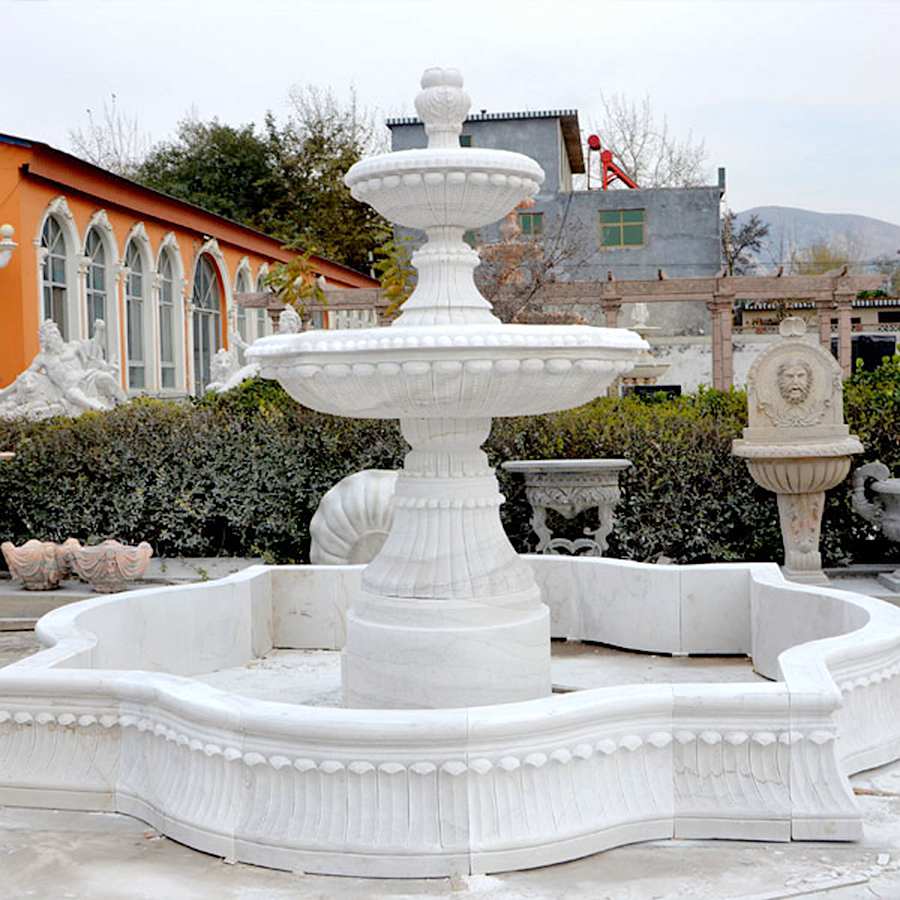 Why So Many People Choose YouFine's Marble Tiered Fountain?
1.The professional team will develop the perfect marble tiered fountain plan for you, including the fountain material, size and installation process.
2.All YouFine'sfountains will be tested before shipment, and photos and videos will be taken for customers to assist customers in installation.
3.YouFine's professionals are familiar with the installation process and the maintenance knowledge of marble fountains, and they will provide assistance at any time as long as customers need it.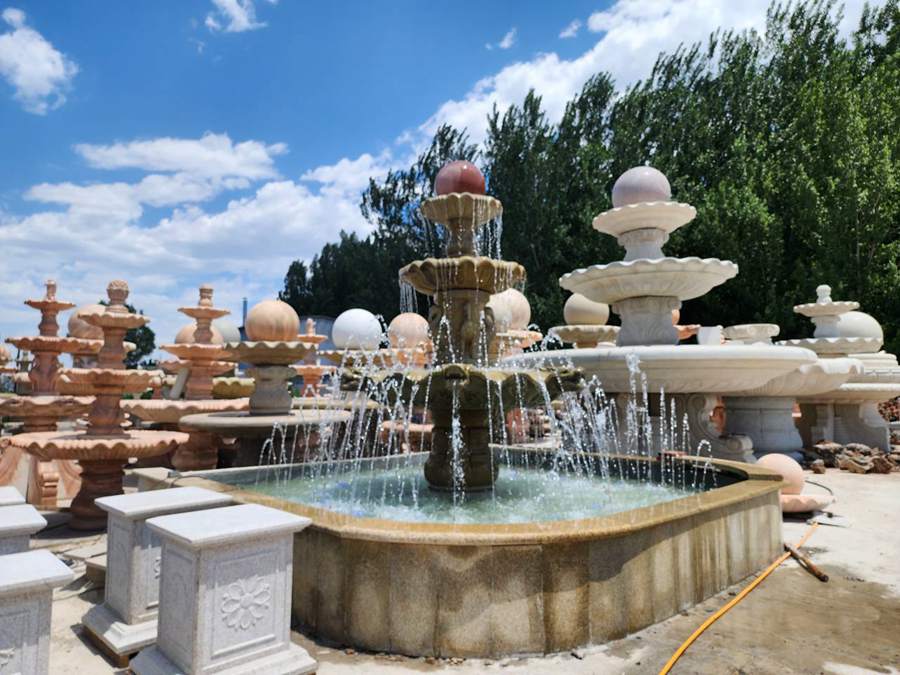 In short, it is actually very simple to make your marble tiered fountain last for a hundred years. Remember the 6 tips above and find the most experienced manufacturer – YouFine.