Marble Gazebo Introduction
This classic marble outdoor column gazebo is well hand carved by YouFine's top artists. It is made of high-quality beige marble material and a thick iron plate so that it would be a collectable artwork and an eternal treasure for your whole family. The structure of this marble gazebo is mainly divided into two parts. Its main part consists of eight solid marble columns, which look very solid. 
It is worth mentioning that the beam and iron top of the gazebo is connected by strong steel bars. This could ensure the stability of the gazebo and prevent potential safety hazards. The Iron top of this gazebo is forged from sheet iron, and we design various shapes to decorate it. I believe there is always a gazebo that you like.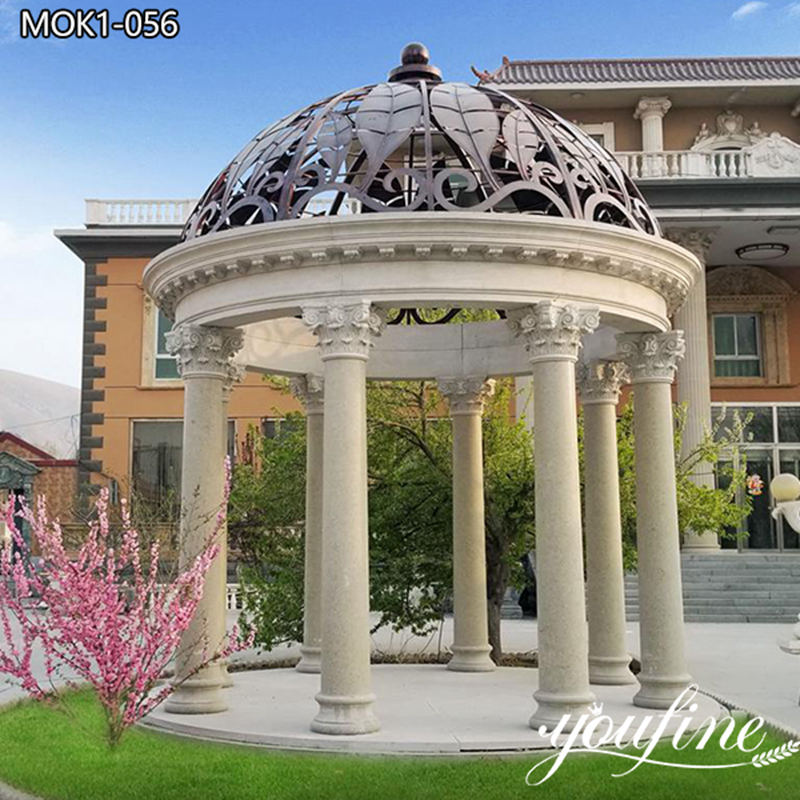 More Options for Marble Gazebo
YouFine is the best marble sculpture supplier in China. We have 39 years of experience in manufacturing and exporting marble gazebos. To meet the needs of different customers, we attach great importance to our sculptures' diversified shapes and designs. YouFine has a special design department to take charge of the innovation of marble gazebo styles. On the one hand, YouFine supports a wide range of gazebo styles for customization. We have the classic Italian gazebo, octagonal gazebo, marble column gazebo, and marble promenade. We would precisely recommend according to the customer's placement place. On the other hand, if you have a favourite design, we would also design according to your idea. We believe our professional team would create a unique marble gazebo for you.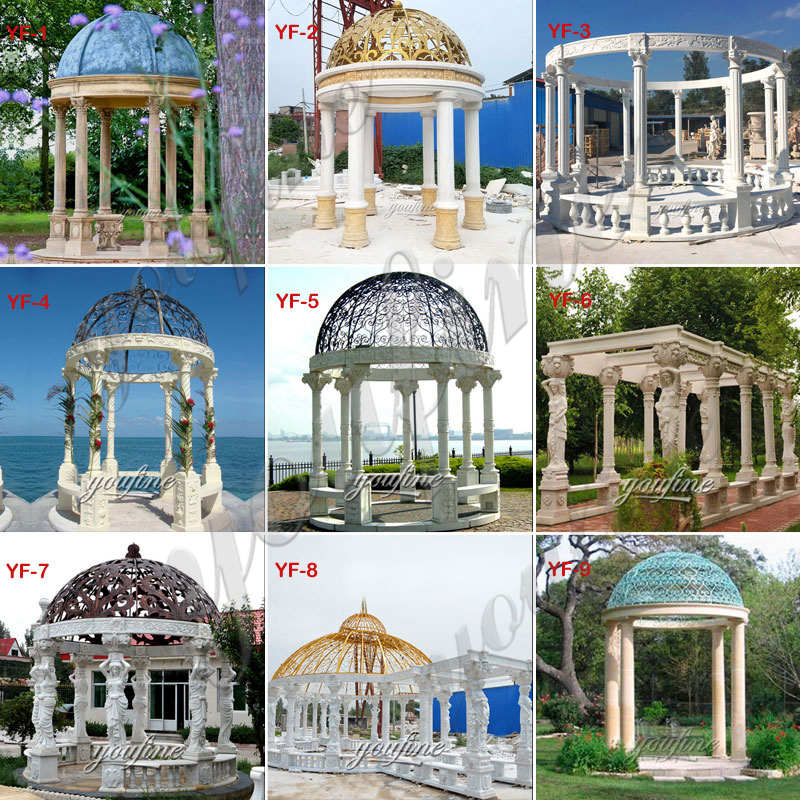 Good Feedback From Clients
YouFine is a trustworthy marble sculpture manufacturer. We not only pay attention to the quality of the gazebo but also pay great attention to the service of our team. YouFine is very famous for our customer service, which has been recognized and praised by many customers. We are a one-stop team. From the design and production of the marble sculpture to the delivery and installation of the product, every step of the way is taken care of by a dedicated team. 
At the same time, we would keep in touch with our customers throughout the process so that you could witness the whole process of the marble sculpture's birth, even if you are not there. Customers have praised the marble gazebos made by YouFine, and our customers think that YouFine's gazebos add more beauty to their environment.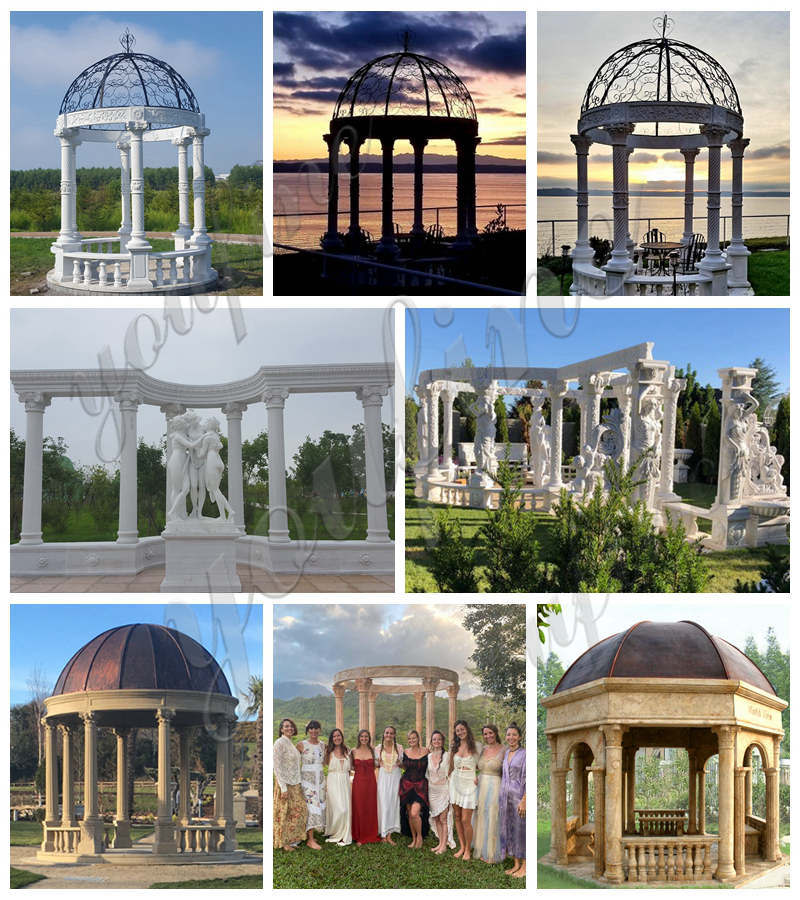 Professional Installation Instruction
Many customers have concerns about the installation of large
marble gazebo
s. If you have the same problem, then YouFine would be your best choice for a
marble gazebo
because YouFine is committed to solving all problems for our customers. For one thing, our carving artists mark each part in the installation order after the carving is completed. This could facilitate a smooth installation for our customers. On the other hand, we provide professional installation videos and guidance, and once you have doubts, our after-sales team would provide answers to your doubts. Please trust the YouFine team to make your shopping experience a perfect one.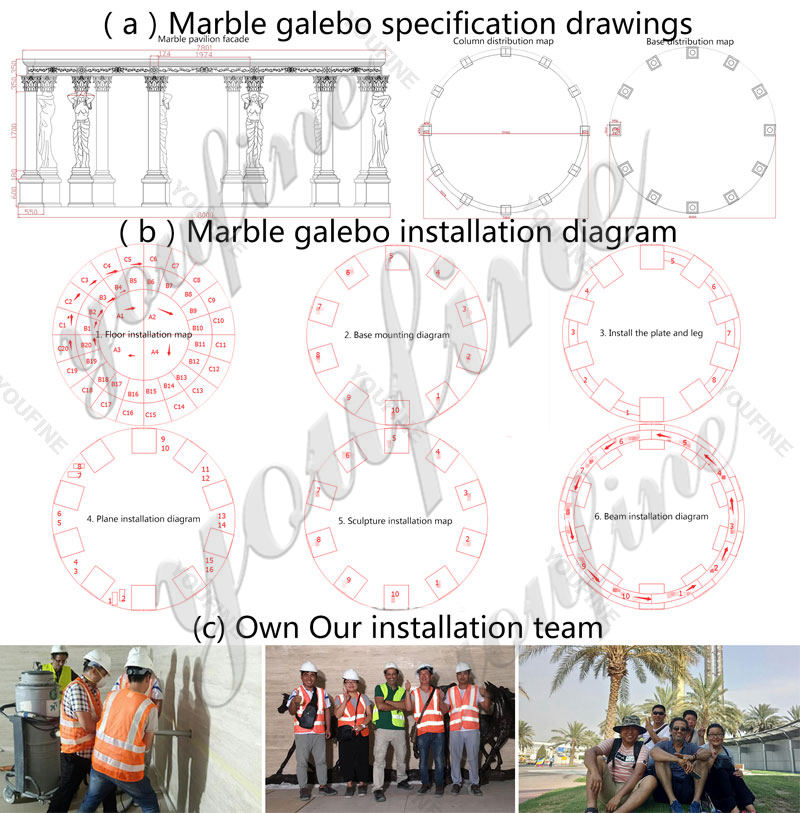 YouFine is a responsible marble kiosk supplier. If you are interested in this kiosk, please don't hesitate to contact us for the price and specific details.
TAG:&nbsp&nbspmarble column gazebo&nbsp marble gazebo outdoor&nbsp marble gazebo for sale&nbsp marble gazebo&nbsp
Specifications
TAG:&nbsp&nbspmarble column gazebo&nbsp marble gazebo outdoor&nbsp marble gazebo for sale&nbsp marble gazebo&nbsp