Details of Headstone with Angel Wings
This beautiful marble headstone with angel wings was carefully sculpted by YouFine's top artists. This beautiful angel has one arm around the headstone and the other arm holding her head against the top of the headstone, the YouFine carving artists have excellent carving skills, this angel is carved very holily and beautiful, especially her wings look very realistic. More than that, the sculpture of the angel with wings looks very realistic, she has long curly hair and a long flowing dress. The angel's hand holds a handful of flowers, and her wings are hanging low behind her as if silently guarding the person on the tombstone. This
marble headstone with angel wings
is very meaningful, if you need it, you could contact us to order.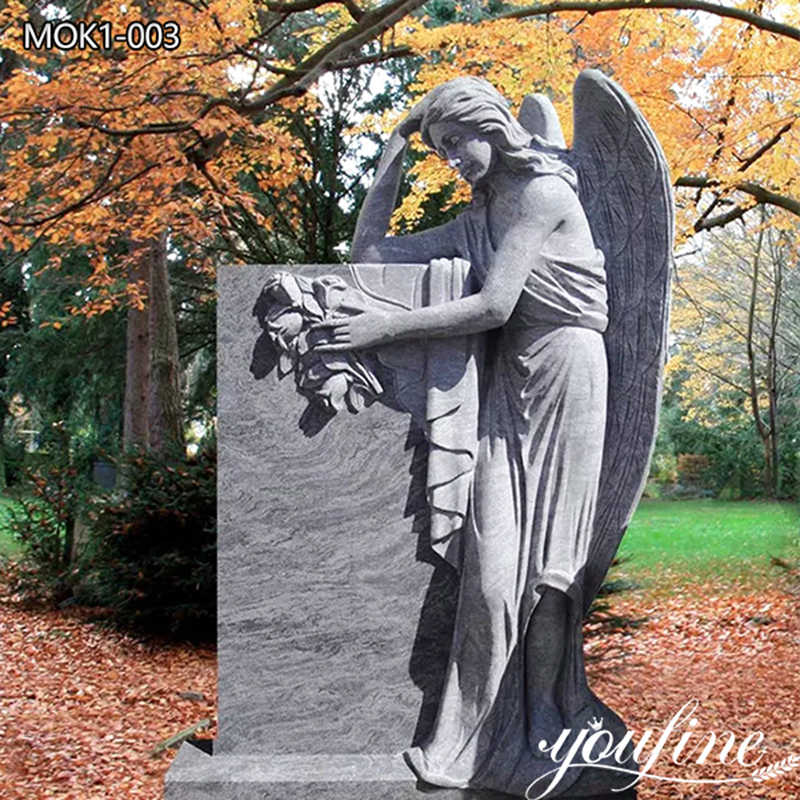 Marble Carving Artist of YouFine
There are many excellent marble sculpture carving artists in YouFine factory, among them there are about ten top masters who come from Quyang, the hometown of carving in China. Therefore, our factory is very experienced in making
marble headstones with angel wings
. On the one hand, these top masters have been contacted by professional sculptors since they were young, and they have inherited the traditional Chinese marble carving techniques. On the other hand, YouFine is a responsible carving factory. YouFine believes that if you treat each tombstone carving with care, you would be able to soothe the hearts of the family.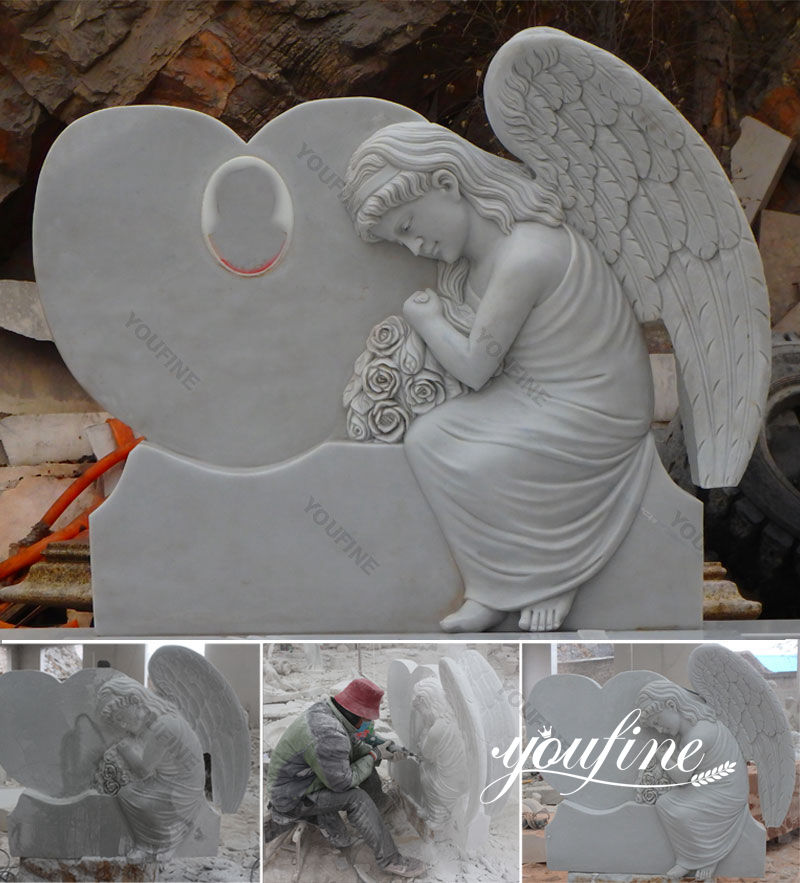 Safe Packaging Guidelines
YouFine is a professional marble sculpture supplier, and we export more marble sculptures to various regions or countries in the world. Therefore, YouFine pays great attention to the safety of shipping marble sculptures. To bring the best buying experience to our customers, our factory has a QC team to conduct strict inspections. After making sure the sculpture is correct, we would load the sculpture in a standard 3cm thick wooden box and fix the sculpture to prevent it from shaking. And we wrap the surface of the marble sculpture with a thick sponge and plastic foam, which could well protect the sculpture from breakage. It is worth mentioning that if you encounter any problem during the transportation, you could contact us for help.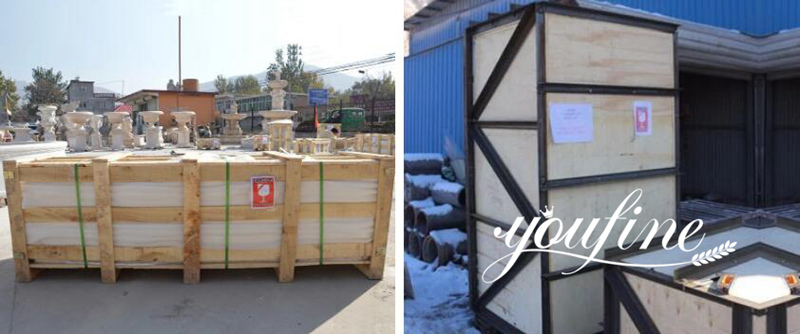 Customized Services for Marble Headstones
YouFine has made many types of marble headstones, and the
winged angel headstones
are very popular. If you have more ideas about headstones, YouFine could also provide you with customized services to meet your ideas. 
On the one hand, we have abundant marble materials, so you could choose according to the desired color and material. Most importantly, you could propose your design needs and our designers could meet all your ideas.
On the other hand, we support gravestone engraving and photo engraving, only you need to provide us with the needed information. What's more, we also support the shadow engraving technique so that the produced effect would be natural. We believe that the
marble headstone
we make would surely satisfy you.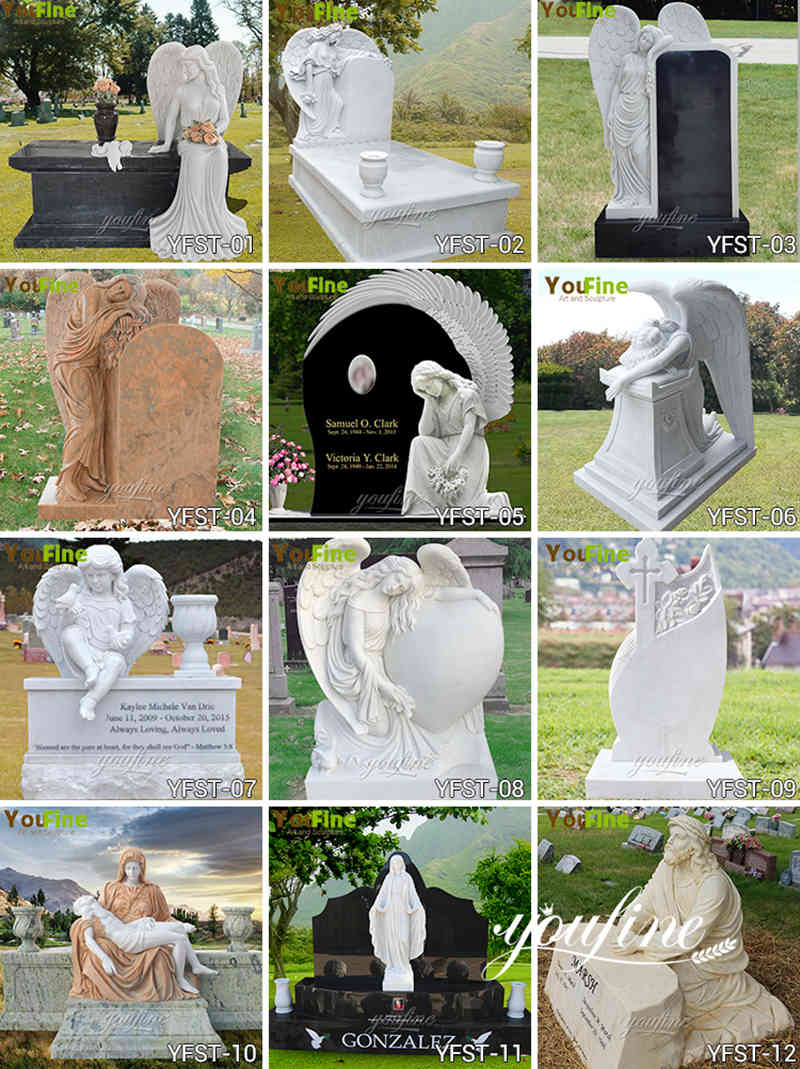 YouFine is a responsible sculpture supplier, we not only sell marble sculptures but also provide careful service to our customers. Please feel free to contact us for more information.