Details of Fireplace Statue
This marble fireplace mantel for sale on Craigslist is carved out of high-quality white marble material. Typical of the Regency Fireplace, it has a streamlined shape and beautifully carved floral motifs, the most distinctive feature of the Regency Fireplace is the many parallel grooves in the legs of the fireplace. This traditional fireplace mantels and surrounds are widely welcomed by customers because of their high quality and simple shape. youFine's artist carved this white marble fireplace mantel, and the fine carvings add a lot of beauty to this fireplace sculpture.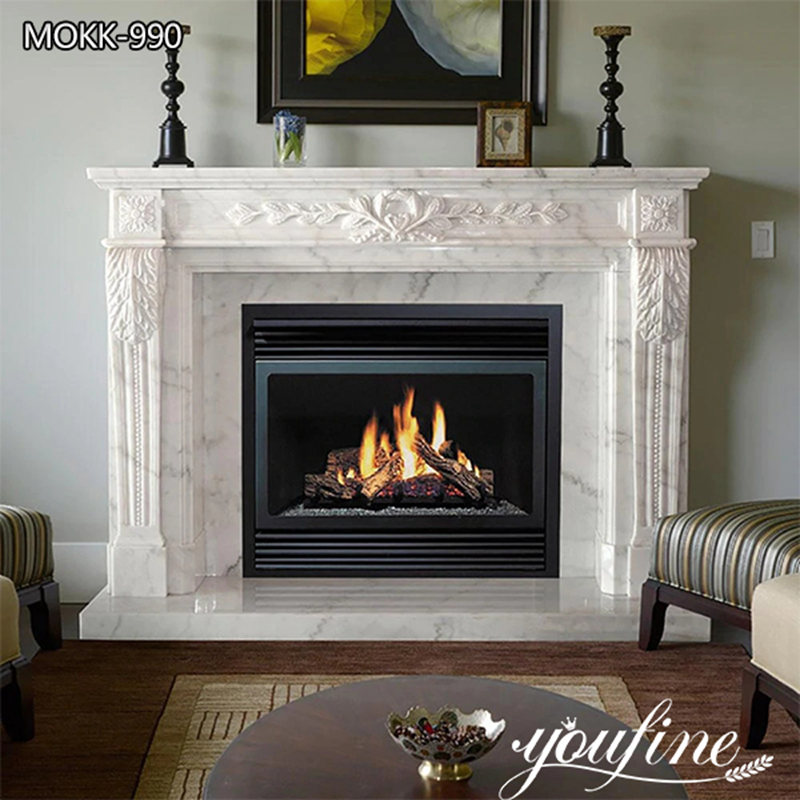 Rich Marble Material
YouFine has been working for 39 years to improve the quality and shape of marble sculptures. YouFine has a wide range of marble materials, including white marble, yellow marble and grey marble, etc. YouFine has long-standing suppliers of marble materials, so we have a wide range of marble types for our customers to choose from. What's more, YouFine has its quarry, and we always choose the best quality marble raw materials to make a marble fireplace. In addition, YouFine's marble materials are all sourced from natural stone, which has high artistic value and collection value.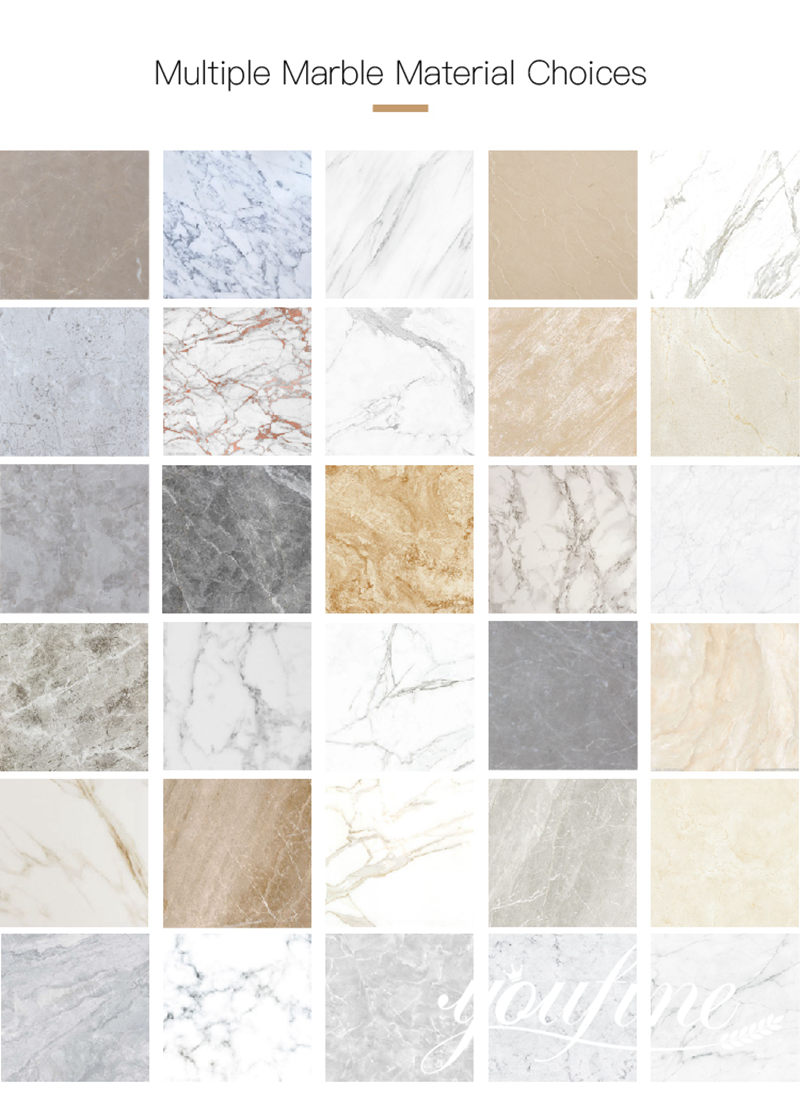 Professional Marble Carving Technique
YouFine's artists are all professional carving artists who come from Quyang, the hometown of carving in China. These artists have the most dedicated artisan spirit and they are very dedicated to the works they carve. The carving artists in our factory have been exposed to the marble carving craft since they were young, and each of them has more than ten years of carving experience on average. We would have the most skilled marble fireplace carving artists make your marble fireplace, and they carve each fireplace sculpture with their deft hands. Each drawing we see is personally carved by our artists and is of great artistic value.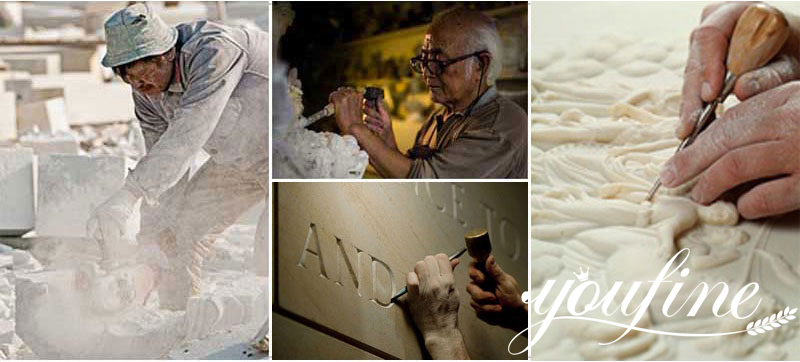 More Choices for Marble Fireplace
YouFine's marble fireplace mantels are a popular home decor item and customers from all over the world shop for beautiful marble fireplaces from YouFine. On the one hand, we have a large in-stock fireplace showroom with many classic marble fireplace mantels in stock for customers with tight deadlines. 
On the other hand, if you provide us with the dimensions of your installation, we could draw up drawings and make plans for you and adapt them to your needs. What's more, Dali fireplaces are available in many different styles, including French fireplace, Georgian fireplace, Victorian fireplace, Statuary fireplace, and Overmantel fireplace. We could choose the most suitable
marble fireplace mantels
for you according to your home environment.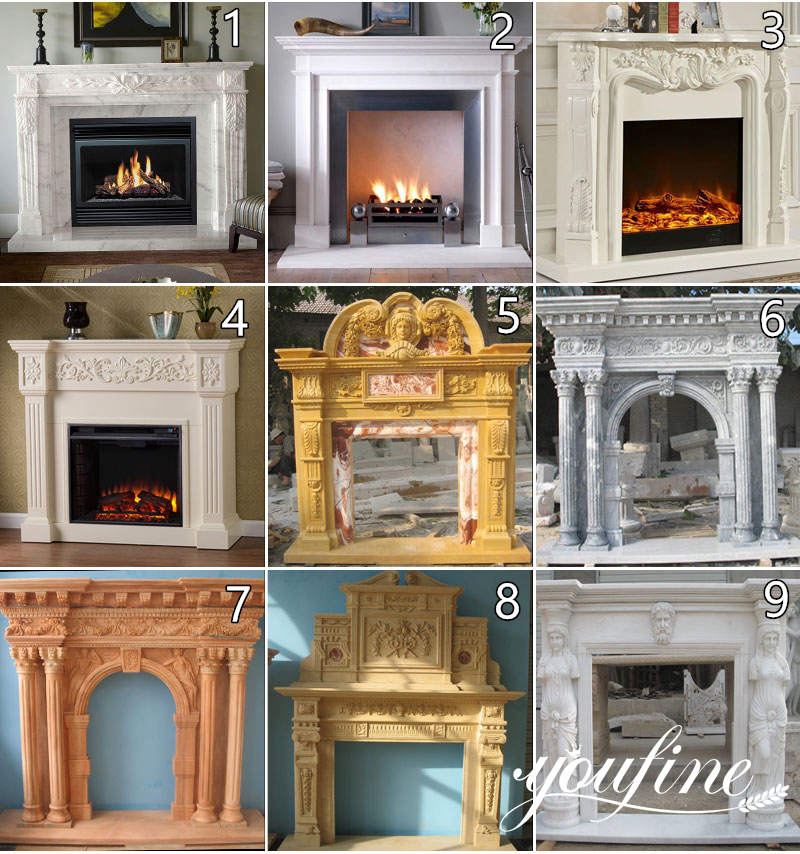 YouFine is a responsible marble sculpture supplier, we believe our beautiful marble fireplace could add more colors to your home. If you like it, please feel free to contact us for consultation.