Details of Marble Gazebo
The marble gazebo is now for sale at a low price, thanks to YouFine's upcoming 40th anniversary. This marble column gazebo is carved in white marble, and although its shape is a common one, its overall design makes it look very sophisticated and beautiful.
The theme of this marble gazebo outdoor is pure white, whether it is the white marble gazebo or the hollow white iron dome, all add to the beauty and sacredness of this gazebo.
Therefore more customers buy this set of marble gazebos outdoor as wedding and seaside decoration, I believe it would add a more romantic atmosphere to your place.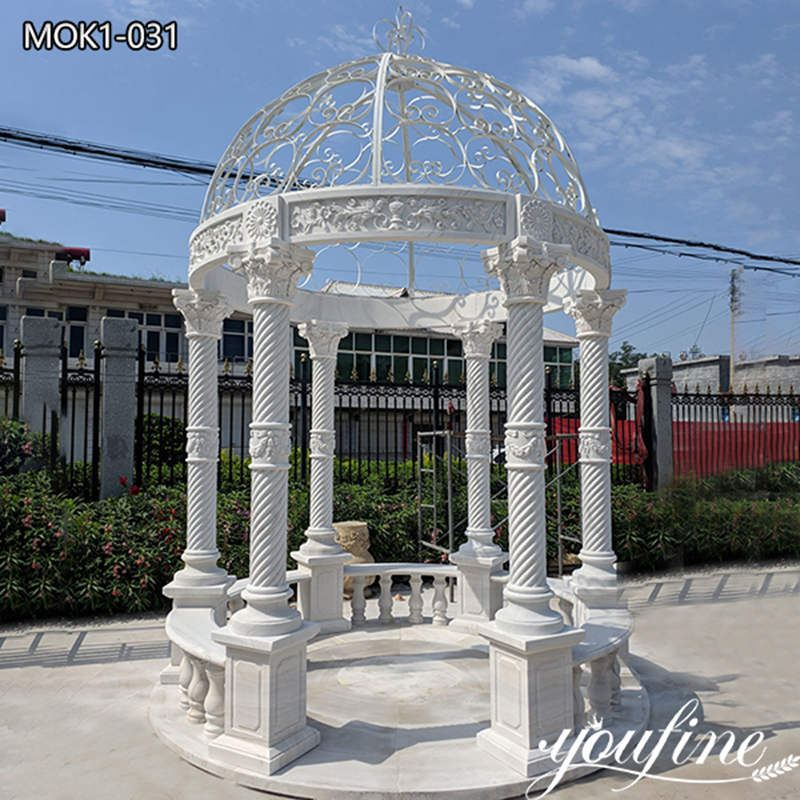 High-quality Marble Gazebo Manufacturer
YouFine has been in business for 39 years and has been dedicated to creating high-quality sculptural artworks. We also pay close attention to the quality of our sculptures and customer experience. We have a great deal of experience and confidence in the production of this
marble gazebo

.
This is due to the excellent sculpting ability of the top masters at the YouFine factory.
YouFine's master carvers are all veteran artists with over fifteen years of experience. They enjoy the process of creating marble sculptures, and each piece of marble is carved with their heart and deft hands. You could see that the columns, beams, bases, and benches of this gazebo are carved with various kinds of drawings, and each carving is very delicate and innovative, which contains the hard work of the artist and the high demand for art. Therefore, the purchase of this marble column gazebo is very worthwhile.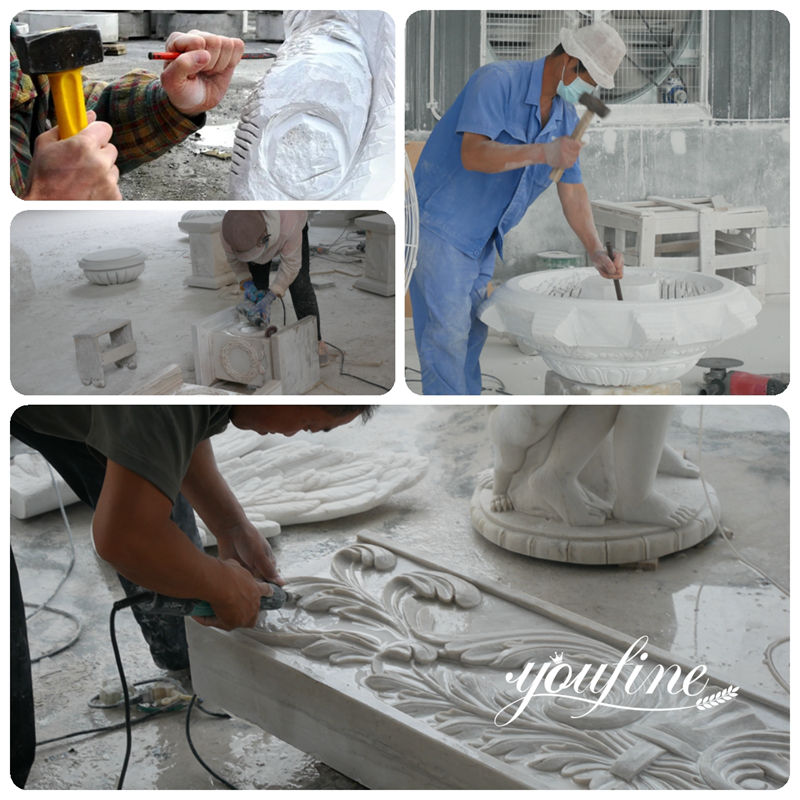 Explanation of Installation Problems
We found that some customers who bought this kind of marble gazebo from China for the first time have a lot of doubts about the installation of this large-size sculpture, YouFine would be very good to answer your questions.
It is important to know that this marble gazebo is large but simple and clear in structure. To reduce the installation difficulty for customers, our workers number each part of the pavilion according to the installation order before packing, and when you receive the goods, you just need to find a local installation team to assemble them easily, which won't cost you a bit of effort. In addition, we include an installation guide and video introduction, maybe you could try to install it by yourself with your friends or family, it would be a fun craft activity.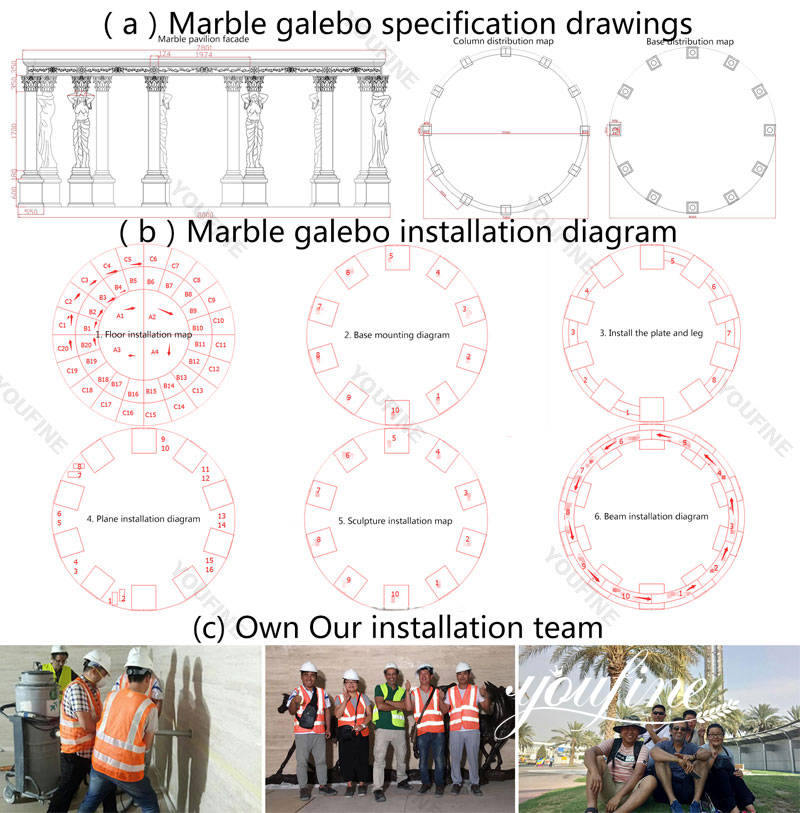 More Questions about Overseas Shipping
Of course, customers who don't often buy sculpture art from overseas would be worried about the risk of shipping. Don't worry, this is normal for everyone. China is a huge art export market and YouFine is a leader in the field of Chinese sculpture. We have a lot of orders and customers from all over the world every year, and we have a lot of experience in exporting.
One of the examples is the packaging of sculptures, YouFine to avoid damage to marble sculpture artworks in long-distance transportation. We use a thick sponge and plastic floating foam to wrap the sculptures every time. In addition, the boxes used for packing are standard 3cm thick wooden boxes, which could carry most of the pressure and collision. As a result, very few of our customers' sculptures have problems with breakage. Of course, but whenever there is a problem with your goods, YouFine would provide you with a complete after-sales service.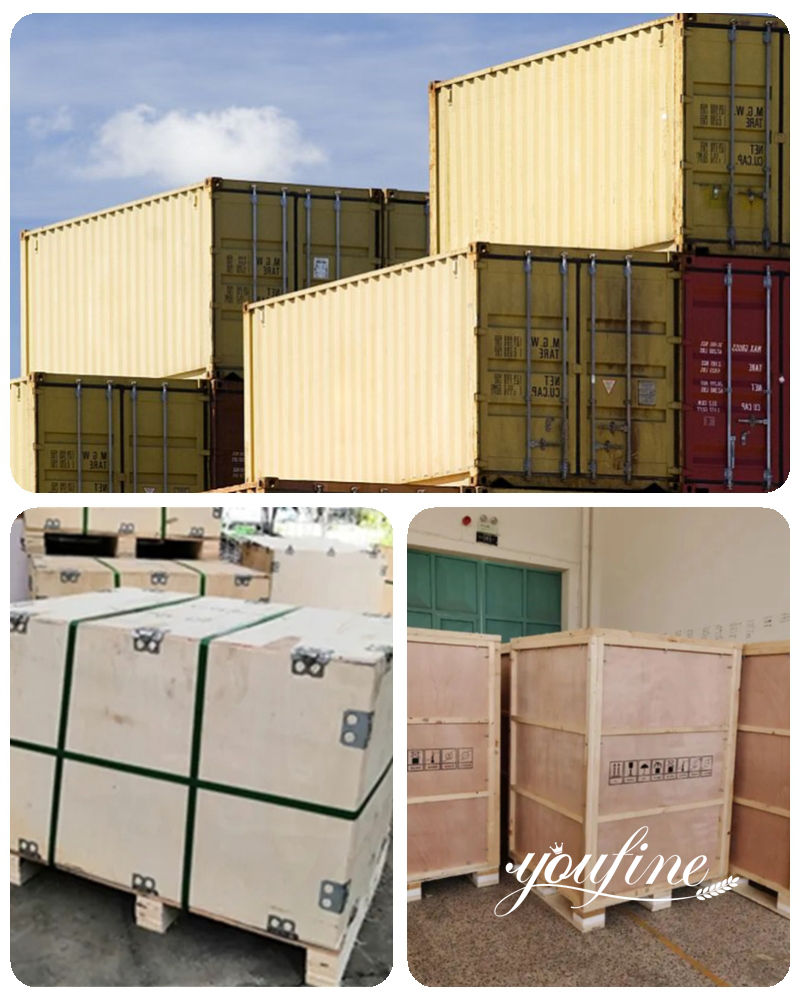 YouFine is a serious supplier of sculptures, and our prices and quality are the best in the industry. If you want to buy a sculptured artwork with value for money, YouFine is the best choice for you.