Details of Bronze Dolphin Sculpture
This bronze dolphin fountain set was carefully cast by YouFine's top artists. We cast this set of sculptures very fine, often because of its realistic shape, and received wide praise from customers. The first thing we could see is that this sculpture consists of three lovely dolphin sculptures. The bottom is also designed with a wave-shaped base, and the color and material of this wave base could be changed according to your needs. The most special thing is that the three bronze dolphin sculptures are designed with water jets in their mouths, which could be placed in the pool as a fountain water sculpture. If you like this bronze dolphin sculpture, we could customize an exclusive sculpture for you.
Improvement of Lost Wax Method
YouFine is a progressive sculpture supplier, our goal is to constantly innovate technology and design concepts to bring our customers a better artistic and shopping experience, YouFine's
bronze sculpture
casting method is based on the lost wax method, which is a traditional method of casting metal sculptures to retain the maximum amount of detail. However, YouFine discovered early on that this method of casting bronze has certain drawbacks and couldnot avoid the phenomenon of white spots caused by chemical splashes on the surface of the sculpture. Therefore, YouFine spent a lot of manpower and financial resources in the country to visit and study, and finally successfully improved the lost wax process, and began to use the silica sol process, successfully avoiding the appearance of white spots on the surface of the sculpture.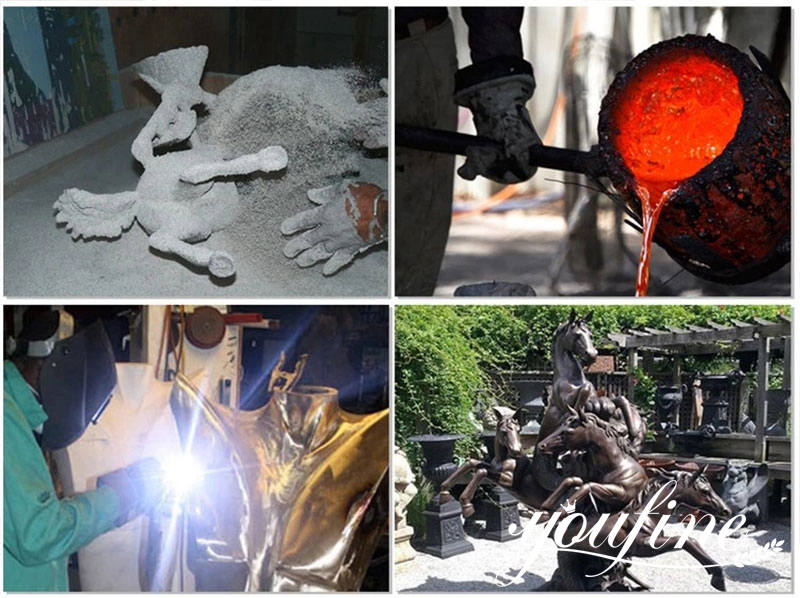 Professional Patina Technology
YouFine is a professional bronze sculpture supplier, and we attach great importance to the patina of sculpture. On the one hand, our factory has specialized patina artists for bronze sculptures, and many masters come from top art colleges in China and have won numerous awards in the industry. On the other hand, our artists have their specialties in patina, including spray painting, color painting, high polishing, and chemical patina. No matter what your patina needs are, YouFine could satisfy your desires. What's more, YouFine's artists use chemical patina to paint sculptures with very vivid colors that could become more and more natural over time.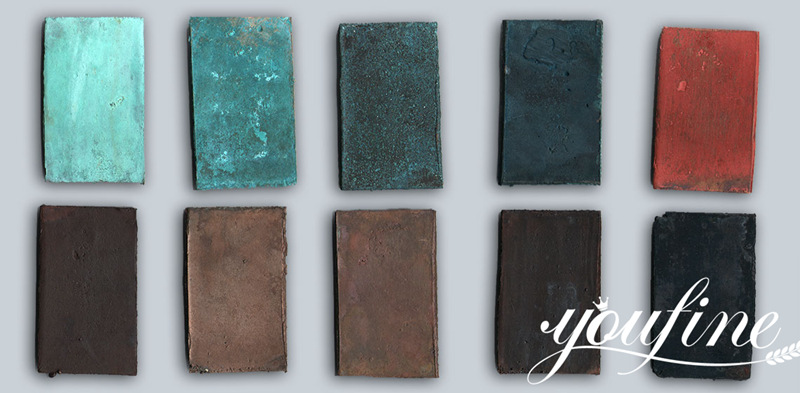 More Bronze Dolphin Statues
YouFine is a supplier of a wide range of bronze sculptures. Our factory has a myriad of sculptures for you to choose from. We have not only bronze animal sculptures but also classic bronze figure sculptures, sculptures of famous artists, bronze religious sculptures, and more. YouFine could provide almost any style you like. About this
bronze dolphin sculpture
, we also have several beautiful models to choose from, if you want a bronze dolphin fountain for the pool, you could always contact our team and they would provide you with more full information and pictures. What's more, if you want to change the shape, size, color, etc. of the sculpture, YouFine could fully satisfy your needs.
YouFine is a responsible sculpture supplier and we hope that every customer who buys a sculpture from YouFine would feel the beauty of our sculpture art. We look forward to your purchase and consultation.