Details of Bronze Horse Sculpture
The bronze horse sculpture for sale racehorse Zenyatta is the winner of the 2009 Breeders' Cup and is a perfect replica of the horse named Zenyatta. The statue of racehorse Zenyatta is the winner of the 2009 Breeders' Cup and Horse of the Year in 2010. Racehorse Zenyatta won the race three years in a row, and he retired with 19 victories in 20 races, and his story is known and praised by a growing audience.
More and more customers are coming to YouFine to customize this famous racehorse sculpture, a bronze horse sculpture that perfectly illustrates the aura of the champion horse. It has a very upright posture, full of muscles, and looks very athletic. Its hair and tail are flying and it looks very dashing. If you like this beautiful bronze horse sculpture, please contact YouFine to order.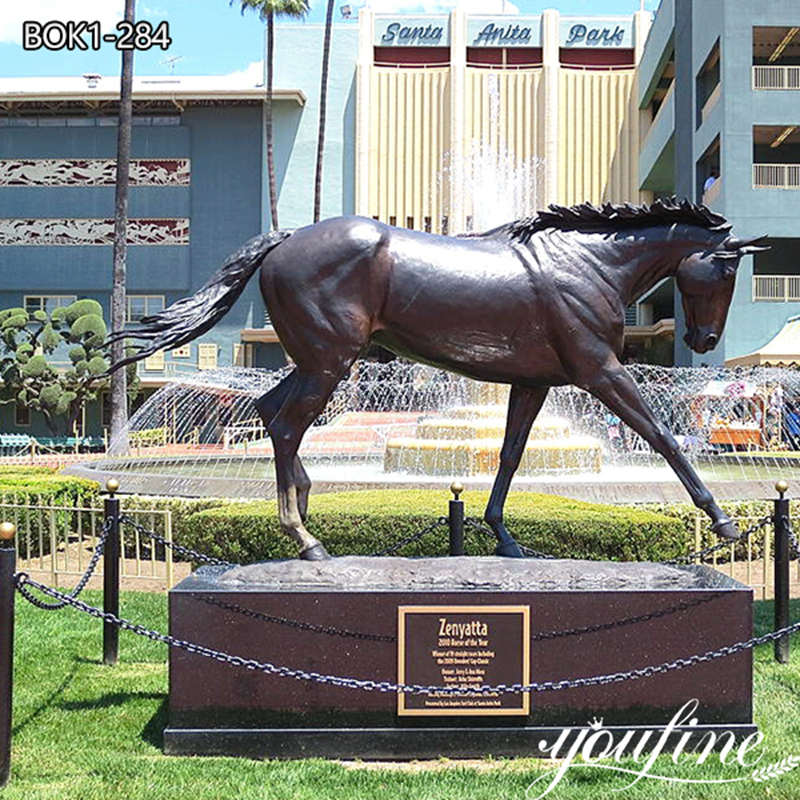 Why Do You Like Horse Sculptures?
YouFine receives orders for bronze horses from all over the world every year, and customers from all regions are attracted to horses, especially horse racing sculptures. Many countries have major annual horse races and they enjoy the spiritual pleasure of horse racing, and many people love champion horses and have sculptures made of them as a memento.
In addition, the relationship between horses and humans is unique, as they are both helpers and friends. In ancient times, horses not only transported goods but also took people to faraway places or helped warriors to kill the enemy in battle. And in modern times, horses often appear in equestrian shows, horse racing, and other forms to bring people joy. Therefore, each
bronze horse sculpture
carries people's love and care for horses.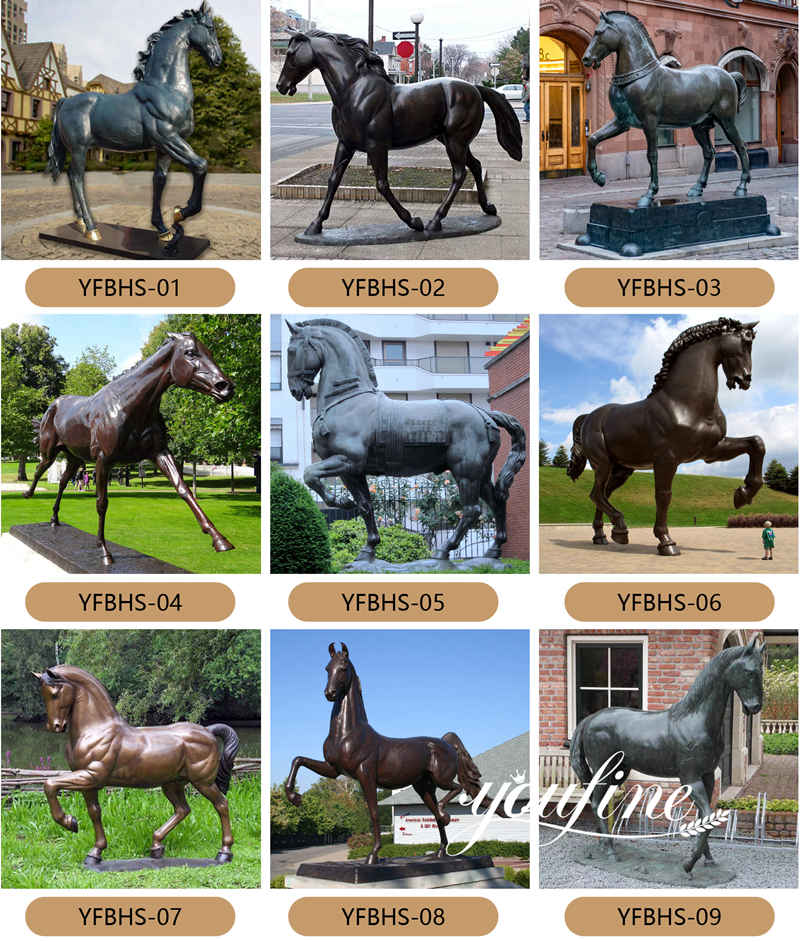 How is a Bronze Horse Sculpture Cast?
The bronze horse sculptures cast by YouFine for our customers are very realistic and vivid. We always use the traditional lost wax method to cast the bronze sculptures, this casting process  could restore the details of the sculpture to the greatest extent and is the most suitable method for making bronze sculptures. In the process of lost wax bronze casting, there are several major steps, including clay mold, silicone film, wax shell, copper water filling, polishing, etc. Each production process in YouFine factory is in charge of a professional artist, especially the clay mold, we would ask the most professional clay mold artist in Qu Yang to make it because the quality of the clay mold determines the realistic degree of the sculpture. In addition, YouFine's sculptures use high-quality bronze, and the cast bronze sculptures  could stay for a hundred years.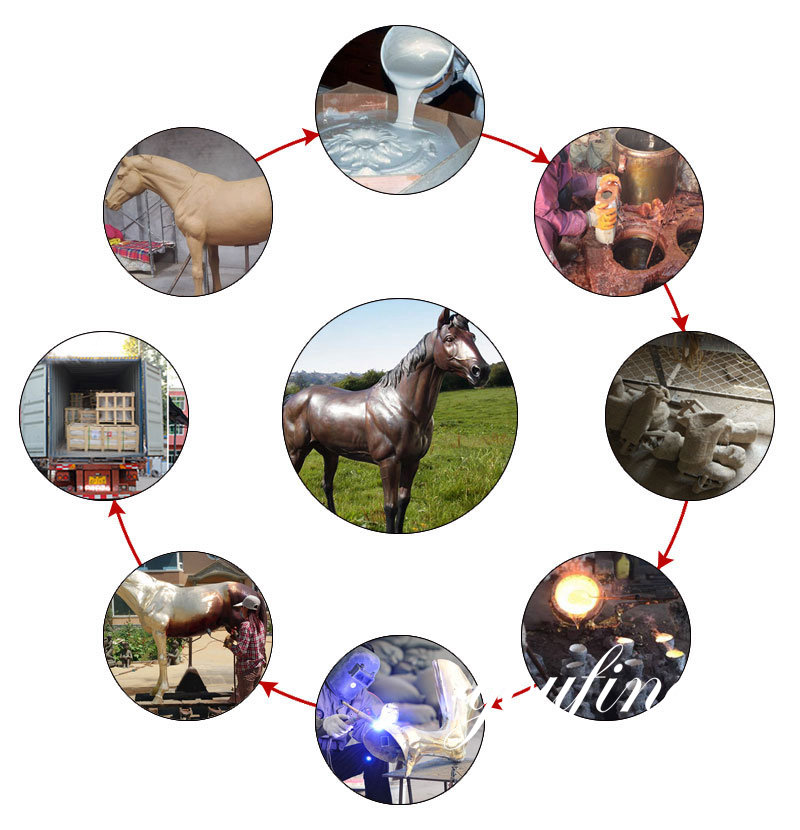 More Bronze Horse Statues for You
YouFine is a full-service sculpture supplier, offering a wide variety of choices in materials, shapes, sizes, and colors. Our professional design team  could meet all your needs, and our top masters  could cast the best quality bronze horse statues for you.
Each bronze horse sculpture cast by YouFine is unique and made especially for you. If you have a bronze horse sculpture that you like, please feel free to come in and customize it, we have cooperated with many artists and  could reproduce the perfect sculpture for you.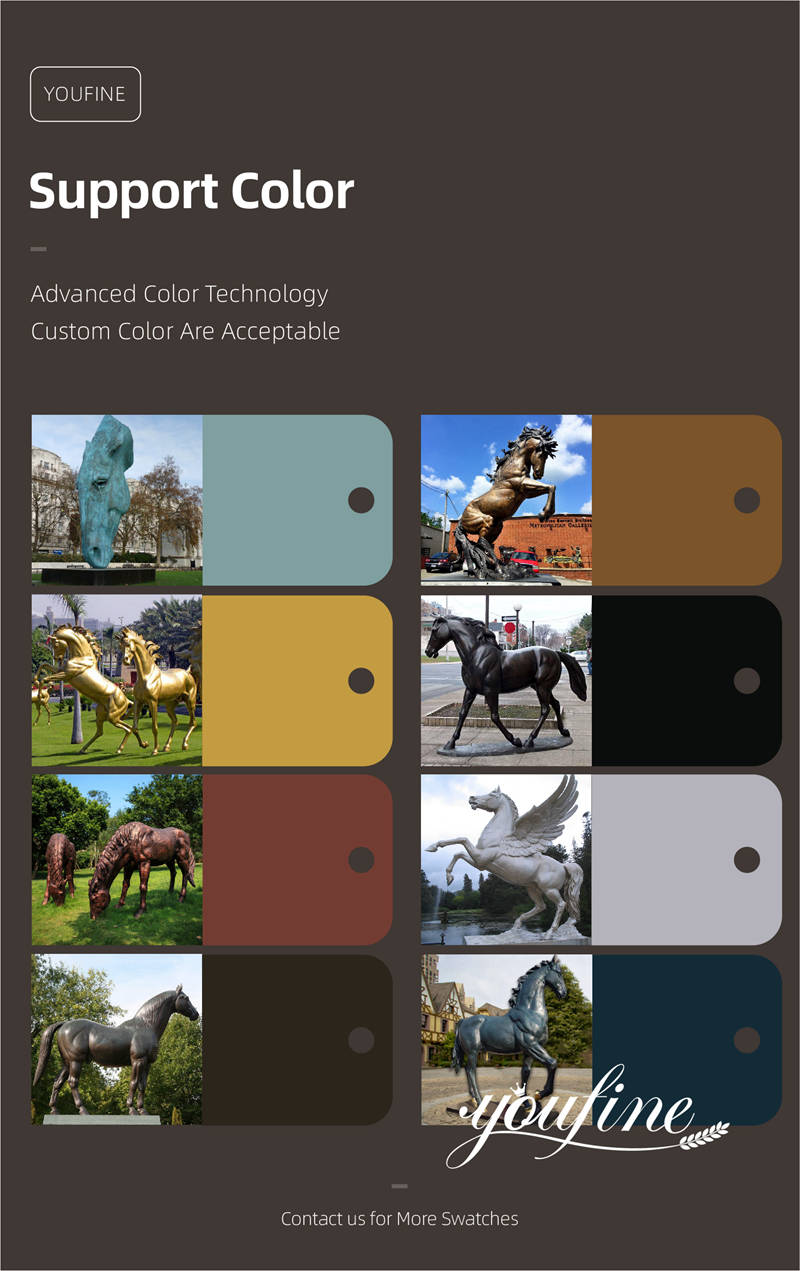 YouFine is a trustworthy bronze sculpture supplier, we believe our comprehensive service and exquisite sculptures would bring you more pleasure. Please feel free to contact us for consultation.