Large Giraffe Sculpture Details:
This set of large bronze giraffe sculptures are cast in high-quality bronze material and their appearance and color look so realistic that they have caused many people to marvel. YouFine made this set of bronze sculptures in life-size, both its height and the spots distributed on its body are similar to the giraffes we see in zoos.
We could observe that they have long and slender limbs and long necks. The giraffe's golden yellow skin is also evenly distributed with brown spots. These giraffe family snuggled together, the picture looks very warm and harmonious. If you like this bronze giraffe family sculpture, please contact YouFine for your customization.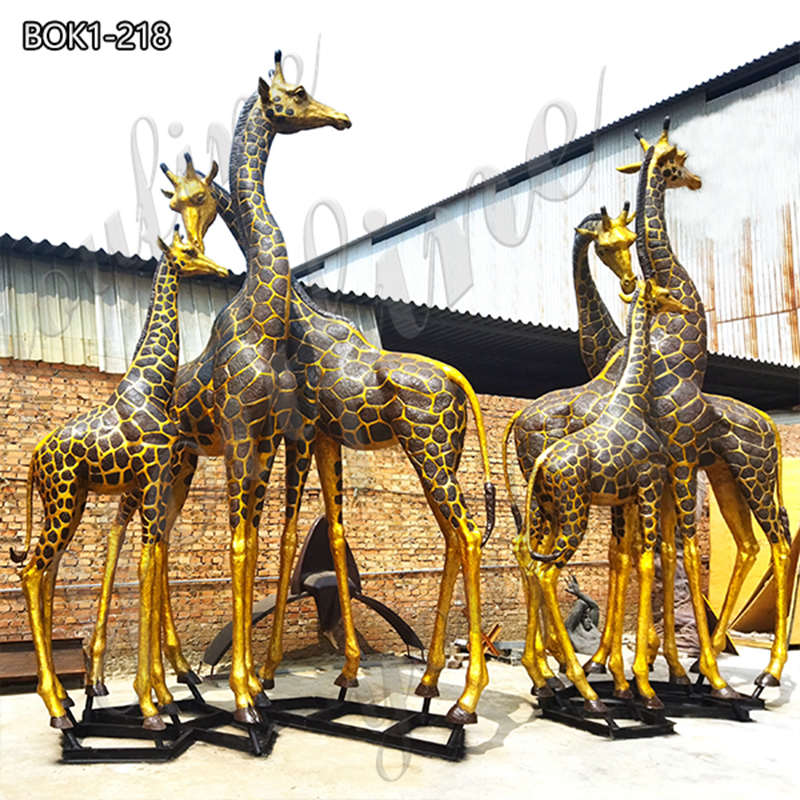 How To Make a Realistic Bronze Sculpture:
The bronze giraffe sculptures are made by YouFine's top masters, and because YouFine is very concerned about the quality and reproduction of the sculptures, we take great care in making the clay molds. They are very passionate about the sculpture industry and are especially good at making clay molds. Most importantly, these artists have Chinese craftsmanship and are very serious about making the sculptures. During the process of making, the artists would patiently modify the clay mold according to the customer's needs until the customer is satisfied.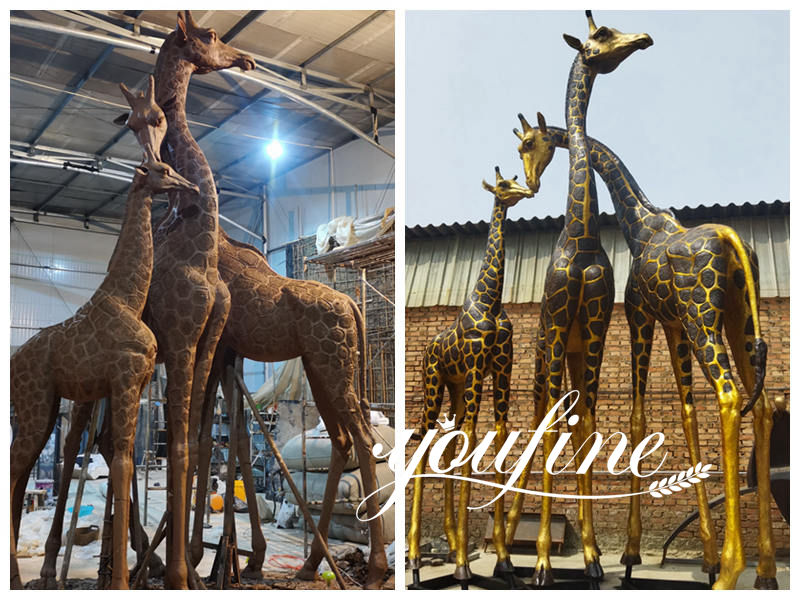 Excellent Patina Techniques:
Painting bronze sculptures is one of the key steps in making bronze sculptures, and YouFine's
bronze sculptures
are always done by professional coloring artists, many of whom graduated from top art universities and take the art of sculpture finishing very seriously. During each coloring process, they carefully feel the pleasure and sense of accomplishment that the sculpture brings them. Therefore the sculptures we make are full of art and have great collector value. What's more, the sculptures in our factory use a variety of coloring methods, the common ones are spray paint, chemical coloring, and color painting. It is worth mentioning that the sculptures painted by YouFine's top masters are very colorful and would become more natural over time.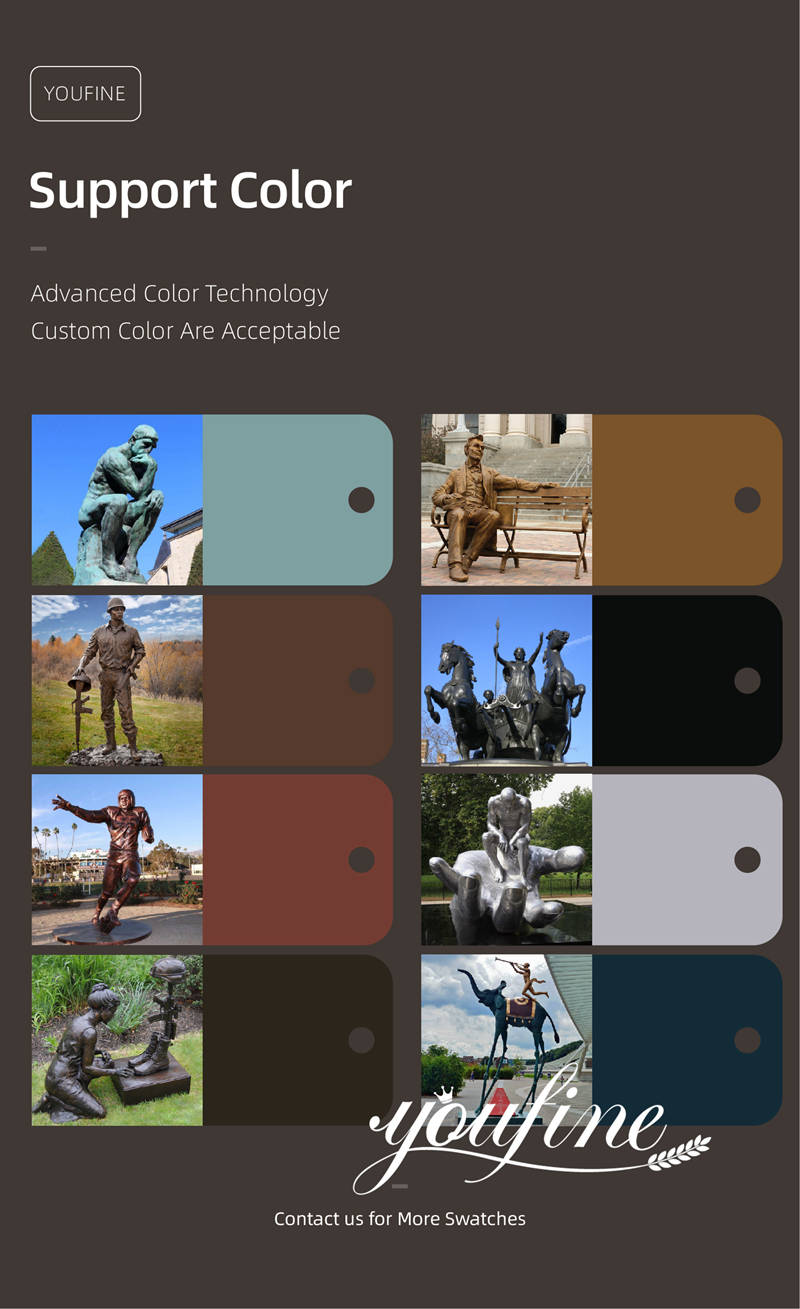 More Bronze Animal Sculptures From Youfine:
YouFine is a bronze sculpture supplier with 40 years of experience. We have a large number of orders every year from all regions and countries of the world. We are very good at making
bronze

animal sculptures
and we have made bronze lion sculptures, bronze bull sculptures, bronze eagle sculptures, bronze bear sculptures, and so on for our customers. In addition, if you like bronze deer sculptures, we also have many varieties and shapes of different roads for you to choose from. What's more, the color, shape, and size of the sculpture could be adjusted according to your needs. We believe there is always a bronze animal sculpture that
you like.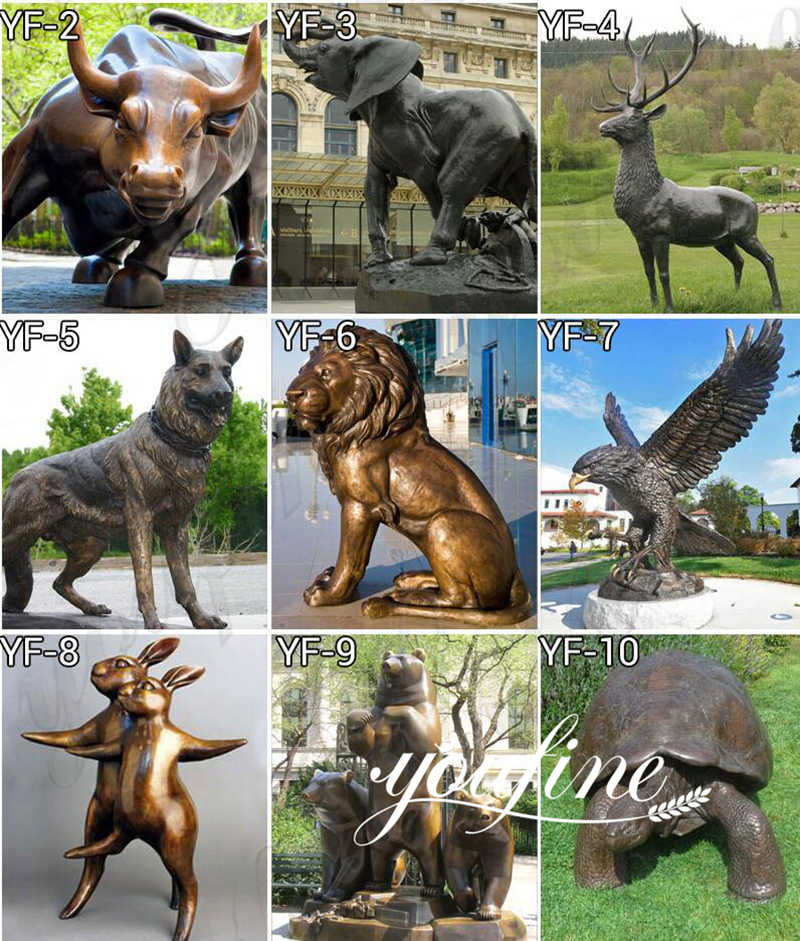 YouFine is an experienced bronze sculpture supplier, we would customize professionally according to your needs. Please feel free to contact us for more information.