Details of Bronze Chinese Foo Dog
This large bronze foo dog statue is on sale at a discount for YouFine's coming 40th anniversary. It is usually placed at the entrance as a guardian role, this sculpture is antique colored and looks full of age and history. It is reminiscent of the giant bronze Chinese foo dog statues in front of Tiananmen Square in Beijing, China, which have survived through the ages but still retain their integrity and majestic appearance. It is worth mentioning that YouFine is also able to cast high-quality bronze Chinese lion sculptures.
We use high-quality bronze material to make the sculptures and every detail is well reproduced. This bronze lion sculpture is a male lion, which we could tell from the embroidered ball under its paws. The overall shape of this lion sculpture is shaped according to the traditional Chinese lion sculpture and looks very imposing.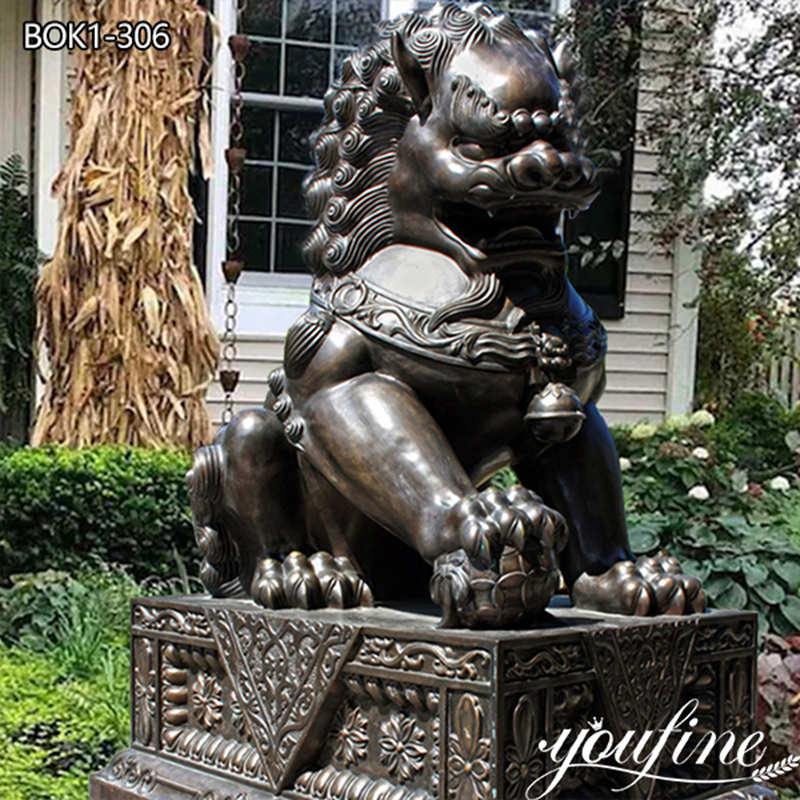 How to Cast a High-quality Bronze Sculpture?
YouFine's bronze Chinese lion sculpture was carefully cast by YouFine's top masters, our casting artists are experts in the industry, and they inherited the traditional Chinese bronze casting technique – the lost wax method. This method of casting allows for the greatest amount of detail to be restored to the metal sculpture, thus producing the most detailed bronze sculpture artwork.
Our lost wax method has been improved and innovated for many years, perfectly solving the defect of white spots on the surface of the sculpture. Today, YouFine is one of the very few sculpture suppliers in the entire bronze sculpture industry that use the silicone casting process. Therefore we could guarantee the quality of the sculptures.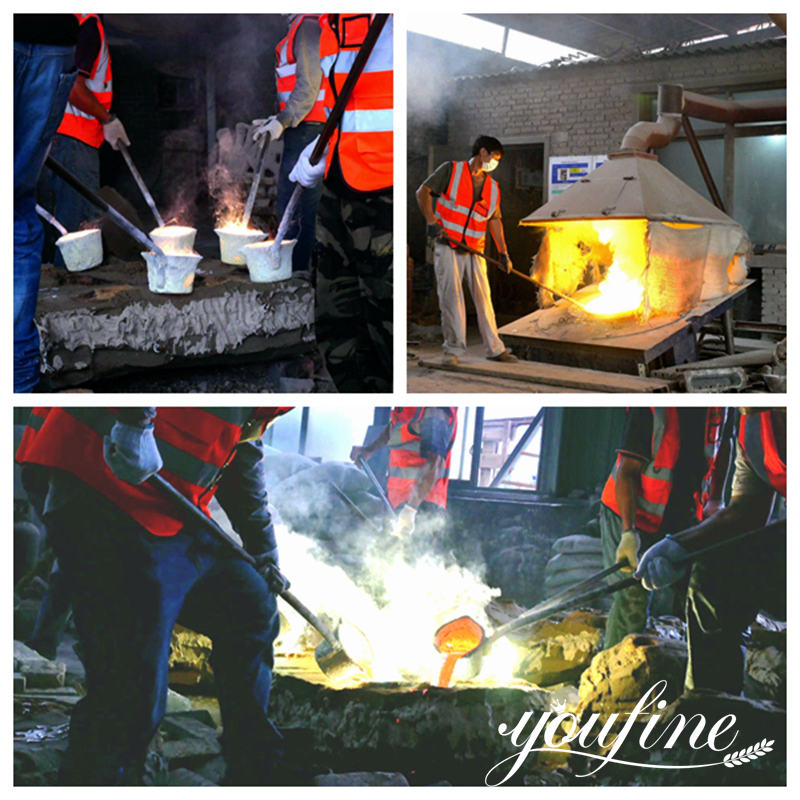 Safety and Security of the Sculpture
The bronze sculptures made by YouFine are of great artistic value, so we take the safety of transporting the bronze sculptures seriously. We have a special QC team to check the quality of the sculptures before shipment. During the packing process, our workers would also protect the sculptures in strict accordance with the standards.
Firstly, the surface of the sculpture would be packed with a thick sponge and plastic foam. Secondly, we would pack the sculpture with 3cm thick wooden boxes. These two types of packaging measures would ensure the maximum safety of the sculpture for transportation.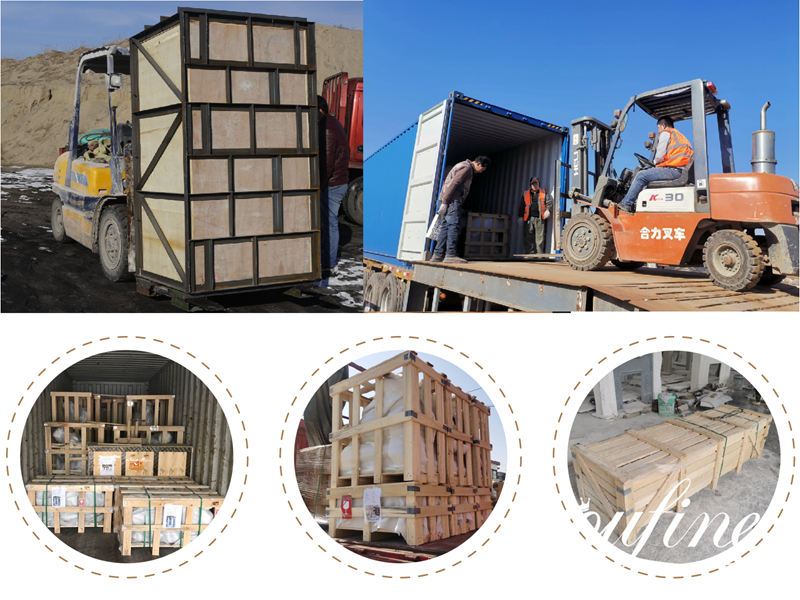 More Options for Bronze Chinese Lion Statues
YouFine's
Bronze Chinese Lion Statues
have been one of our factory's top-selling sculptures, we make Chinese lion statues in a variety of materials, shapes, colors, and sizes, and we make sure that every customer could find the right sculpture for them, and we also want our customers to feel the beauty and value of the art.
More than that, our Chinese lion statues support design and shape change. Art always progresses through innovation and development, and YouFine hopes to create higher artistic value with our customers.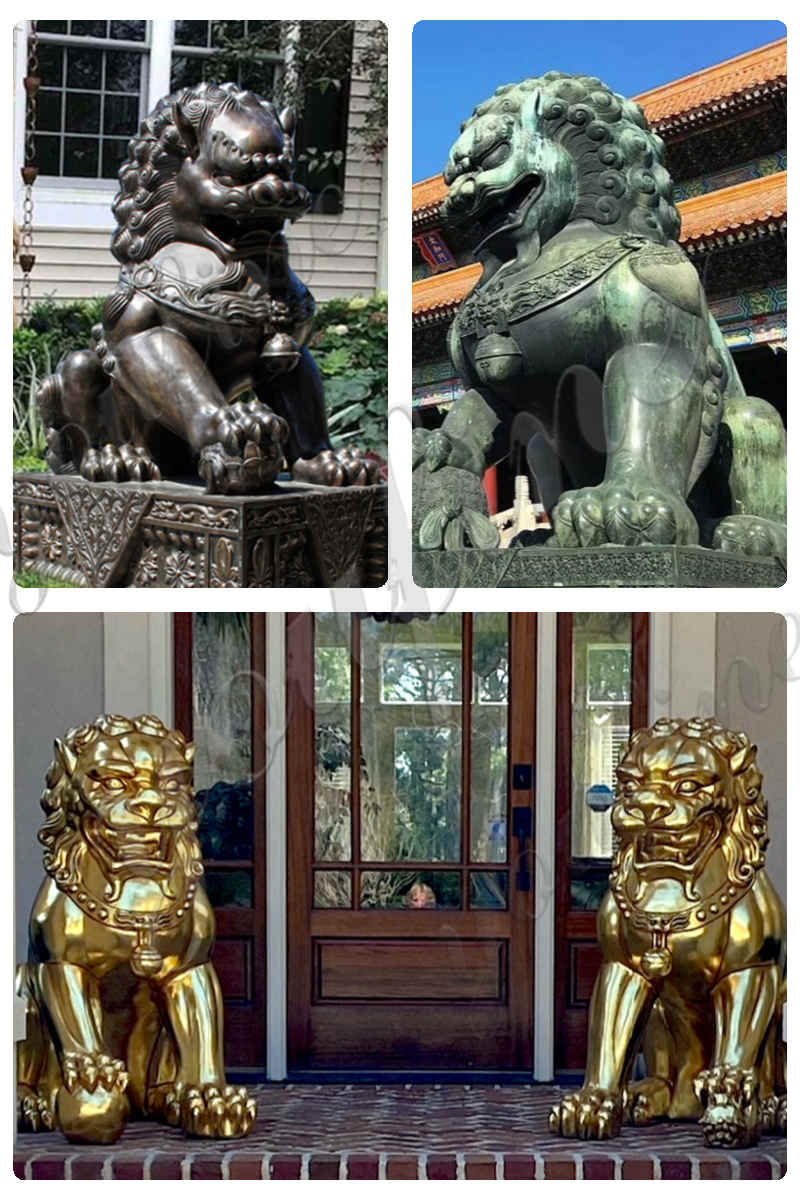 YouFine is a responsible sculpture supplier, our sculpture artworks are created with care and have high quality. We hope you could find a sculpture that fits your heart and soul at YouFine.