Details of Stainless Steel Abstract Sculpture
Stainless steel abstract sculpture has undoubtedly become one of the most popular sculptural art styles this summer. This mirrored metal abstract sculpture is an irregular half-circle shape. Different people would have different ideas when they look at this sculpture. You could see it as a broken moon, a piece of melted cheese, or the yin and yang poles. In short, it would be displayed in front of us in any form, bringing more beauty to our environment. Our designers have placed it in the middle of a water feature. This certainly amplifies the artistic and mirrored effect of this abstract sculpture.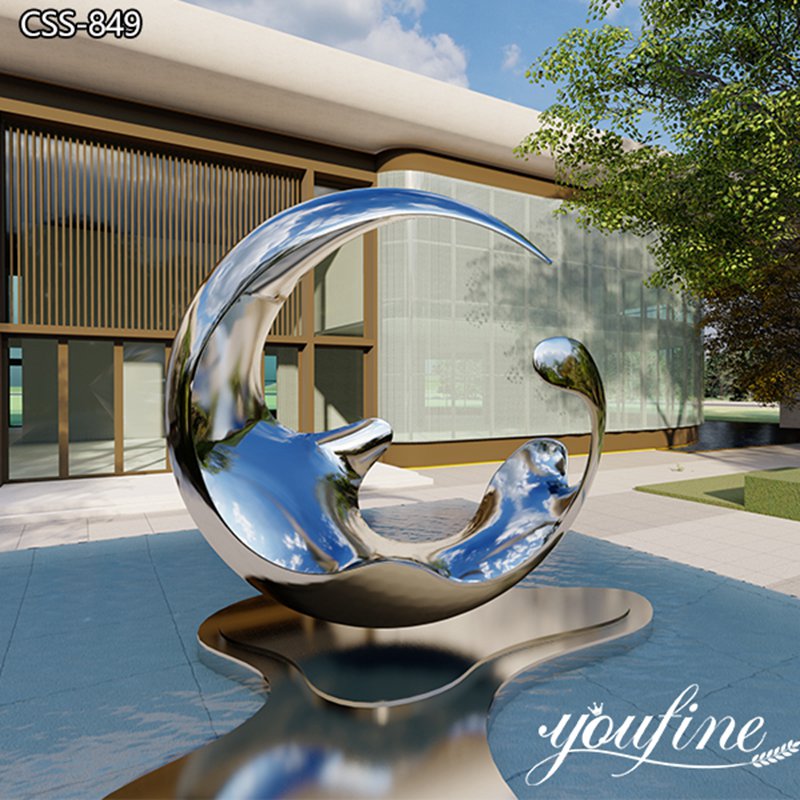 More Popularity Design for Modern Sculptures
Do you want to know what the most popular styles of sculptures this year are? YouFine would answer your questions. We are China's largest supplier of sculpture artwork, including stainless steel abstract sculptures, metal water fountain sculptures, stainless steel animal sculptures, and the most popular stainless steel garden landscapes, sculptures, and more. It is worth mentioning that many. The popular styles are all from the original design of Youfan. Our designers are very professional top masters, and we could draw 3D drawings for you if you need them. Please get in touch with us to consult more popular modern sculpture styles.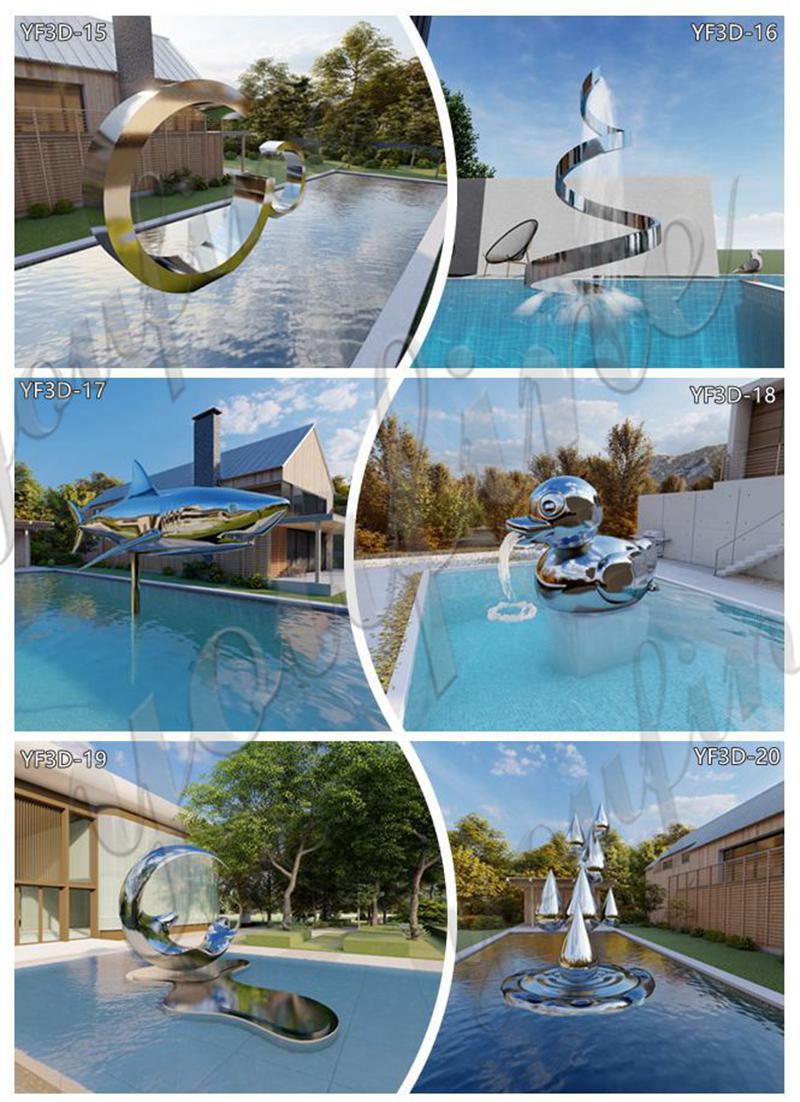 What are the options for surface treatment for stainless steel sculptures?
Stainless steel sculpture, as one of the mainstream art forms of modern city construction and room decoration, has an increasingly rich expression. On the one hand, the sculpture has a very rich modeling choice due to the special nature of stainless steel material. We could use high-quality stainless steel materials to produce a variety of beautiful outdoor stainless steel abstract sculptures. We could achieve almost any style you want. On the other hand, the sculpture's surface could be brushed, matte, painted, highly polished, etc. Different finishes would present different artistic effects, and you could choose the most suitable expression according to your ideas.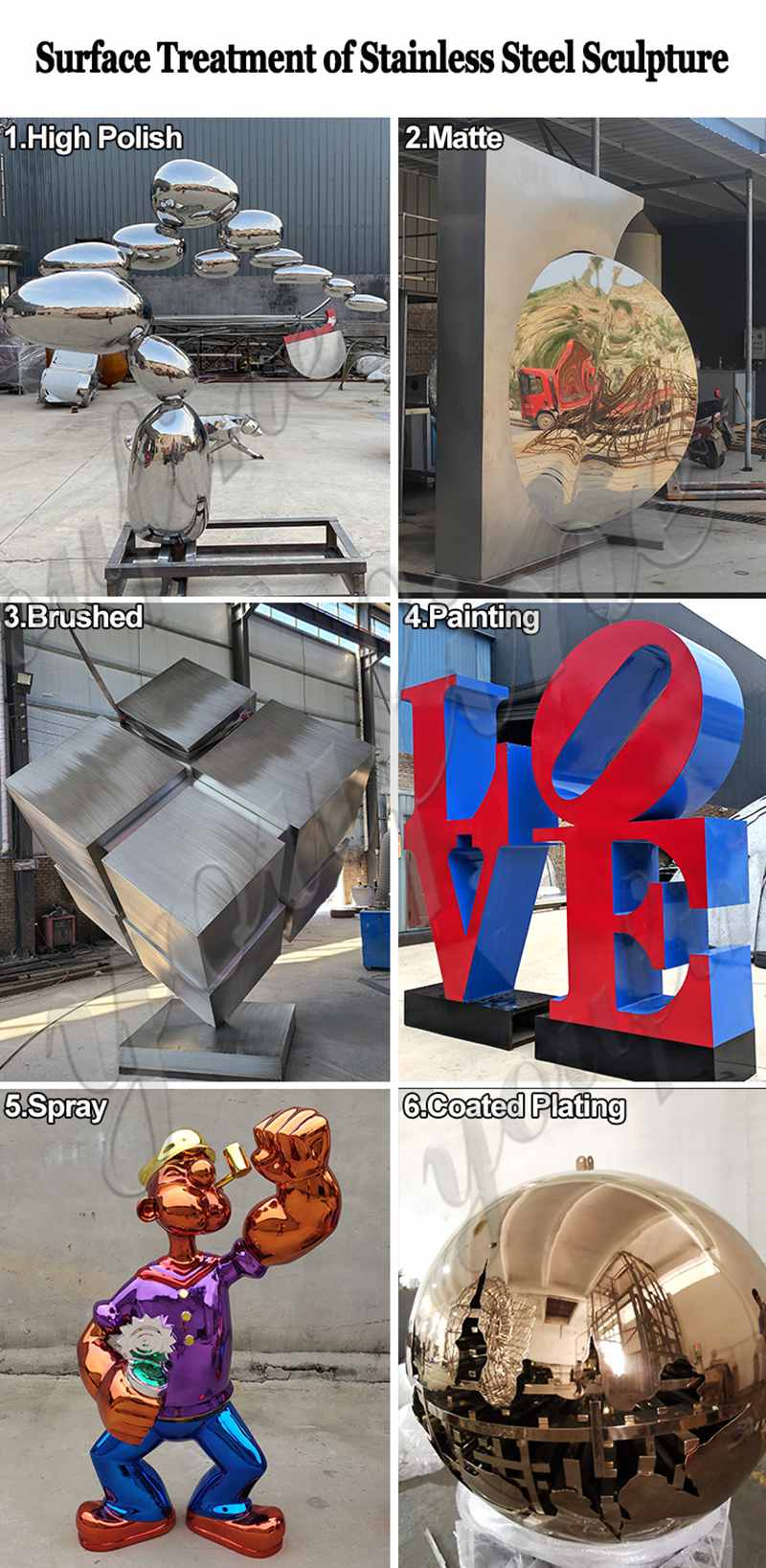 About YouFine
If you know something about sculpture artwork, you would find that YouFine is a trusted supplier of sculpture artwork. We have a professional team to take care of everything from the production of sculptures to the packaging and shipping. Each team would strictly follow the process to ensure the quality and safety of the sculpture. It is worth mentioning that during the process of making sculptures, YouFine would keep close contact with customers so that they could confirm whether the sculptures are under their imagination at any time. This way, we could produce sculpture artworks that satisfy our customers the most. In packing the sculptures, we also follow strict standards and specifications to pack them. Our service continues after the transaction is completed. We are here to answer all your questions about sculpture.