Details of Broken But Together
This metal Broken But Together sculpture is a surprising work by artist Michael Benisty, a stainless steel sculpture that shows two people with incomplete bodies. Although their bodies appear to be broken in many ways, they still hold each other's hands and look at each other's faces. This metal figure sculpture gives us a great shock. We could seriously think about the meaning and destination of life through this work. What is unique is that this famous metal sculpture set is presented in a geometric shape, full of abstract art style. If you are interested in this classic artist sculpture set, please feel free to contact us for more details.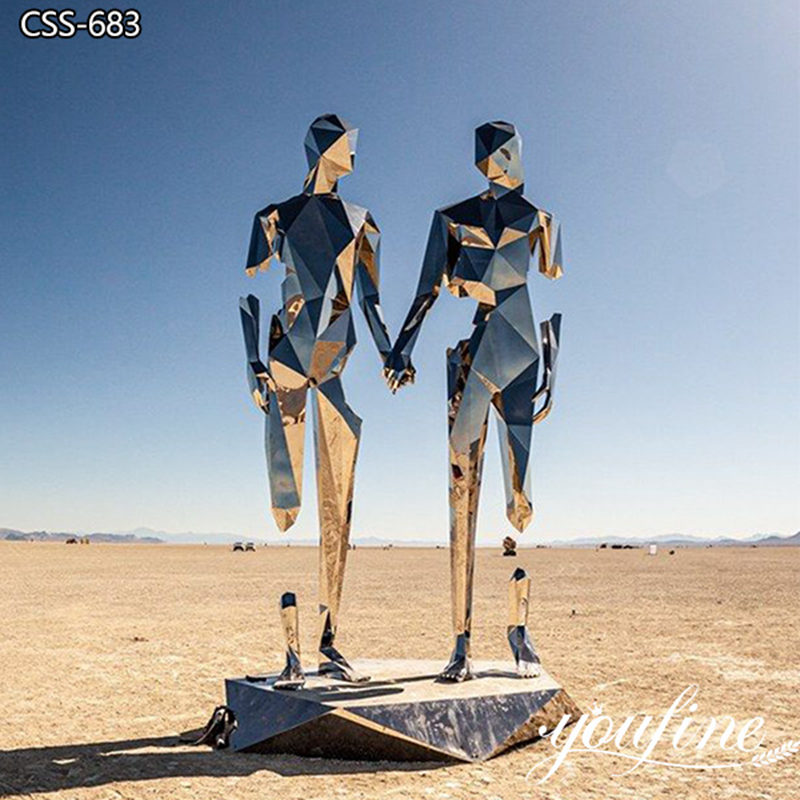 The Meaning of Broken But Together
Broken But Together represents the fragile and unseen side of human relationships. As human beings, we are destined to experience more suffering and frustration along the path of life. But we have to admit that our stories and experiences would always overlap and even be closely related to other people's stories. Whether it is family, love, friendship, etc., broken we need to support each other through this life, this is the meaning of the existence of love. This artwork was presented as a representative at Burning Man 2018, which attracted wider attention.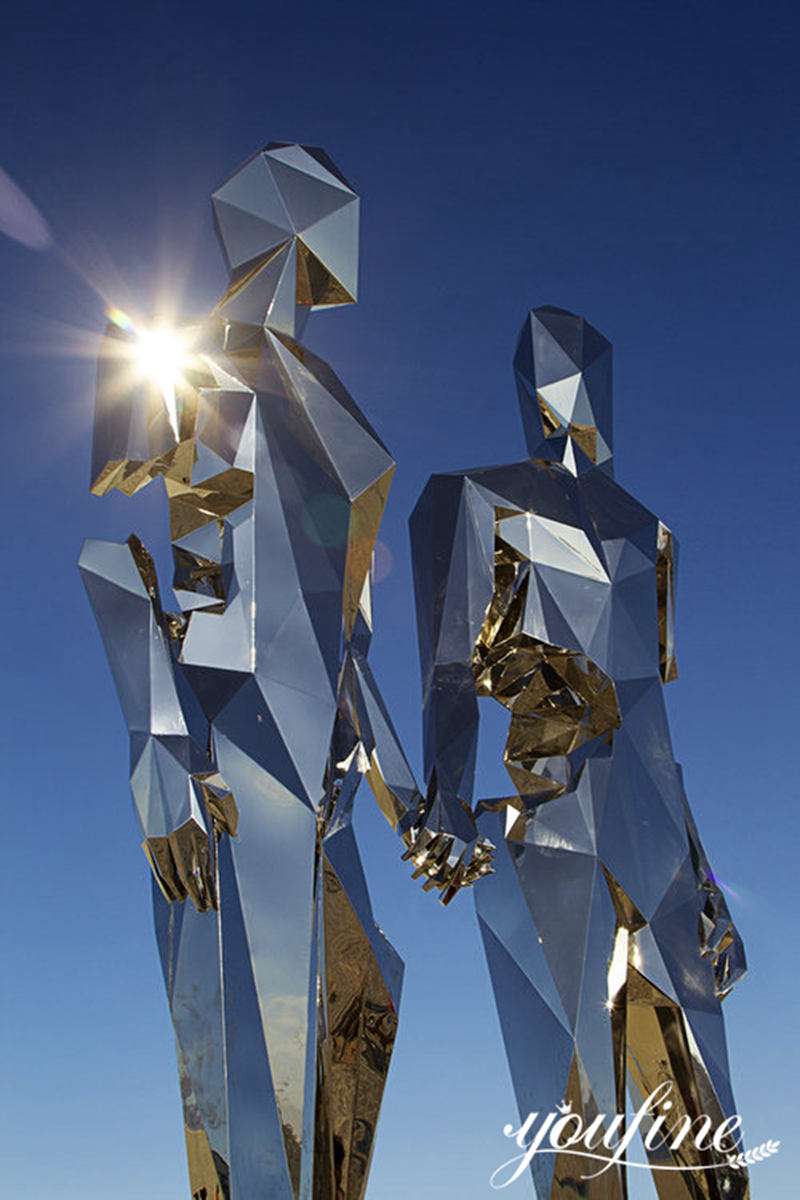 Advantages of 304 and 316 Stainless Steel Sculpture
The stainless steel sculptures made by YouFine are made of high-quality 304 and 316 stainless steel materials. These two materials have great advantages in making stainless steel sculptures and are increasingly used in the production of modern large outdoor sculptures. In general, these two materials are sustainable and are directly related to the environment to which the sculpture is exposed and where it is placed. In addition, they have a higher resistance to corrosive elements, helping to maintain the integrity of the sculpture in outdoor and marine environments. What's more, these two materials are shiny and smooth on their own, very easy to clean and maintain, and could maintain the sculpture's original appearance for a long time outdoors, thus becoming one of the common materials used for modern sculptures.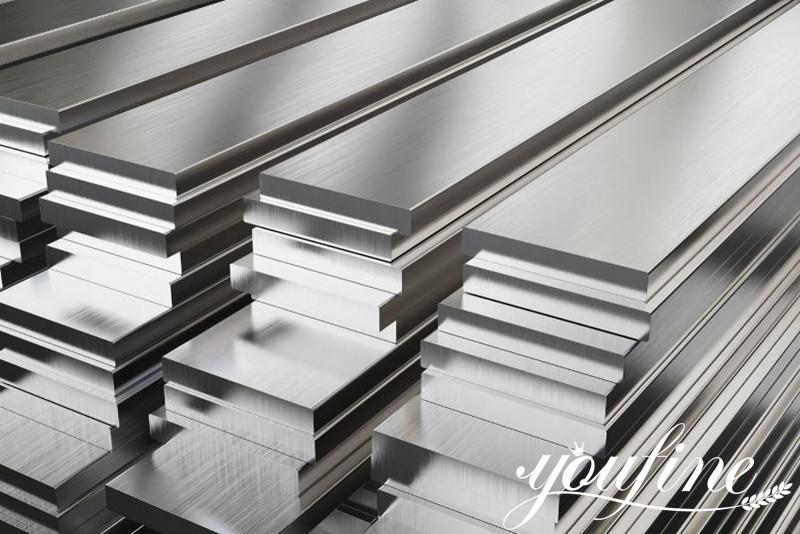 More Stainless Steel Figure Sculptures
This
stainless steel figure sculpture
was carefully reproduced by YouFine's artists, and the replica we made is very close to the original, and every detail is perfect. It is worth mentioning that we work with many of the world's most famous sculptors, and we could work on their behalf and produce their representative sculptures. If you have some favorite artists' works, you could contact us to make the finished products. In addition to this broken but together, we have many different kinds of beautiful
stainless steel figure sculptures
, they are very suitable for outdoor decoration. If you are interested, we would show you more choices.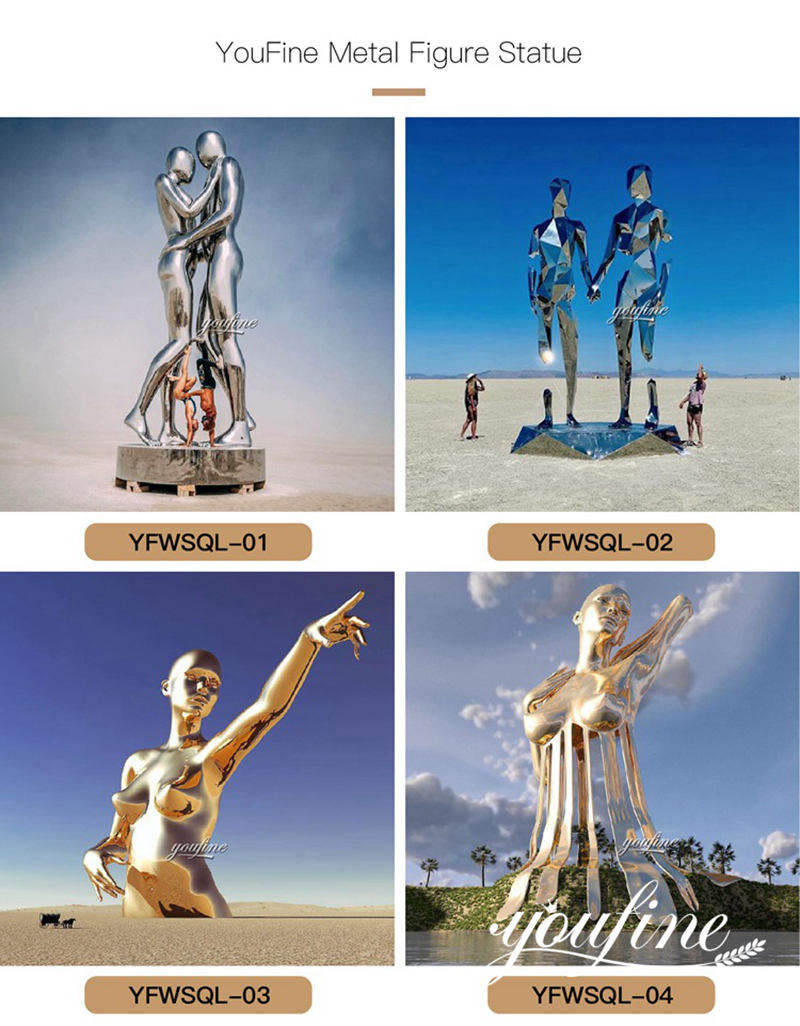 YouFine is a professional stainless steel sculpture supplier, we make sculptures with high artistic value, please feel free to contact us for more information about our sculptures.