About Stainless Steel Disappear Sculpture:
The customized life-size stainless steel disappear sculpture is the work of sculptor Julian Voss Andreae. The name of this stainless steel sculpture is Isabel. These sculptures are amazing from every angle. From one angle, we could see the elegant stainless steel woman sculpture sitting there, but from another angle, it almost disappears completely.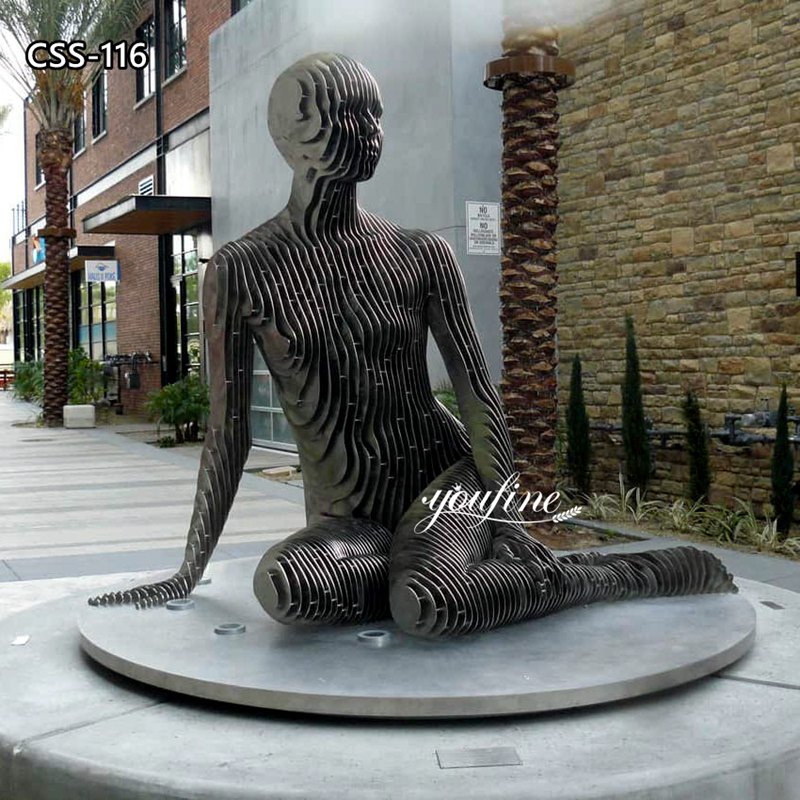 Stainless Steel Disappear Sculpture Details:
All the figure designs of stainless steel disappear figure sculpture are customized according to real human movements, and then composed of parallel metal pieces with gaps between them. Along the direction of the slice, we could see the back of the kneeling man sculpture through the gap. Therefore, when viewed from one angle, the sculpture looks strong, but viewed from another angle, it blends perfectly with the surrounding environment.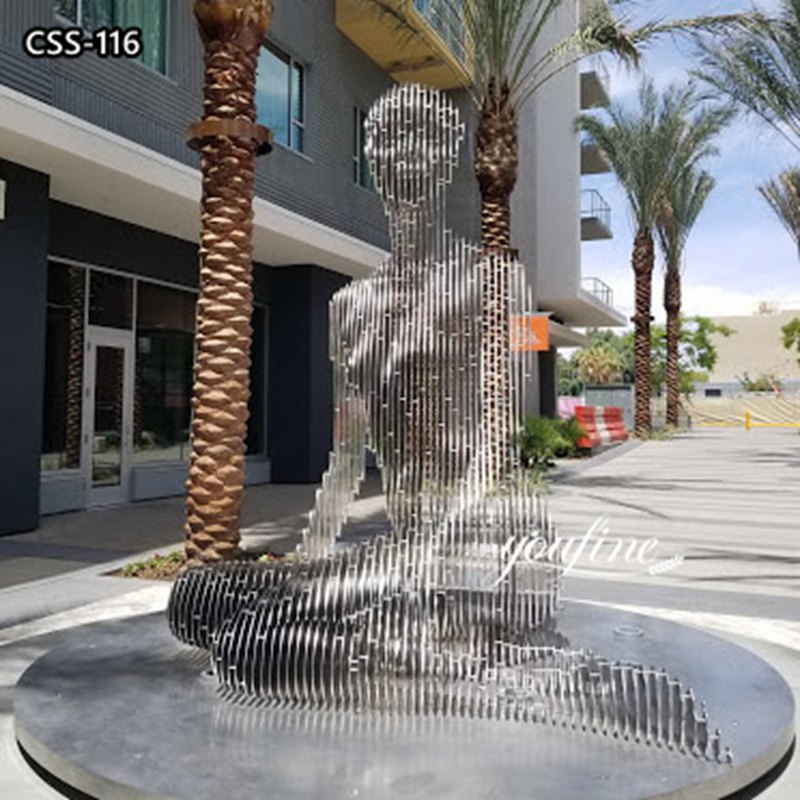 Applicable Scene:
Stainless steel disappear sculpture is suitable for the decoration of the scene, whether it is a luxurious resort hotel or a private high-end villa, or even a charming back garden. No matter where it is, our stainless steel sculptures will be very eye-catching and could enhance the artistic atmosphere. And that would attract many passerbys to take pictures with it.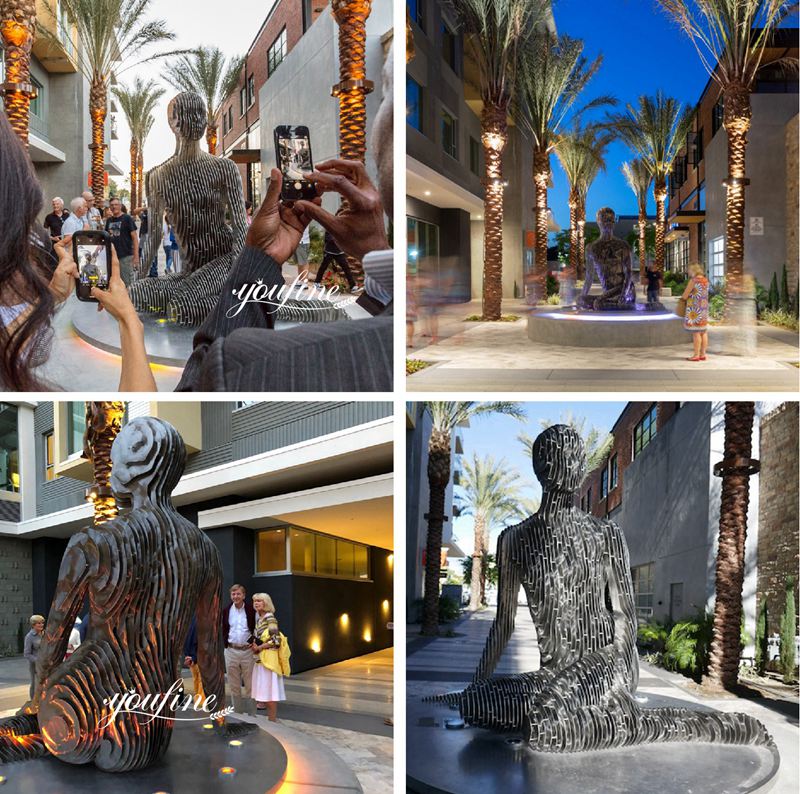 Support Custom Design :
If you think your city or garden lacks a sense of sculpture or art. You want some new ideas, then we are glad you found YouFine. We are a sculpture factory with 39 years of experience, and we accept customized
outdoor stainless steel sculptures
. Whether it is the size, color or design of the sculpture, we could  make it perfect for you.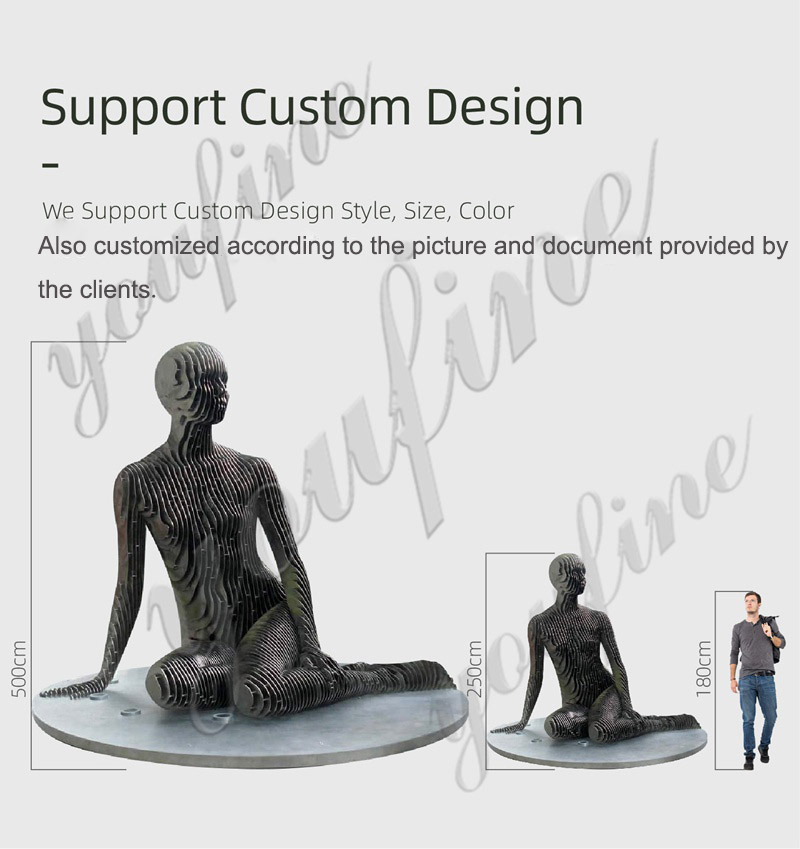 The Popularity of Abstract Figure Sculpture:
Due to its inherent unique advantages, stainless steel abstract figure sculpture has become the landmark landscape of various places such as squares, campuses, commercial blocks and parks.
Abstract figure sculptures are not only unpredictable in their dynamics and postures, but also colorful in their surface colors, which change with the surrounding environment.
It is precisely because of these that stainless steel abstract sculptures are favored in space applications, and stainless steel sculptures show their own unique beauty and art in urban spaces.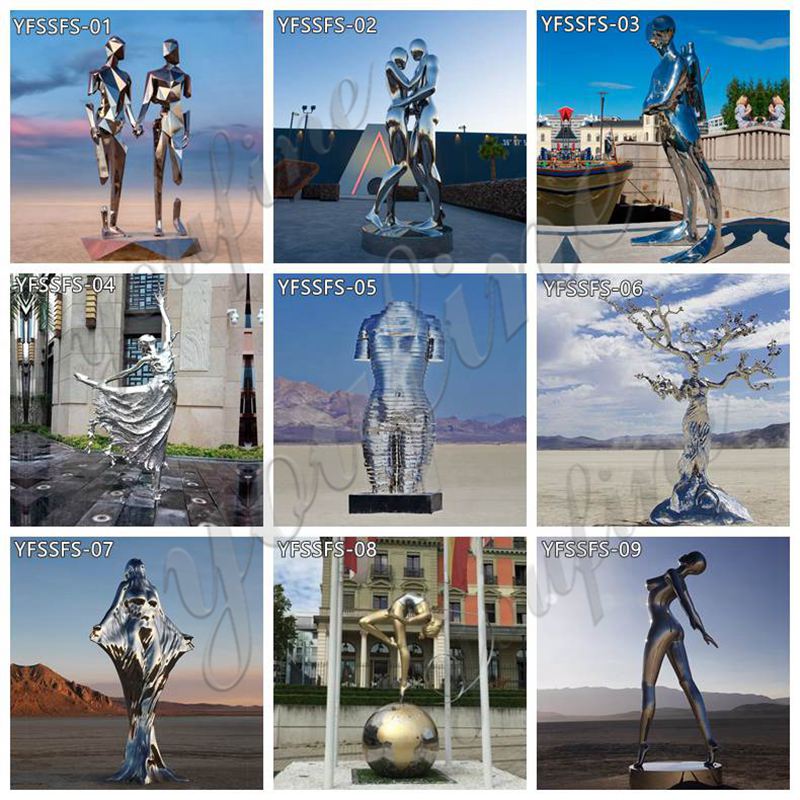 Welcome to Contact Us :
We also have many different designs of abstract 
stainless steel disappear statue
. Please be assured that our quality is the best at the same price. Under the same quality, our price is the best. Welcome to consult us for purchase.
There is a message board and contact information at the bottom of our page, you could leave us a message and tell me the product number you like. You could give us a call: +86-13938480725 or send us an email: info@you-fine.com and one of our sales staff will communicate with you in time for a quote, we would love to hear from you.