A sandstone gazebo with marble columns and statues is a great choice if you are looking for a marble column gazebo with a classical aesthetic for your outdoor space. there are eight Greek maiden statue columns in this antique-style sandstone circular gazebo. These exquisite female statues are the finishing touch to the set. Made of sandstone, the eight columns are carved with Greek maidens in flowing robes. Each statue is smiling and holding the head of the column with both hands, adding to the overall beauty of the structure.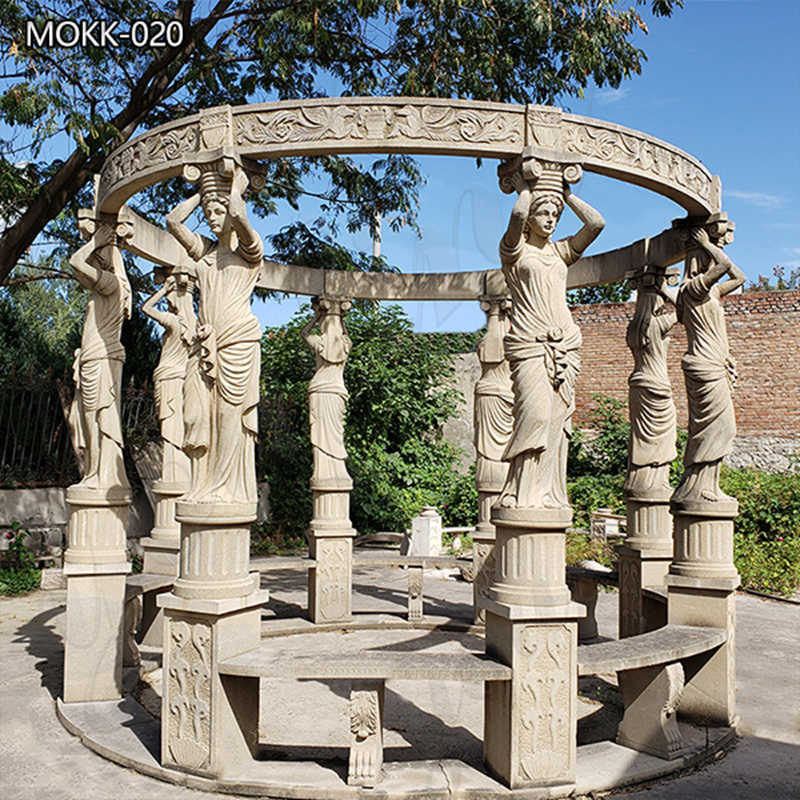 Outdoor Marble Column gazebo Carving Details and Design:
This round gazebo is made of high-quality sandstone and has been expertly crafted to have a vintage look and feel. In addition to the elaborately carved Greek goddess statue column, the gazebo's beam is also surrounded by exquisite carvings of drawings, including Pegasus, flowers, and planters, among other common elements of the Greek style.
If you look closely, you would find that this sandstone column gazebo is a perfect work of art. Including the gazebo beam, there are also beautiful paintings carved around it.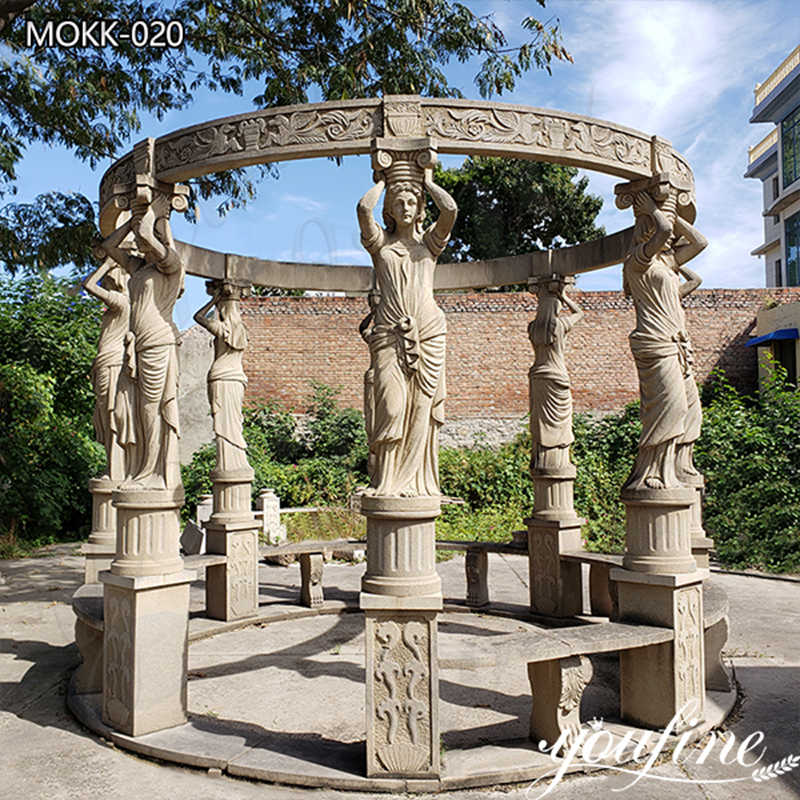 More Marble Column gazebos in Different Materials with Female Sculpture:
YouFine has many different types of marble column gazebos with female sculptures carved into the columns in a variety of forms. Some feature a single statue, while others, such as the Greek Goddess statue, feature multiple statues.
The classic white marble gazebo is one of the most popular outdoor marble column gazebos. Each white female statue is a treat to peruse. There are also sunset red marble gazebos and other gazebos to choose from.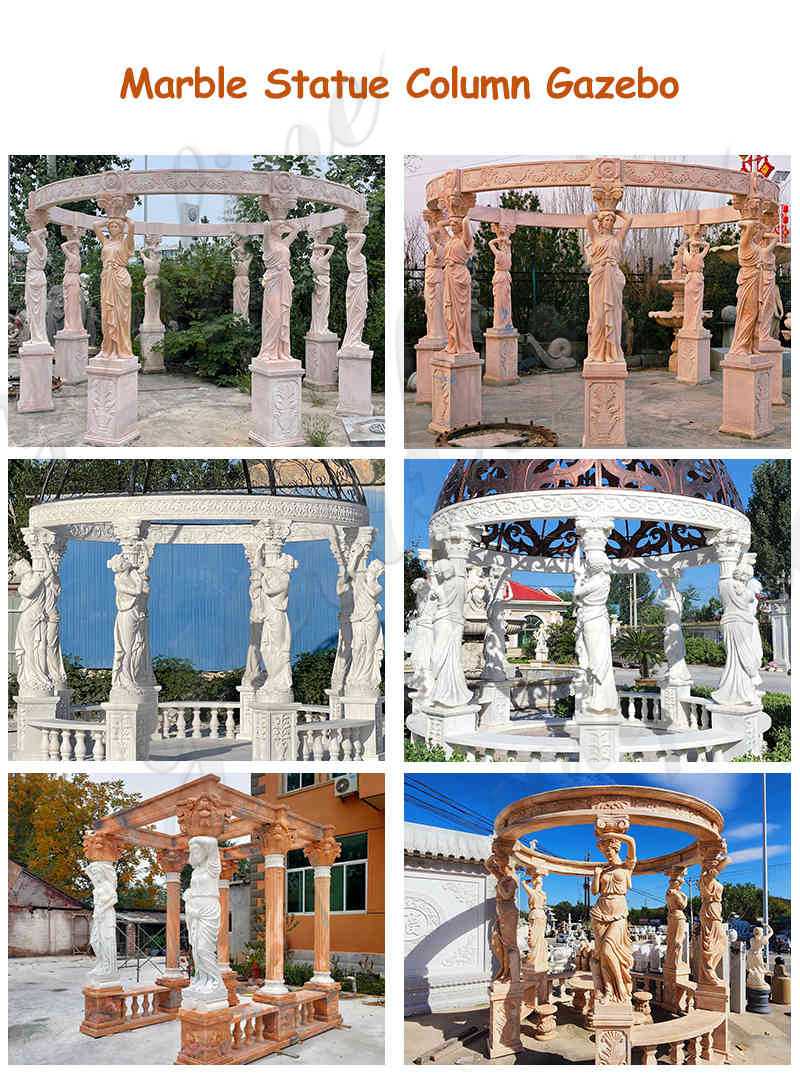 More Marble Column Gazebos in Different Materials with Female Sculpture:
YouFine's marble column gazebos are gaining more and more popularity and recognition from our customers. youFine's marble outdoor gazebos focus on quality and could add elegance and sophistication to any outdoor space, creating a beautiful focal point for entertaining or relaxing. 
Many customers have shared photos of their sandstone gazebos on social media, showing beautiful photos of them with the gazebo. The statues and columns stand out against the garden, creating a stunning visual effect.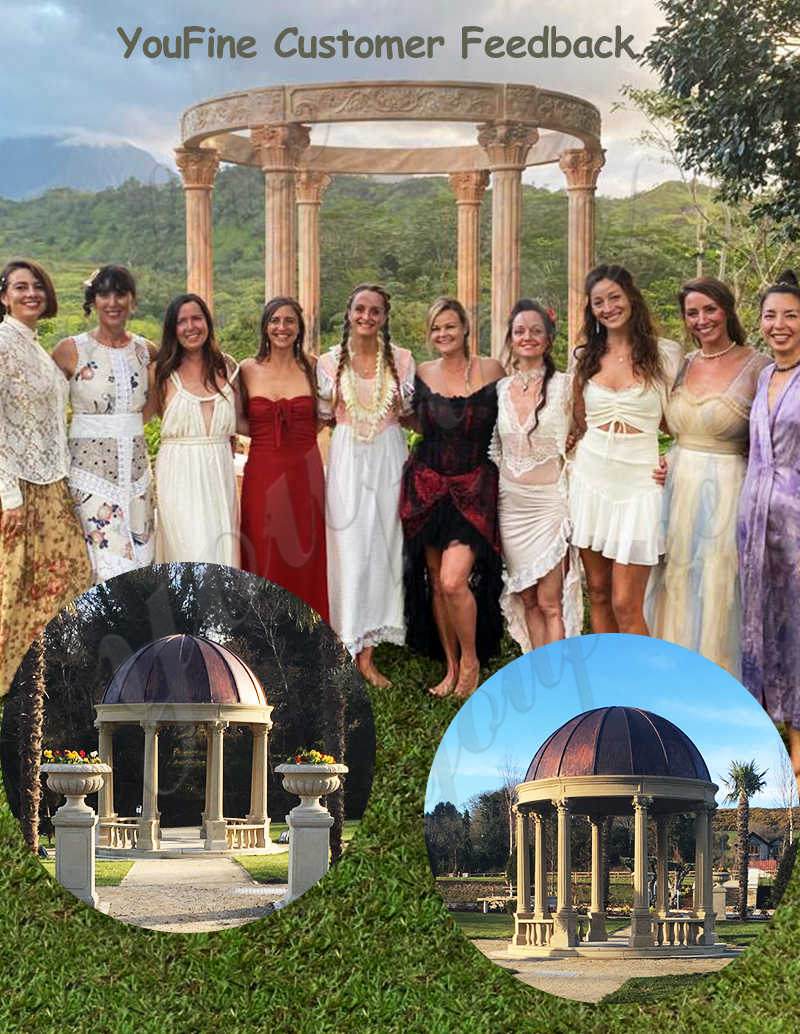 YouFine has 40 years of experience carving marble gazebos. With their durability, versatility, and beauty, our outdoor marble gazebos are the perfect addition to gardens and patios. Contact YouFine for more gazebo details.