Purchasing Guidance
We could see that this is a pair of large majestic foo dog statues. So, do you know why this foo dog statue is so popular? In fact, these feng shui foo dog pairs not only serve as a unique aspect of Chinese culture but are works of art in their own right.
Therefore, we hope to help you appreciate these guardian lion foo dog statues and give you a professional marble sculpture buying guide.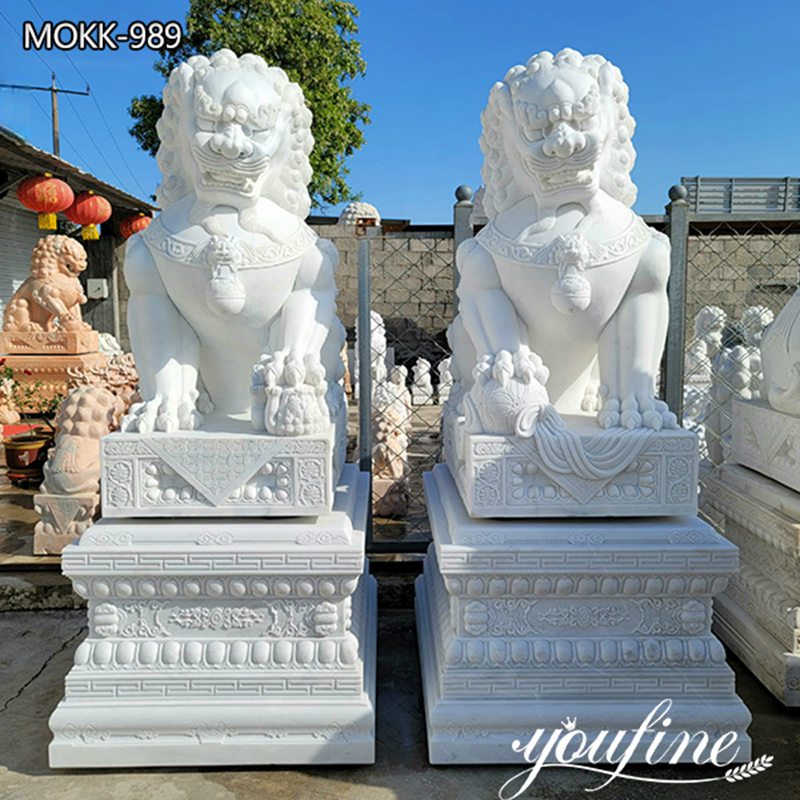 According to Feng Shui's theory, Chinese foo dog statues are best bought in pairs and placed in the right place. Usually, when facing a lion, the male should be on our right, and the female should be on our left. Together they guard the courtyard against intruders.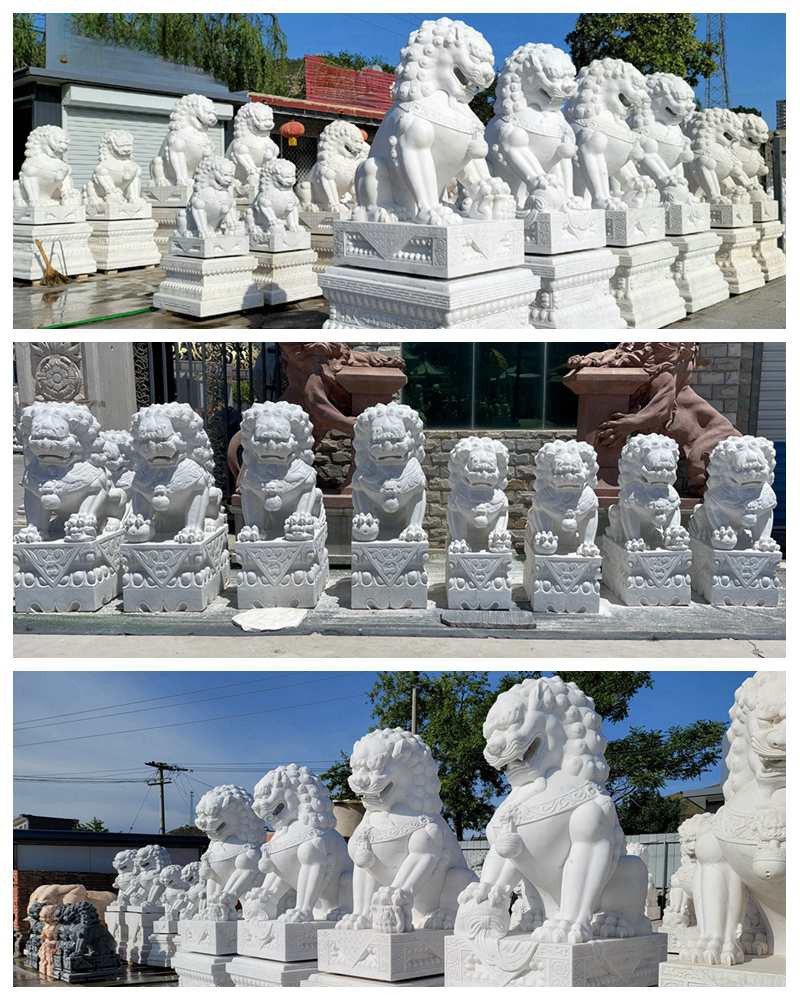 How much do you know about Chinese lions?
The image of the lion played particularly well in China. By the sixth century CE, they had become popular as guardian representations for the rich and powerful.
For a long time, the shape of the guardian foo dog statues has constantly changed in appearance, posture, and various aspects. The most common image is a pair of male and female lions flanking the entranceway to the premises they protect.
These stylized guardian lions are known in Chinese as shishi.
Male lions usually put a paw on the hydrangea, symbolizing the male guardian of the building. The lioness protects the cub under her claws, which symbolizes her protection of life and the power of women. This image also reflects the yin-yang tradition of Chinese Taoism.
How to choose marble Chinese foo dog statues?
In recent years, more and more customers are ordering pairs of marble Chinese foo dog statues from YouFine as door and driveway decorations. If you want to choose the most suitable marble Chinese lion sculpture, then YouFine would be your best choice.
We have the complete collection of marble lion shapes in the world. To better choose the right sculpture, we would introduce you to the difference between marble and Chinese lion sculptures.
The first is the difference in the size of the lion. We often sell large foo dog statues, life-size Chinese foo dog statues, Fengshui foo dog pairs, small guardian lion foo dog statues, and other outdoor Chinese lion statues for the garden.
Secondly, the lion sculpture's nose, eyes, mouth, hair, and different decorative elements make each sculpture look unique. There are fierce faces, and there are gentle ones. Finding your favorite pair among a group of sculptures would be quite satisfying.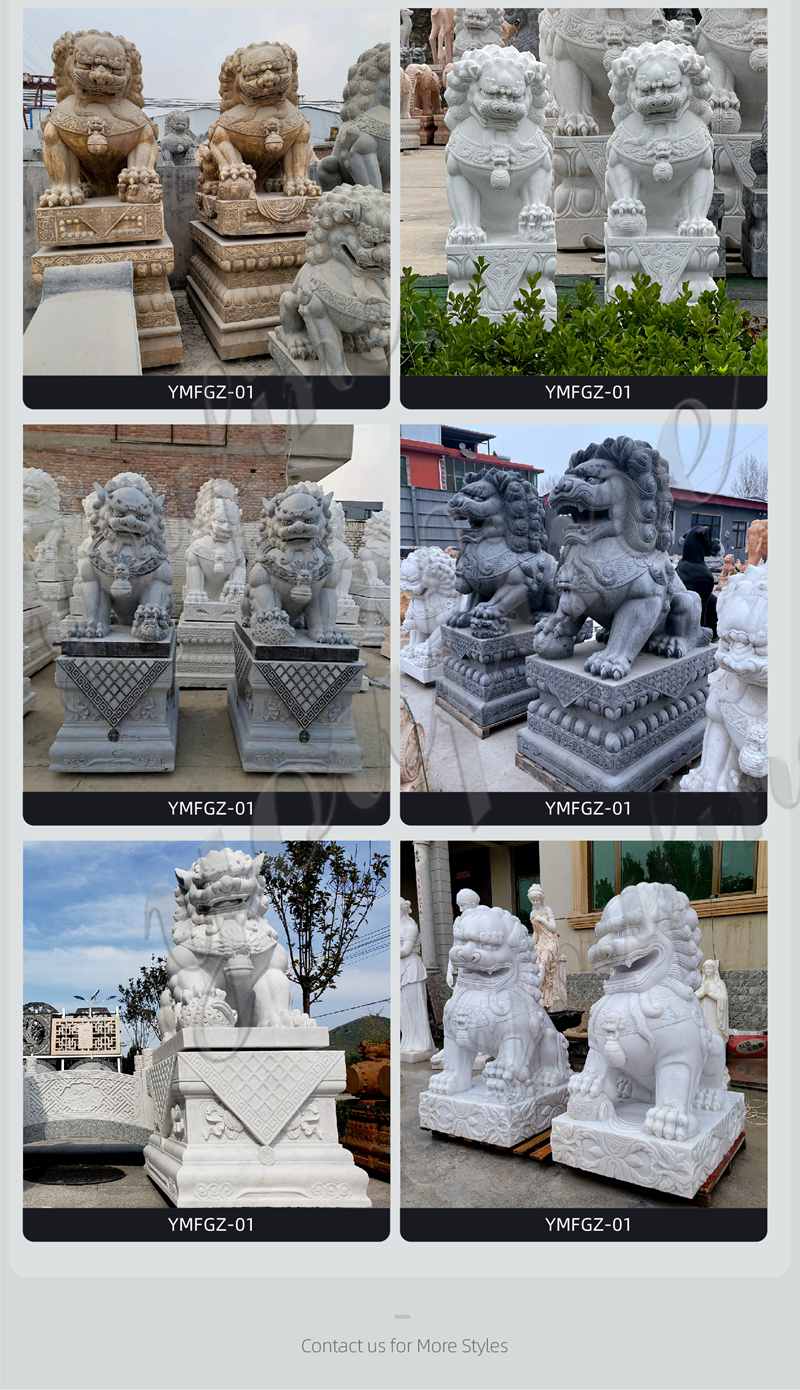 If you are interested in YouFine's
marble lion
, you could contact YouFine for a 1V1 purchase plan. We have a large in stock and could give you the lowest price.