The Virgin Mary statue is one of the most common figure statues in churches. People hope to achieve self-purification through prayer, which is a beautiful psychological support. It is also one of the marble sculptures that YouFine often provides to customers. Therefore, YouFine has sufficient confidence in providing customers with satisfactory marble statues for this transaction.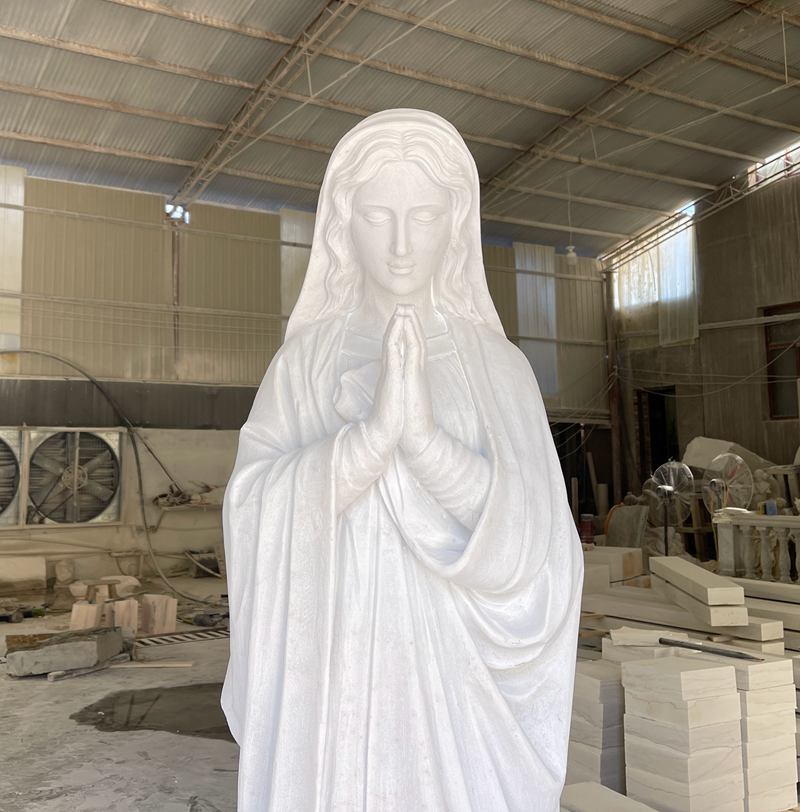 About This Italian Client
This is an Italian client who has been purchasing marble sculpture products from YouFine since 2020. He had purchased marble gazebo and figure statues, mostly related to religion and angel sculptures. He also help purchase some sculptures for the church where his other friends work. Therefore, he trusts YouFine very much, so there are not too many worries and doubts when purchasing the product. The customer confirms the product he want in one go. This statue of the Virgin Mary was selected by the customer in YouFine's catalog.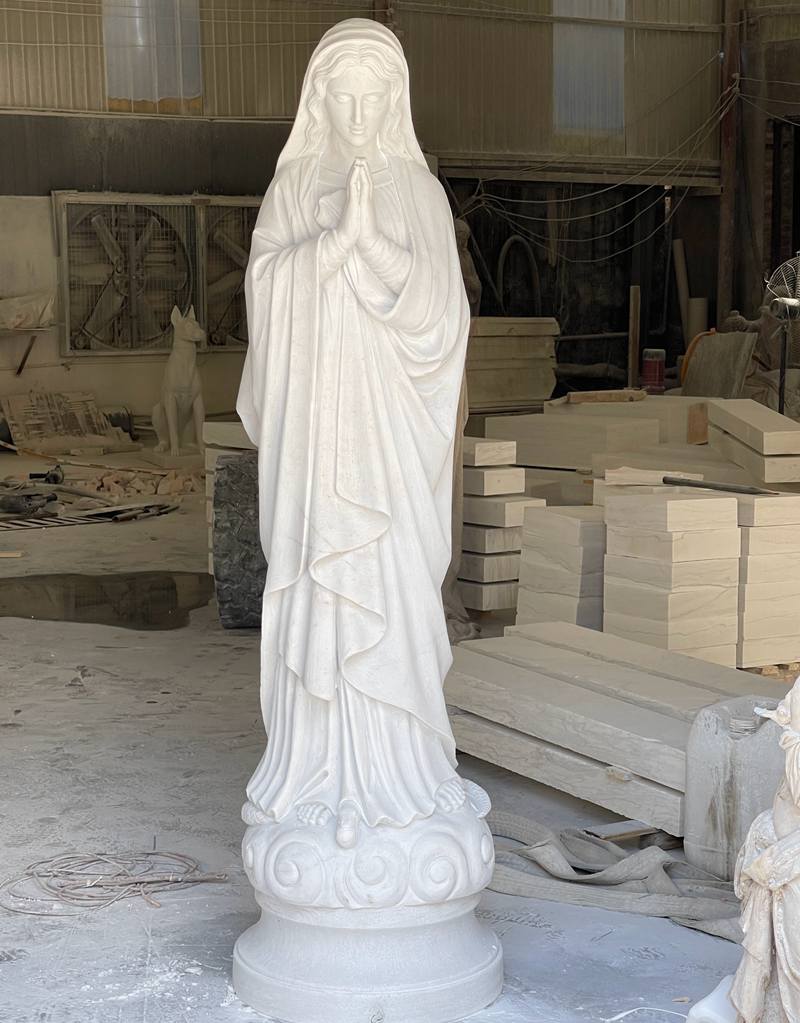 \
About Virgin Mary
Mary was a Jewish woman in Nazareth in the first century, the wife of Joseph and the mother of Jesus. She is a core figure of Christianity, many of which are mentioned in the Loretolian Prayer. Mary was chosen by God and conceived Jesus through the Holy Spirit. After Bethlehem gave birth to Jesus, she raised him in Nazareth, Galilee, and was with the apostles in Jerusalem at the time of Jesus' crucifixion and after his ascension.
Mary has been respected since Early Christianity and is considered by millions to be the most sacred and greatest saint. The various forms of Madonna worship include various prayers and hymns, the celebration of several Madonna festivals in Liturgy, the worship of images and sacred objects, the construction of a church dedicated to the Madonna, and the pilgrimage to the Holy Land of the Madonna.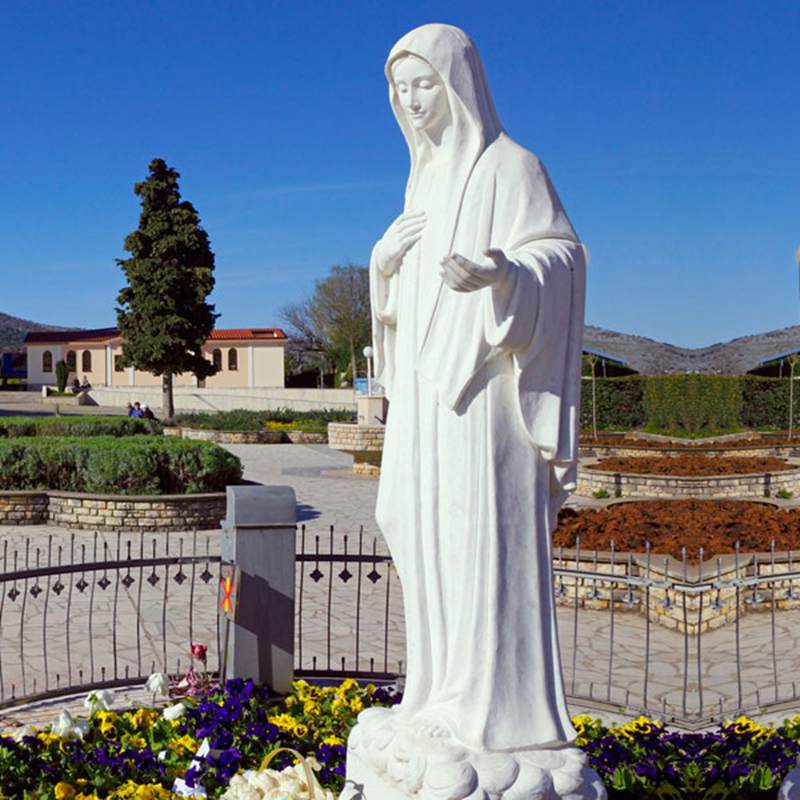 (Check out: Outdoor Life-size Marble Virgin Mary Sculpture for School or Church CHS-090)
About Marble Material
In nature, granite, limestone, Diorite, bronze, etc. can be used for carving. Some of them are too hard for modeling, while others are too fragile for preservation. Marble, as a Metamorphic rock, is soft and easy to carve, which is very suitable for sculpting flexible and complex human bodies and animals. The soft texture of marble is used to carve complex details, especially reflecting the delicate anatomical structure and flowing folds of the human body.
So using marble carving has become a way for artists to showcase their talents and skills, such as curtains, veils, intricate fishing nets, and hanging fabrics, which are common elements in marble sculpture. YouFine has always insisted on using A-grade natural marble and has strict requirements for the quality of marble statues.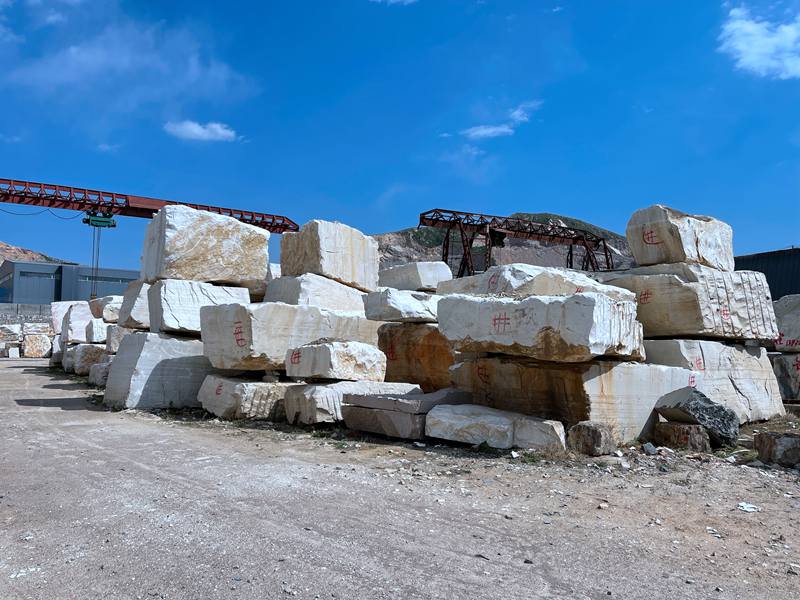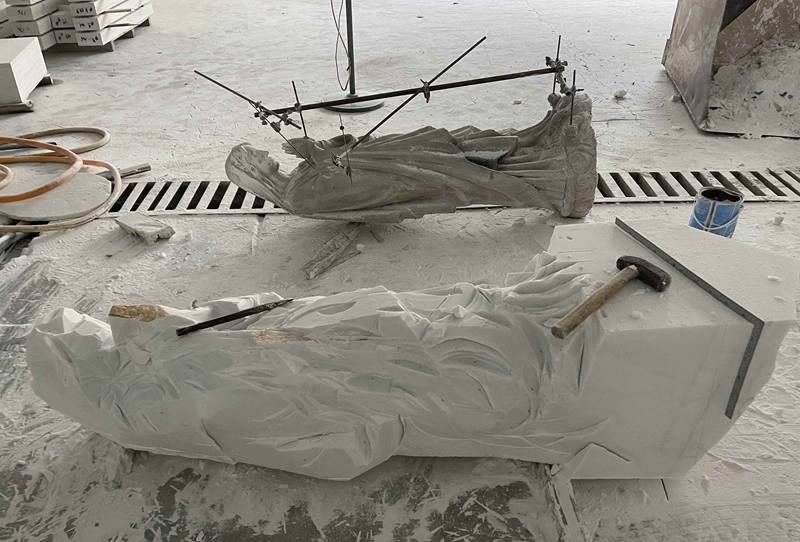 About Carving Technique
The average age of artists collaborated with YouFine is around 50 years old, so everyone has rich carving experience and skilled technique. They have precise control over the human body structure and facial expressions, so the carved statues are very exquisite. They have developed a strong interest in sculpture since childhood, so statues are not cold stones, but passionate works of art. Most importantly, the artists responsible for carving religious sculptures are all Catholics, so they are all respectful during the carving process.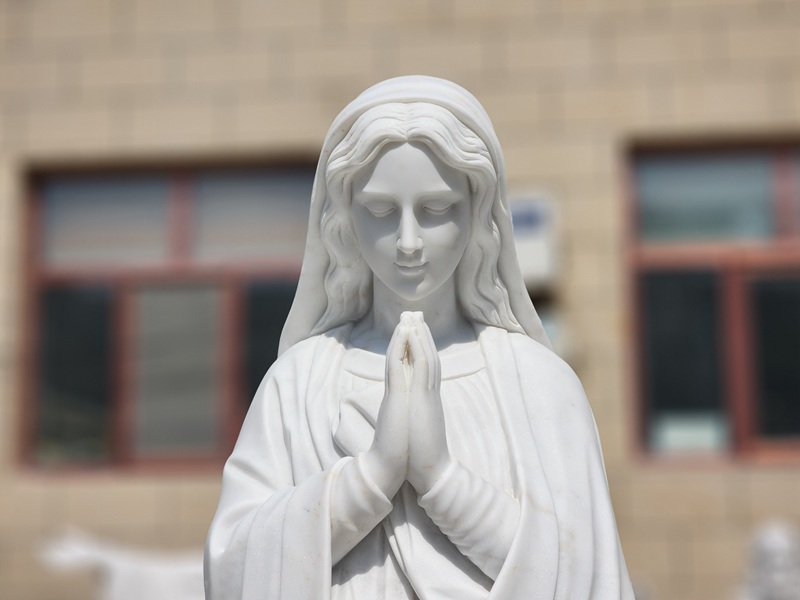 About The Finished Sculpture
After the completion of the Virgin Mary sculpture, YouFine's professionals provided customer with finished product drawings, and he expressed great anticipation of receiving the goods.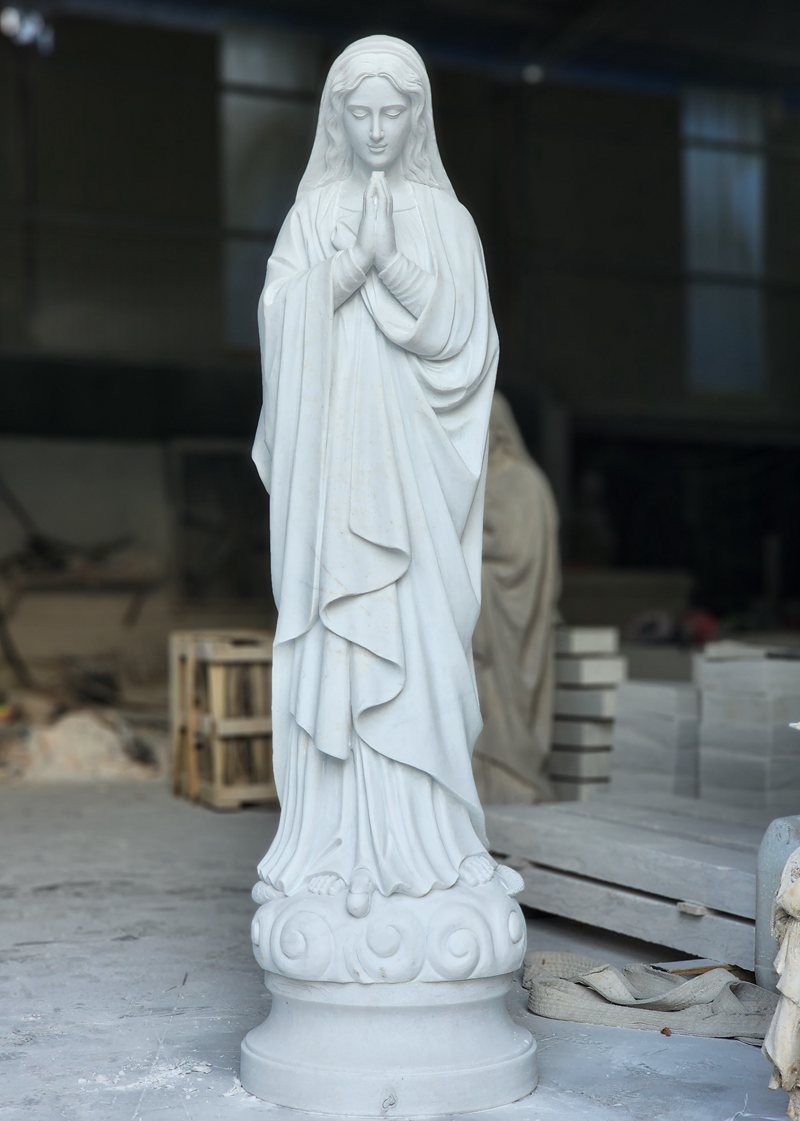 About Feedback from Client
This is the feedback picture provided by the customer to YouFine after receiving this Virgin Mary sculpture. It can be seen that the sculpture is very harmonious with the surrounding environment, bringing a more sacred atmosphere to the entire environment.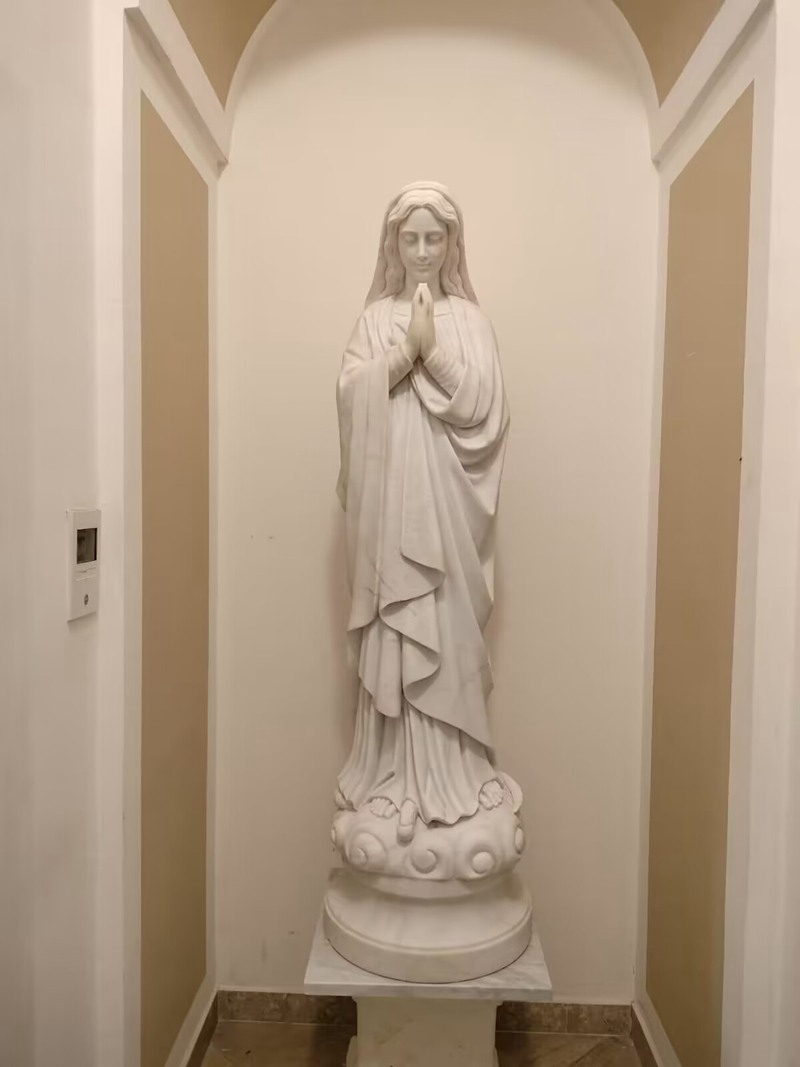 YouFine has accumulated many repeat customers in its forty years of experience, which is a recognition of the quality of YouFine's marble sculptures. If you are interested in marble religious sculptures, you can contact YouFine at any time, and their professionals will provide you with one-to-one services.