The bronze figure fountain is one of the most popular fountains. After casting and coloring, a vivid fountain can add an artistic atmosphere to your garden or courtyard. YouFine has provided customers from all over the world with different designs of bronze fountains, and this one comes from a ballerina fountain in a series of fountains by the famous artist Małgorzata Chodakowska.
YouFine's Repeat Customer from The Netherlands
This is a feedback picture from a customer in the Netherlands two years after receiving the ballerina fountain sculpture. He said he was very satisfied with the quality and appearance of the sculpture, and wanted to order 3 more bronze fountains after two years. This is a bronze fountain sculpture with a total height of 2 meters, which has an ingenious design and is customized according to the color of the original work.
During this exchange, the customer basically had no doubts, because two years had dispelled all his worries about the quality of YouFine products, so the transaction was relatively fast. Nothing better demonstrates the quality of YouFine's culptures than a customer's initial purchase and follow-up orders two years later.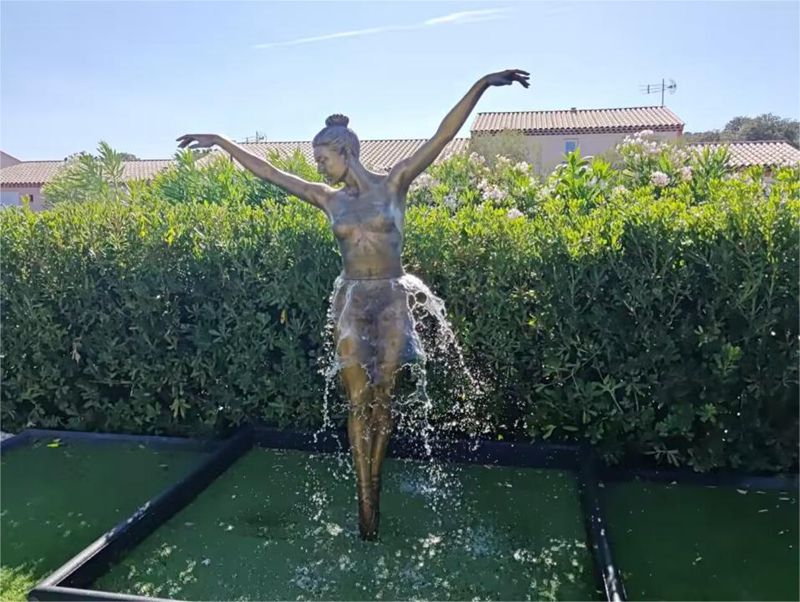 Małgorzata Chodakowska – Make Water Part of The Sculpture
Born in Poland in 1965, Małgorzata Chodakowska moved to Dresden in southeastern Germany and has remained there ever since. Most of Chodakowska's works are portrait sculptures. "Working with portraits makes me feel as close as possible to the work in my hands, so it's the most comfortable form of sculpture for me," she says. Each of her sculptures takes about three to four months.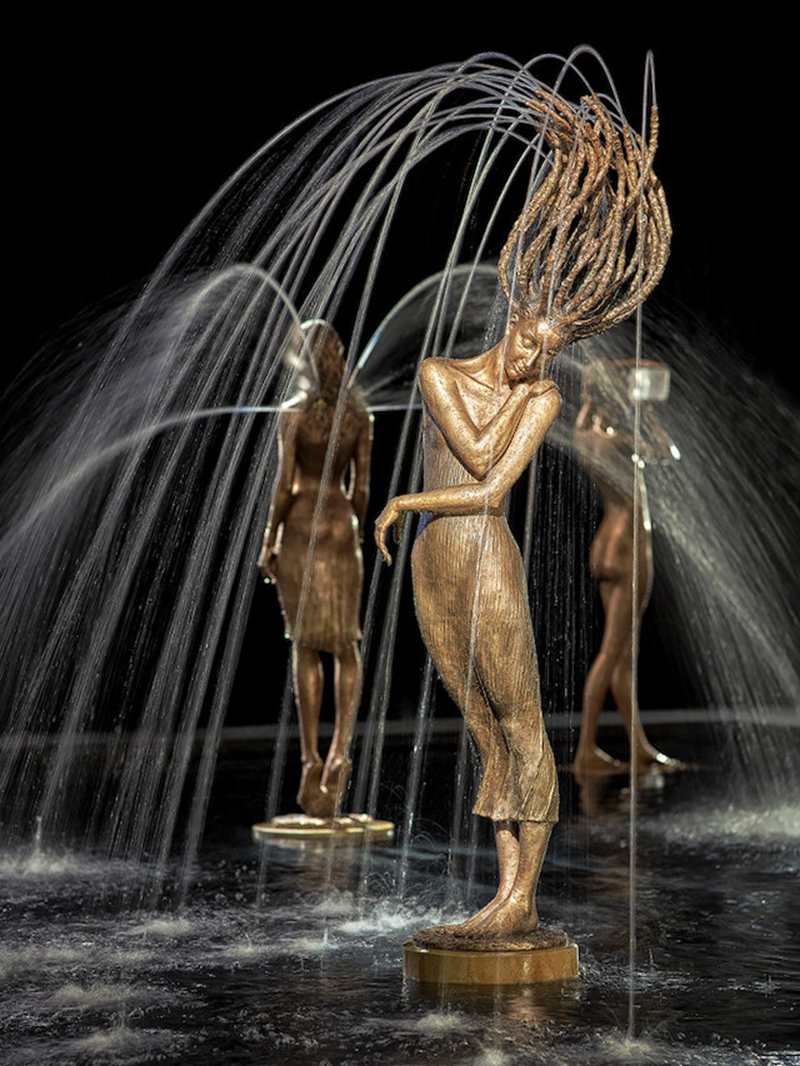 Sculpture almost always means something static, and bringing it to life is not easy, but Polish artist Małgorzata Chodakowska has a way of bringing it to life – not only through masterful sculpting skills, but also through the ingenious design of water flows – flowing into a ballet skirt angel wings.
In Chodakowska's work, water always adds a layer of life to the work. The water flows into the waist skirt of a ballet dancer, and the long water curtains collide with each other, just like the ballet dancers keep turning in circles. When the water current becomes shorter, the skirt becomes a sassy short skirt again. Chodakowska's clever design keeps the sculpture in perpetual motion.
YouFine's 1:1 Clay Model
YouFine would provide customers with progress photos throughout the casting process, so that customers could rest assured. After the clay model is made, it would be photographed from different angles and provided to customers.
Each of YouFine's character casting artists has an average of 20 years of experience, and they would start to independently cast bronze sculptures only after participating in the production of thousands of clay models. The artists that YouFine cooperates with have shown strong interest and great talent in the field of sculpture since they were young. Coupled with continuous practice in the day after tomorrow, they eventually become great sculpture artists.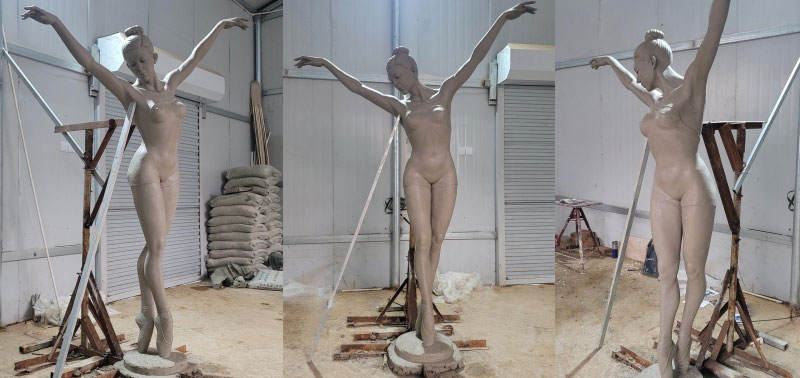 This is a photo of the upper part of the clay model. We can clearly perceive the graceful figure and muscle lines of the ballerina, showing the charm of the dancer and the sense of female strength.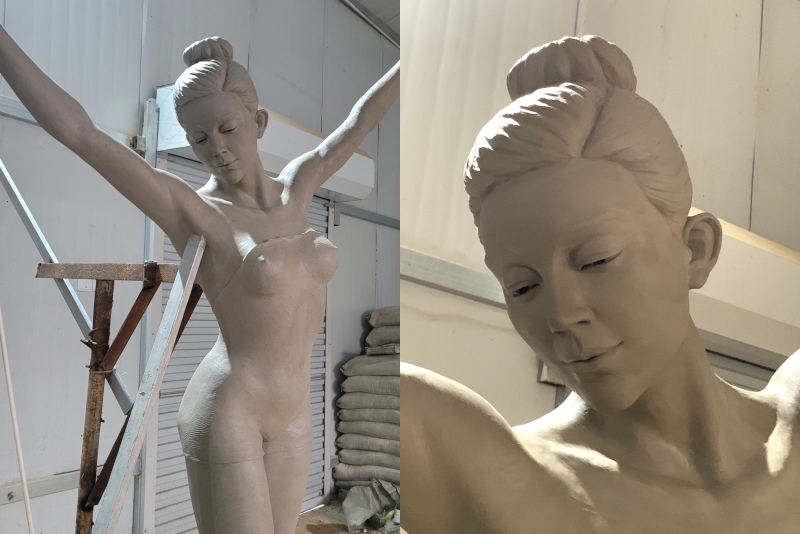 The clay model of the feet is also very similar to the ballerina in real life. The toes are perpendicular to the ground, firm and powerful. The bending angle and lines of the dancing shoes are carved just right.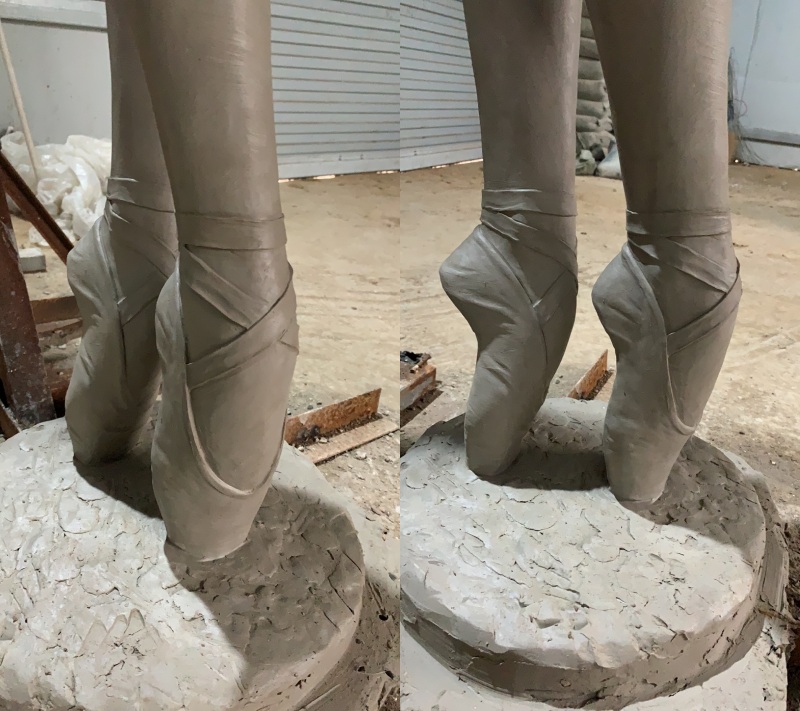 YouFine's Professional Coloring Technique
You can think of patina as anything applied to or done to a metal surface to change its color and appearance. This can be forced chemical reactions, varnishes, or even gold plating. The same general process behind patina formation can be used to creative effect. While some statues can take years or even decades to develop a patina, artists can replicate and speed up the patina process, adding a variety of colors to bronze. The process we use produces a patina in a fraction of the time it takes for a patina to occur naturally. The primary color of bronze is gold. We use different chemicals and processes to introduce color variations.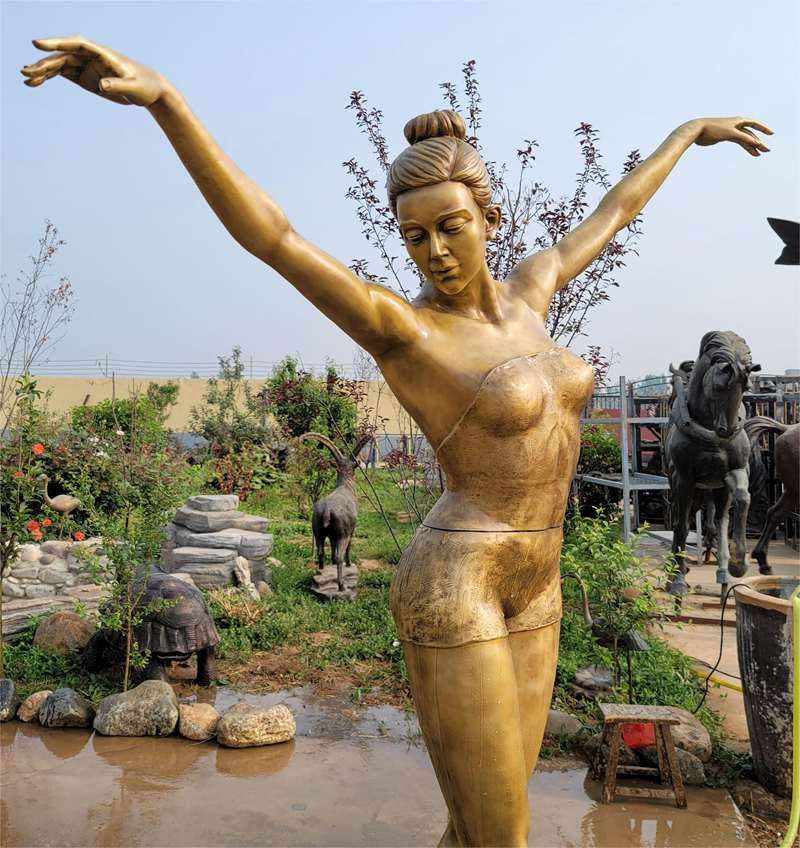 Final Bronze Fountain Sculpture
After the fountain is cast, the factory will take pictures and send them to the customer for confirmation as soon as possible. YouFine uses silica sol technique in the casting process to effectively reduce white spots or green spots on bronze sculptures.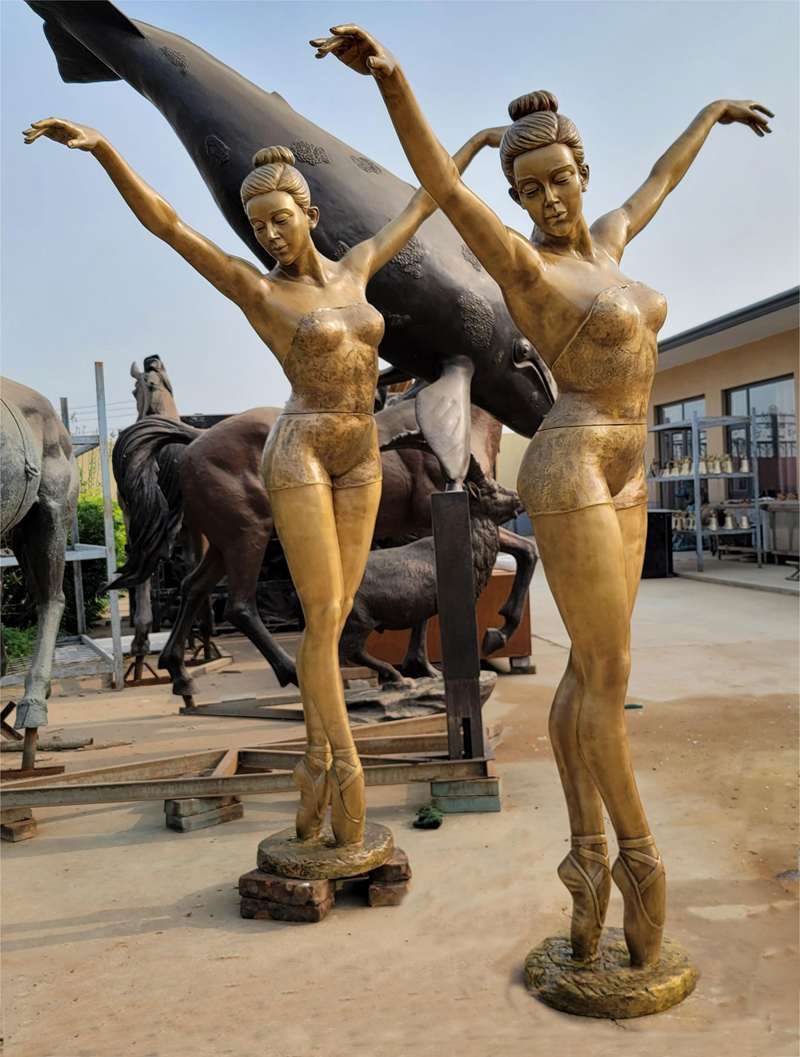 Test The Waters before Shipment
Before delivery, YouFine will test the water of the fountain to ensure that the fountain can operate normally. The factory will also shoot water test videos to provide customers with detailed installation instructions.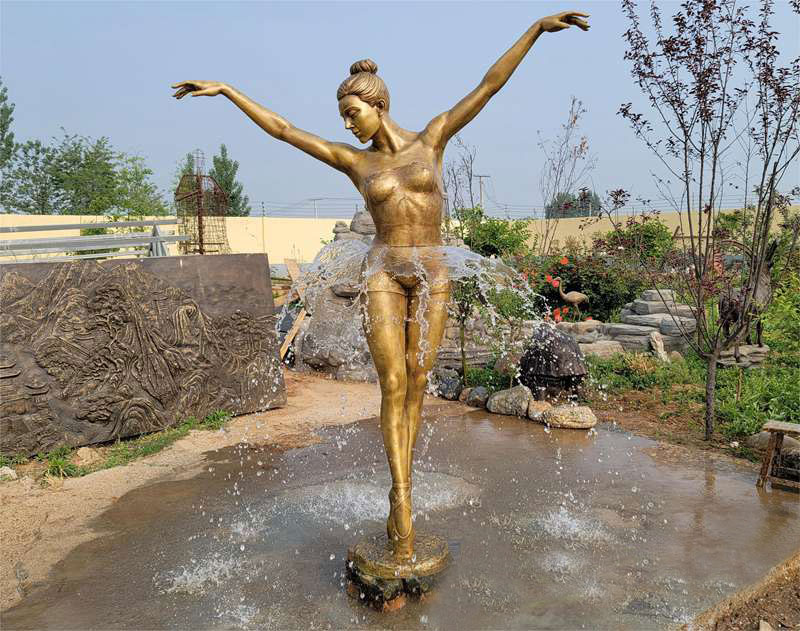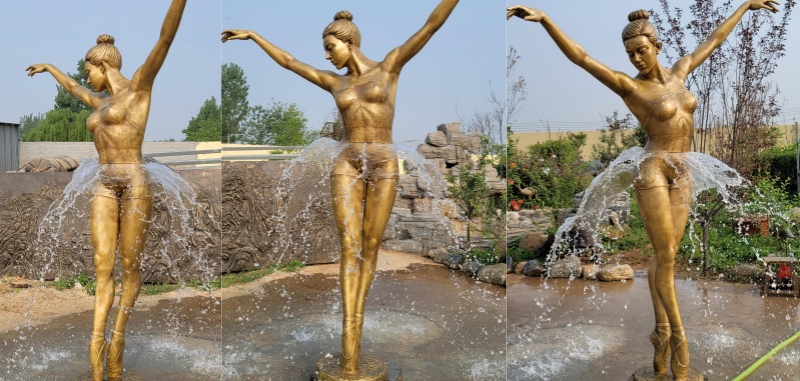 YouFine Is A Good Choice for You
YouFine has 40 years of experience in international trade, has its own factory, and the artists who cooperate with it have extremely high artistic accomplishment, and have perfect after-sales service. It also has long-term friendly cooperation with international transportation companies, so it has the ability to provide you with a satisfactory shopping experience.
If you are interested in this elegant ballerina fountain, please contact them, professionals will provide you with the catalog and price.