Large Pegasus Statue Introduction
The large and exquisite Pegasus statue was well welded by top artists from YouFine. It is dealt with high-polished technology and looks like mirror. This stainless steel Pegasus statue is welded so vividly and realistically that it looks as if it is flying in mid-air. We could see its muscles, strong body, and flying hooves from the surface of the stainless steel Pegasus. 
The most distinctive feature is the wings of the Pegasus, which YouFine's top artists created with great care, and even though it is only made of stainless steel plates, you could still see every vein and every feather on the wings. What's more, the surface of this Pegasus sculpture is highly polished, which when placed outdoors, clearly reflects the surrounding scenery.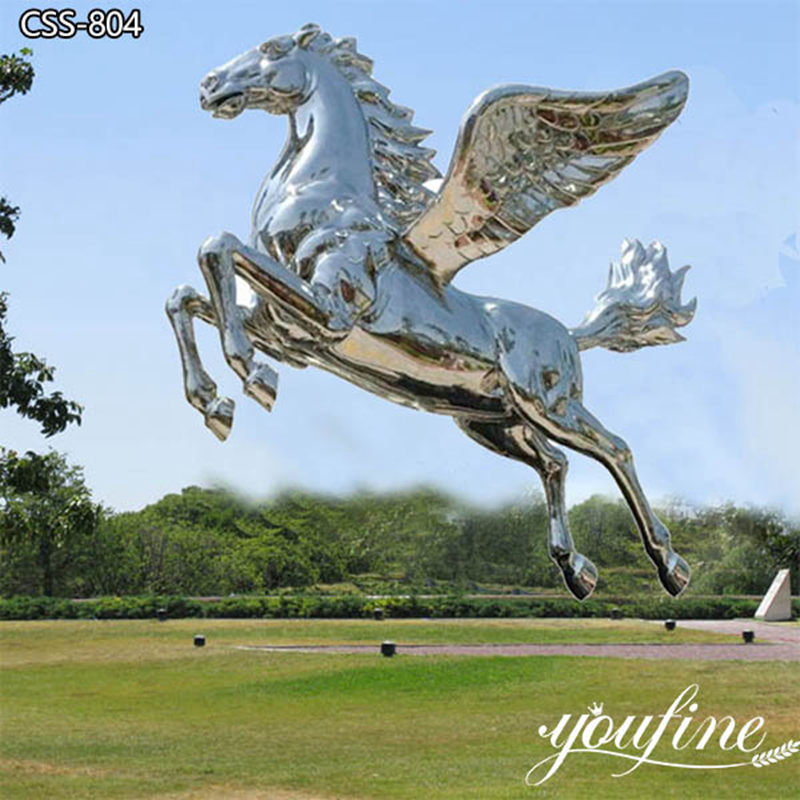 Why We Use 304 and 316 Stainless Steel Material?
YouFine's stainless steel metal sculptures are made of high-quality 304 and 316 stainless steel materials. This is due to YouFine's production philosophy. YouFine has always aimed to sell high-quality sculptures, so we use high-quality stainless steel materials to make our sculptures. 304 and 316 stainless steel materials have many advantages in making outdoor metal sculptures. 
First of all, they are resistant to high temperatures and air corrosion and could be stored for a long time in most outdoor natural environments. More than that, YouFine would choose the right material for you according to your specific environment. Secondly, these two materials have excellent processing properties and could adapt to a variety of processing methods such as pounding and welding.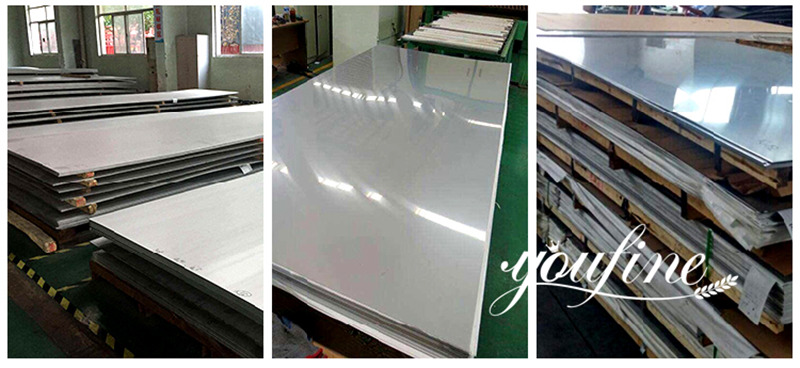 How Does YouFine Make This Large Metal Sculpture?
YouFine is experienced in making
large stainless steel sculpture
s, and we have provided a wealth of metal sculptures for outdoor projects in many countries. It is worth mentioning that the artists in our factory specialize in their technical areas of expertise and use a division of labor to produce the most beautiful sculptures. 
First, the cut steel plates are pounded into the desired shape, and then these plates are put together and welded according to the shape of the skeleton. After the sculpture is first shaped, a special polishing artist is responsible for polishing the welded spots and defects on the surface. YouFine's
mirror stainless steel sculptures
are exquisite and have been well received by our customers.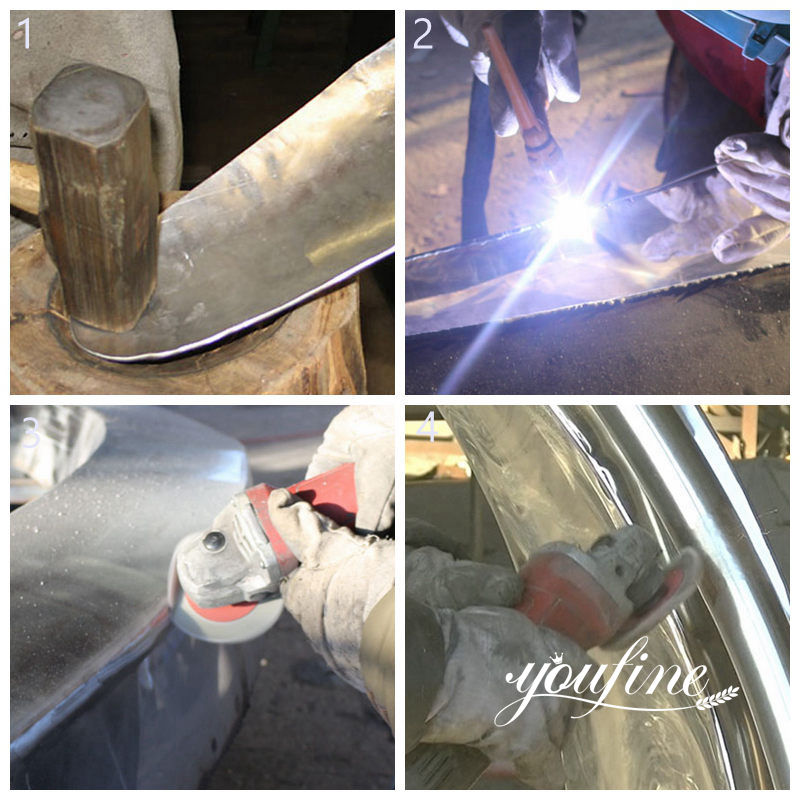 More Options for Animal Sculptures
This large stainless steel Pegasus sculpture is one of YouFine's horse sculptures, and we have a wide variety of stainless steel animal sculptures to choose from. In addition to this sculpture, we also have the classic jumping horse sculpture, walking horse sculpture, Wall Street bull sculpture, and so on. 
In short, as long as the sculpture you want, YouFine could make a high-quality sculpture for you. What's more, you could choose not only the shape and design of the sculpture but also the size and patina effect you want. All in all, we look forward to you finding your sculpture artwork at YouFine.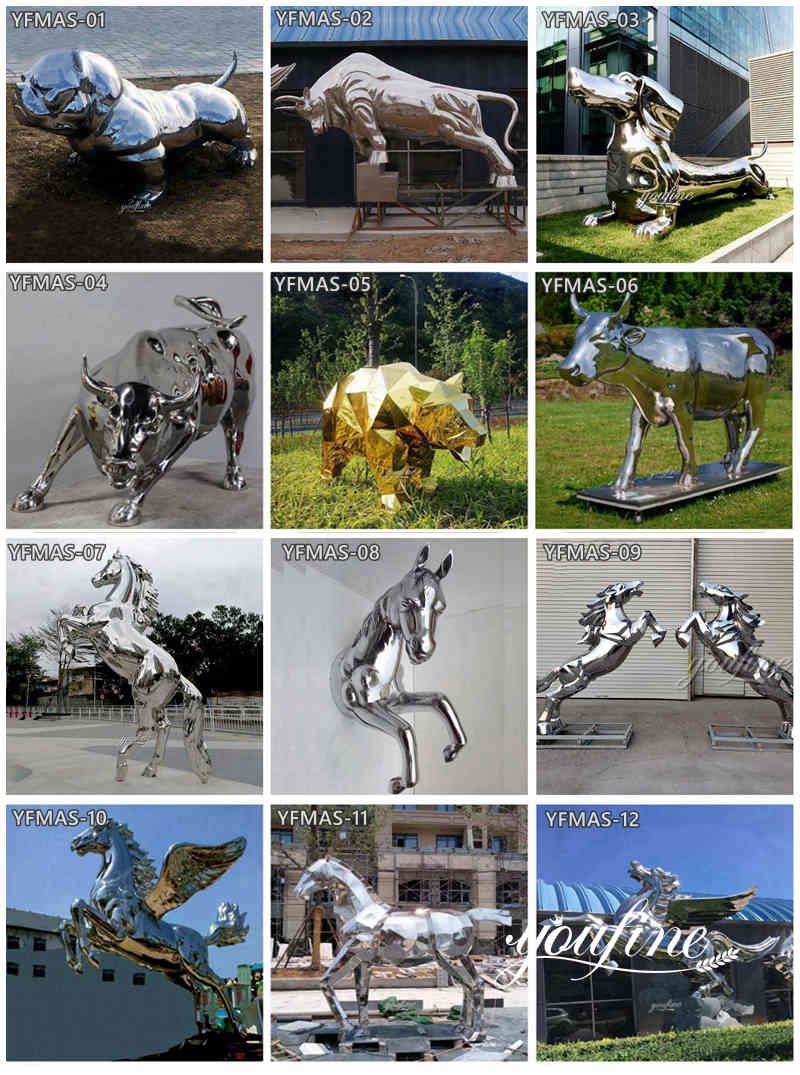 YouFine is a trusted sculpture supplier, and we guarantee to provide you with the best quality sculptures and the most perfect service. Please feel free to contact us for inquiries and orders.